Can you tell us about your career and what led you to Kantar?
I've been with Kantar for nearly 7 years now. I joined as a market researcher in 2013. I started in what used to be TNS working with technology clients and I moved to work in Kantar Media. Whilst there I realised I wasn't enjoying research as much as I had previously. I had a great mentor who helped me develop tools to figure out what I wanted to do next. I realised I wanted to move into technology. At the same time, Kantar's focus was shifting to expand the technology function and a Business Analyst role came up.
It's been challenging and rewarding! I've learnt so much in an environment I know and have a great support network.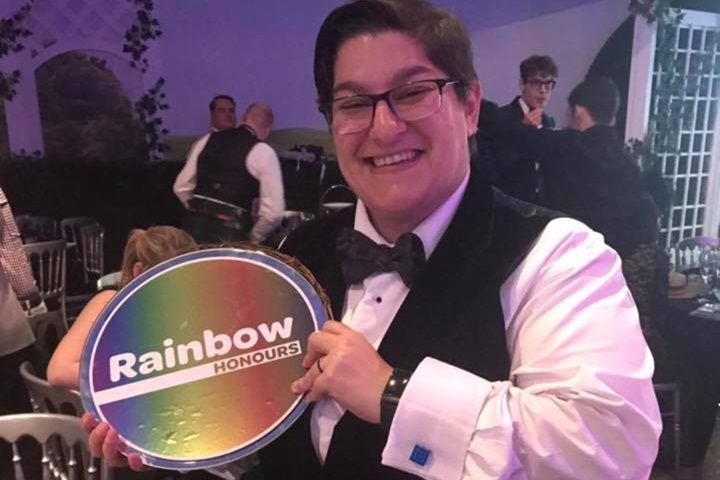 "
I truly believe that diversity groups cannot act in isolation. We are stronger together. We stand together. I hope you'll join me.
"
What has been your career highlight at Kantar?
Seeing the growth of Pride@Kantar, our employee group for LGBTQI+ colleagues. We have nearly 600 members and as a global group we help to coordinate our efforts, country-level groups making sure that actions are locally relevant and an amazing executive sponsor who advocates for us at every opportunity.
It started as this little idea in my head and seeing it grow has been immensely rewarding. We've been nominated for awards, supported thought leadership for the business and worked hard to create a welcoming network for the LGBTQI+ community and our allies. We've also worked hard to be allies and supportive of some of the other employee resource groups both internally and externally.
What are you most proud of from your work at Kantar?
In my day-to-day job, seeing a product I have helped to develop go live on Kantar Marketplace was pretty special.
But really, the thing I'm most proud of is the DIVA Insights 2020 research. Ironically, this came after I had moved away from being a researcher, but I was thrilled to be involved. It's the largest piece of research focused on LGBTQI+ women and tells a story that really resonates with me personally. Shining a light on an under-represented, under-researched group – it's the stuff dreams are made of!
How easy do you find it to talk about your sexuality at work? What barriers still exist?
Personally, I've always been open about it. To the point where I will mention my wife (or girlfriend before that) in interviews. You get a very quick sense of the vibe and whether it is compatible with my values, and if I could bring my whole self to work. I strongly believe that authenticity is key and I try to build that around me as well.
What does Pride mean to you and how have you marked the occasion this year?
Pride means a lot to me. I've been going to Pride in London since I was 16, and to know that it's not happening this year is tough. I've spent a lot of time learning about the history of the movement and seeing how far we have come since the Stonewall uprising come is phenomenal. But we still have a long way to go. It's illegal to be homosexual in over 70 countries. Our Trans siblings are seeing their rights eroded and are being killed for who they are. I recognise the privilege I have as a cis-gendered, white, educated woman and have pledged to use that privilege to expand my understanding and to be an ally and an advocate.
How active is the LGBTQI+ community at Kantar and what does our pride at Kantar group work together on?
We're pretty active!
We're helping to develop Kantar's thinking around thought leadership and research. We've got some really interesting pieces of work that we've given input on, and we're delighted to be partnering with some of our colleagues on their client work.
We're working to drive actions and policies that support and encourage LGBT+ colleagues across Kantar and proactively support the wider LGBT+ community. Part of that includes helping the HR function and the Exec group to develop policies that are inclusive of LGBTQI+ colleagues.
Lastly, the fun side: we organise events and share knowledge to encourage all colleagues to participate in Pride events around the world.
How do we stand together for equality and promote intersectionality?
Marsha P Johnson was a Black trans woman and the night of the police raids at the Stonewall Inn, she spoke up and encouraged the community to rise up against its' oppressors. The Pride movement has moved on from then, but we still see racial minorities lagging behind in the gains that the wider LGBTQI+ community has had. I understand that I will never understand what it means to be Black. But I know what it means to be in a marginalised group. I stand together with the Black Lives Matter movement. Our colleagues at Colourful @ Kantar have an ally and an advocate right here. I have learnt a lot over the past weeks about racism. I pledge to continue my journey towards anti-racism. I pledge to check my privilege at the door. I pledge to use whatever privilege I have for the betterment of society and the place I work. I pledge to ask difficult and uncomfortable questions – of myself and others. I pledge to be anti-homophobia, anti-racist, anti-misogyny, and as inclusive as I can be. When I get it wrong, I ask you all to tell me. I want to learn from my mistakes. I truly believe that diversity groups cannot act in isolation. We are stronger together. We stand together. I hope you'll join me.