Chinese New Year ads from McDonald's, BMW, Adidas and Siemens are among the Top 10 Best Performing ad;
Smart use of popular animation icons, plus a warm, happy and celebrative Spring Festival atmosphere are key ingredients of effective Chinese New Year ads;
Siemens dishwasher ad, featuring Taiwanese actor David Wang (王耀庆), helps the brand to win over GenZ consumers and is a surprise winner. In contrast, consumers are confused by some ads which star A-list celebrities but are not well connected with these brands' images;
Even for Chinese New Year ads, brands (or products) have to play a role. No ad is successful unless the brand joins the center stage. Smart use of popular animation characters, carefully choosing the right celebrity who fits the brand, and creating a warm, happy and celebrative Spring Festival atmosphere are the key ingredients of effective Chinese New Year ad creatives, according to the inaugural Kantar China First Creativity Award 2021 which studied more than 100 Chinese New Year ads from brands.
To help brands, agencies and marketers to better understand what creatives can stand out in the noisy Spring Festival period in China, Kantar launched its "Kantar China First Creativity Award" in January, 2021. Candidates are video advertisements that were aired on Chinese mainland with relatively wide exposure, centred around Chinese New Year and shorter than five minutes. The judging criteria focus on five key aspects of advertising creative: Brand Engagement, Persuasion (of Purchasing), Brand Power Contribution, Fit with Chinese New Year atmosphere, and Potential to Go Viral. More than 2,000 Chinese consumers evaluated these video ads via Kantar Marketplace, Kantar's leading-edge automatic platform. To gain deeper insights of how consumers react to these ads, Kantar WeChat ChatBot talked with more than 300 Chinese consumers to understand how they feel towards some video clips.
The Top 10 Best Performing Ads of Kantar China First Creativity Award are: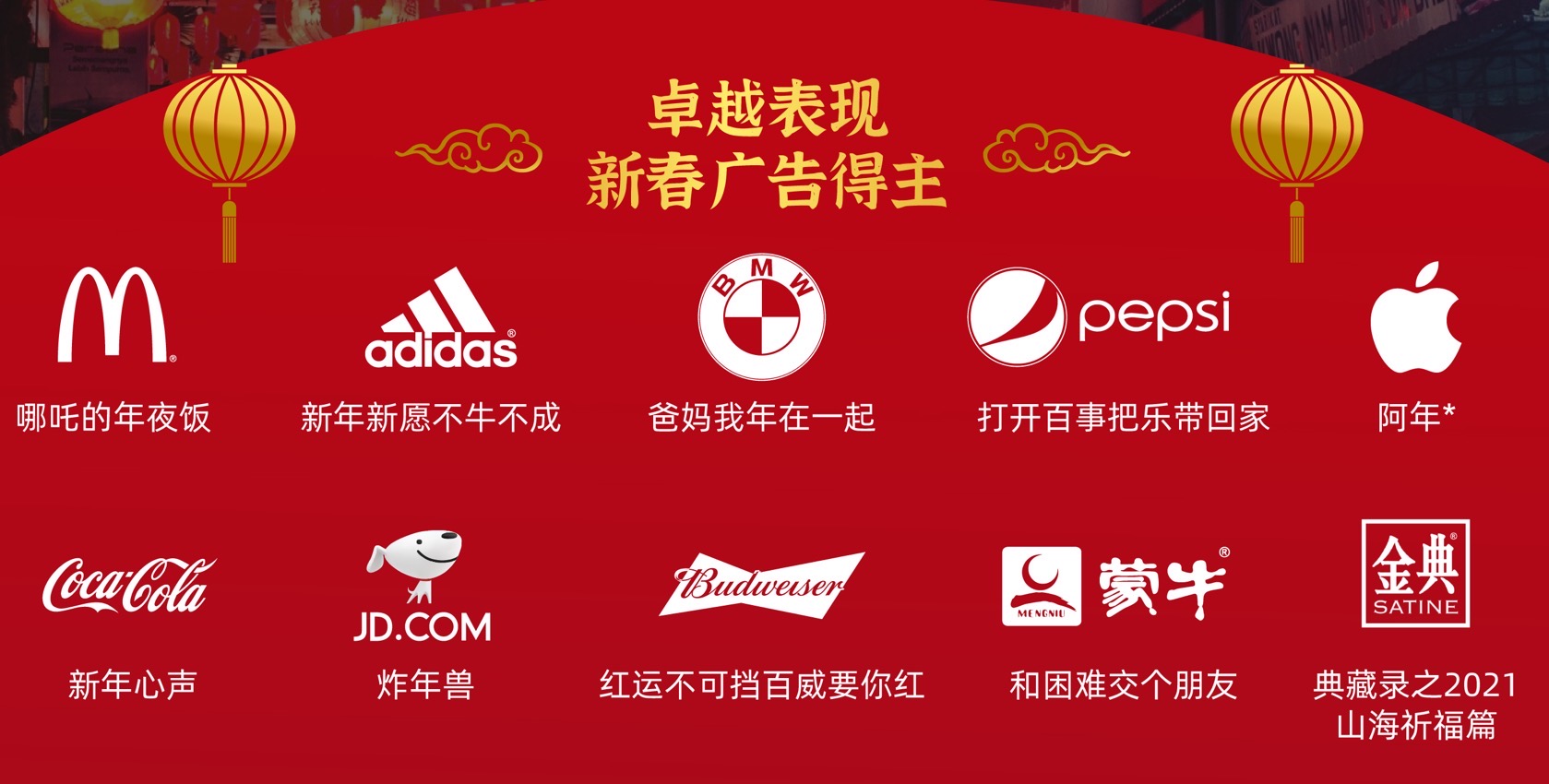 * It's a 30-second teaser version of Apple's 'Nian'
McDonald's "Nezha's New Year Eve Dinner" ad stood out of the pack during consumer testing phase with flying colours on all aspects. Based on a "failed" New Year Eve dinner between popular Chinese animation character Nezha, which has its own movie series, and his mother, McDonald's told a story in a celebrative Spring Festival atmosphere and ended conveniently with its product in the centre stage. Consumers feel happy after watching it while at the same time get a clear link with its brand.
Some consumers said that they were more likely to buy McDonald's because they like the Nezha movies. Testing results showed that McDonald's had successfully established emotional connection with young people by leveraging the character's popularity among younger consumers. The ad also clearly delivered product information as well as a warm festival greeting from the brand. McDonald's ad performed strongly in three key indicators: enjoyment, engagement and brand relevance.
From "Don't Touch Me" (Bie 别 Mo 摸 Wo 我) to "Dad, Mum and Me" (Ba 爸 Ma 妈 Wo 我 ) , BMW continued to create a series of short-video ads based on puns of its brand pronunciations. To fit the atmosphere of Chinese New Year when people are more likely to speak their dialects during home trips, BMW's "suite" of short video ads* included three stories happened in Shanghai, Wuhan, and China's northeast – each one of them shot in the corresponding local dialect to further emphasise a sense of localness, approachability and happy reunion. The smart creativity helped BMW's ads, together with that of McDonald's and Chinese milk brand Satine, to rank at the top of Potential to Go Viral.

William Wei, chairman of Kantar Creativity Growth Council which leads this project, said: "It is not easy for a Chinese New Year ad to stand out from 100+ competitors. All winners had created a warm and immersive atmosphere of Chinese New Year. They closely followed consumers' emotional needs to reunite with relatives and wish for a better New Year. Some ads used various elements smartly, such as celebrities, animation characters, and puns successfully and captured consumers' attention during the holiday.
"We have noticed that more brands are investing in launching Chinese New Year campaigns. The upcoming May 20 'I love you festival'* and June 18 'shopping festival' invented by JD.com are also must-win campaign windows for brands. I believe our findings can provide more inspirations for brands to perform better in the future," he added.
The study also found that many Chinese New Year ads had featured celebrities. But not all brands have done a good job in "using the right celebrities and using celebrities right". A Siemens dishwasher commercial, starring Taiwanese actor David Wang (王耀庆), became a surprise winner as it appeared to have helped the brand win over many GenZ consumers. In the commercial, Wang played different characters at a family dinner. Every character he played "invented" his unique excuse to avoid washing dishes after the meal. His performance, together with his existing popularity among younger audiences, created very high score in active involvement among GenZ consumers.

Adidas, Budweiser and Pepsi are the "usual suspects" of featuring a cluster of big-name stars in their commercials, and their Chinese New Year ads are no exception. The famous faces of brand image ambassadors helped these ads cut through the noisy media environment and attract valuable attention from audiences, especially younger generations. Budweiser launched a Chinese New Year limited edition package, a 2021 Spring Festival slogan "Open Up New Year, Comes Red Luck and Blessings" (打开新年红运祝福) together with its TVC campaign "Unstoppable Red Luck, Budweiser Makes You Red-Hot" (红运不可挡,百威要你红). Its advertising performed very well in enjoyment and fit with Chinese New Year Festival.
Other key findings of this year's Chinese New Year advertising study are:
Brands need to balance their ads' emotional appealing and brand connection. It is great to air deeply touching commercials during Chinese New Year, but if the moment is irrelevant to a brand, or it didn't convey the benefits of a product, the ad cannot be considered successful;
All golden rules for great creatives still apply to Chinese New Year ads: they need to tell an interesting story, convey crystal clear messages, create a long-lasting memory of the brand;
Brands should naturally mix into the story of their Chinese New Year ads. These ads need to create an immersive festival experience. Brands can fit nicely into the festival environment only if they are sincere and have a convincing role to play in these ads;
Not every brand needs to have a Chinese New Year ad. It is totally fine if that's the case. For those brands which want to jump into the ring, they need to find the sweet spot where the brand can connect with Spring Festival organically, so that they can create their advertisings with insights, confidence and measurable outcomes.
Sirius Wang, Chief Product Officer, Kantar Greater China, said: "There are still a number of creative pitfalls for Chinese New Year ads, and they're not limited for this unique scenario only. Inevitably, creative professionals, like everyone of us, have blind spots. They need to listen to consumers' voices. "By tapping into the powerful market-validated benchmark database, marketers can quickly test their creative ideas and outcomes, and correct course instantly," he said.
EDITOR'S NOTES
* To reach the author, or to know more information, data and analysis of advertising and market, please contact us.