Operationally, the world's top food and beverage brands have spent the last few years in survival mode, working to keep their supply chains and distribution networks intact, while putting some planned innovations on hold. In terms of sales, however, these brands' businesses have held up remarkably well. This year's Kantar BrandZ™ Most Valuable Global Brands 2022 report showed , the total value of the BrandZ Top 20 Food and Beverage brands grew 16%, to a total value of $ 297,102 million.
One of the biggest category stories of the past two years was the shift toward home consumption, and the decline in out of home (OOH) sales. It should be said that the decline of OOH wasn't bad for all the brands on this ranking; coffee brands like Nescafé and Nespresso especially benefitted from the move away from coffeeshops, and toward in at-home beverage occasions.
For now, most brands are planning to adjust across their portfolios by combining a mix of moderate price increases, with occasional forays into socalled "shrinkflation" (in which brands keep prices constant but adjust product volume slightly downward). While it's easy to respond to inflation by putting up the prices, there is clearly ... going to be a squeeze on real incomes in a number of countries. Brand equity will be crucial to retaining consumer's business. Transparency, too, will be key.
If brands are more open and honest with consumers when introducing price increases - explaining what they're doing, and why – that makes it much more likely that a business can take consumers along with them. More tactically, during inflationary periods brands will also seek to introduce new product formats and brand extensions. That's because these newcomers will not be "pegged" in consumers' minds to set price levels, in the way that legacy offerings are.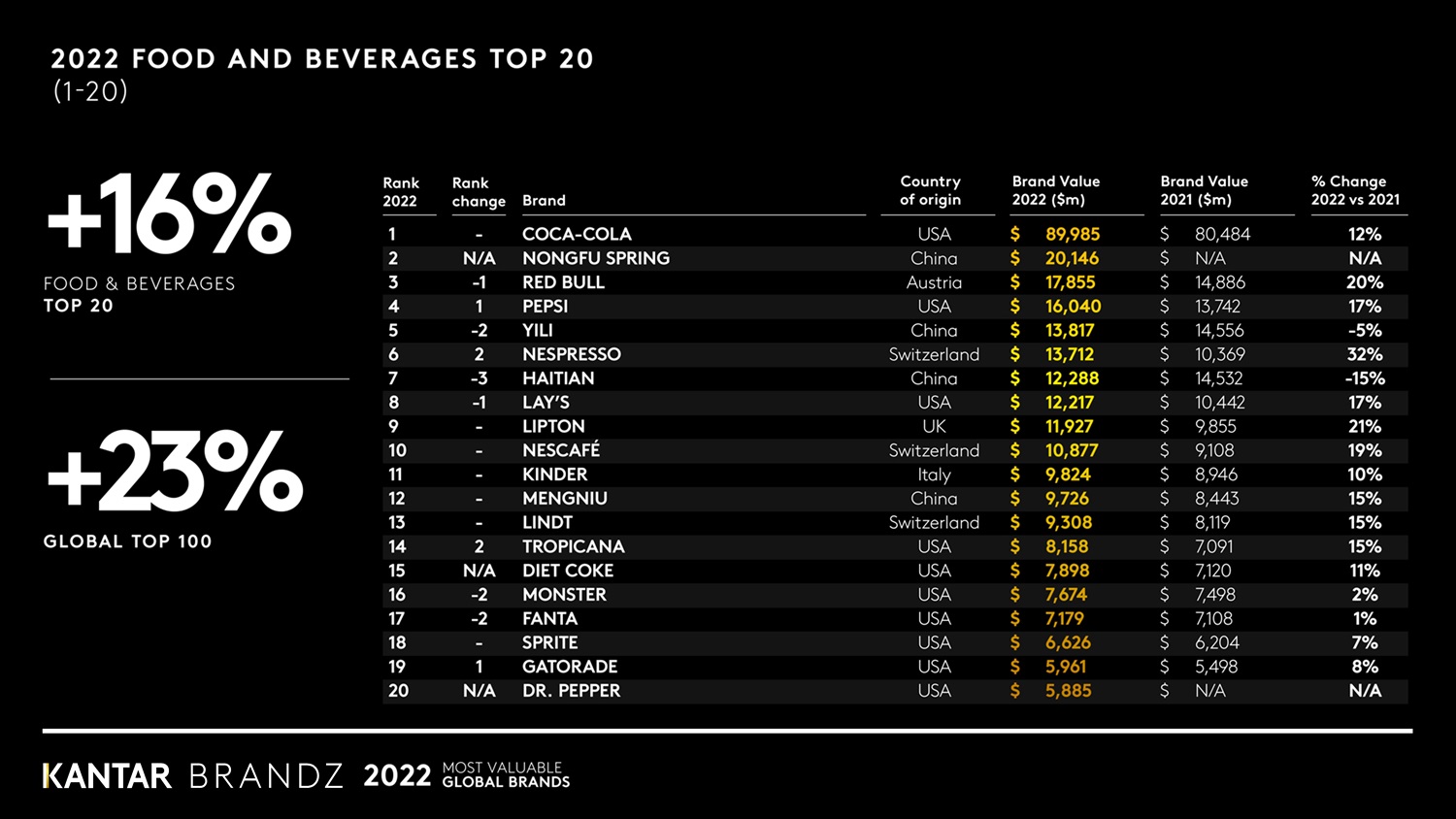 *Brand Value Restated: 1. Diet Coke includes Diet Coke and Coca-Cola Light. 2. Lipton includes the businesses of both hot beverages and ready-to-drink iced tea. 3. Red Bull includes sugar-free and Cola. 4. The Brand Value of Coca-Cola here does not include- Diet Coke and Coca-Cola Light. 5. The Brand Value of Pepsi includes Diets.
Following its strong IPO debut on the Hong Kong Stock Market in 2020, bottled water brand Nongfu Spring has continued to post impressive growth, and this year makes its debut on the Global BrandZ ranking. As the overall Chinese bottled water market continues to grow, Nongfu Spring has taken many steps to protect its unusually high Differentiation in an otherwise commoditized category.Naturalness and nationalism are both strong selling points for the brand; Nongfu Spring has exclusive bottling rights at some of China's most famously pristine lakes and mountain springs. Product innovation geared toward offering options at all price ranges is another differentiator.
Brand building action points
1. Feed the culture
Leading food and beverage brands are cultural assets as well as culinary products. But in the past two decades, reputational concerns around childhood obesity have kept these brands from more fully leveraging their intellectual property (in the way that, say, toy brands like Lego have struck lucrative film deals.). One way forward for food and beverage IP lies in entertaining "forever young" Millennials.For example, look to the burgeoning world of candy-hued beauty brand collaborations: whether its lip balmsflavored to taste like China's White Rabbit milk candy, or recent eyeshadow palettes themed around Hershey's Kisses and Lucky Charms cereal.
2. Slow down
In America, especially, the most emblematic branded food item of the 2010s was "the bar": a protein rich,fiber-fortified, nutrient-dense meal replacement offering that was designed more to fuel people than to delight them. The rise of the bar was premised on the notion that hardworking consumers had no time for more traditional breakfast and lunch occasions. Except now, people do – and as flexible workdays look to become a more permanent feature of people's weekday lives, it's time to take mealtimes seriously again. Convenience in food preparation and cleanup are still key. But the notion that consumers are looking for products that they can scarf down in 45 seconds between meetings, or eat furtively at their office desks, is not of a piece with our times.
3.Regenerate
Recently, Kantar's Sustainable Transformation Practice surveyed a worldwide audience to determine the global development issues that people most wanted food and beverage brands to prioritize. Environmental causes were seen as most important: overconsumption and overpackaging, to ocean plastics, water pollution, pesticide abuse, over farming, and deforestation. In short, consumers are well aware that these products are sourced directly from the land and sea – which can be a good thing, businesswise, insofar as notions of "naturalness" can drive perceptions of value. But food and beverage brands, more than others, are expected to give back to the earth as well as take from it. In this truth, you can see the genesis of the Regenerative Agriculture movement, which is poised to become a key sustainability theme for the 2020s.
The Kantar BrandZ Most Valuable Global Brands 2022 ranking and extensive analysis are now available in the new report via https://marketplace.ktrmr.cn/marketplace/brandz-booth/2022-kantar-brandz-china-report.shtml .