Kantar BrandZ™ Most Valuable Global Brands 2021 ranking report includes in-depth analysis of brand landscape and trends of 18 categories. We will publish the analysis content about a number of categories in English and Chinese. This article is based on the category focus section of luxury industry.
Luxury industry has seen impressive gains in Kantar BrandZ™ Most Valuable Global Brands 2021 ranking, with top 10 brands achieving a total brand value of $237 billion, increasing 34% from last year. Geographically, China and other Asian markets were the indisputable engines of economic recovery. In the fourth quarter of 2020, for instance, LVMH's Asian revenues increased by 21 percent, compared with a decline of 24 percent in Europe and 2 percent in the US.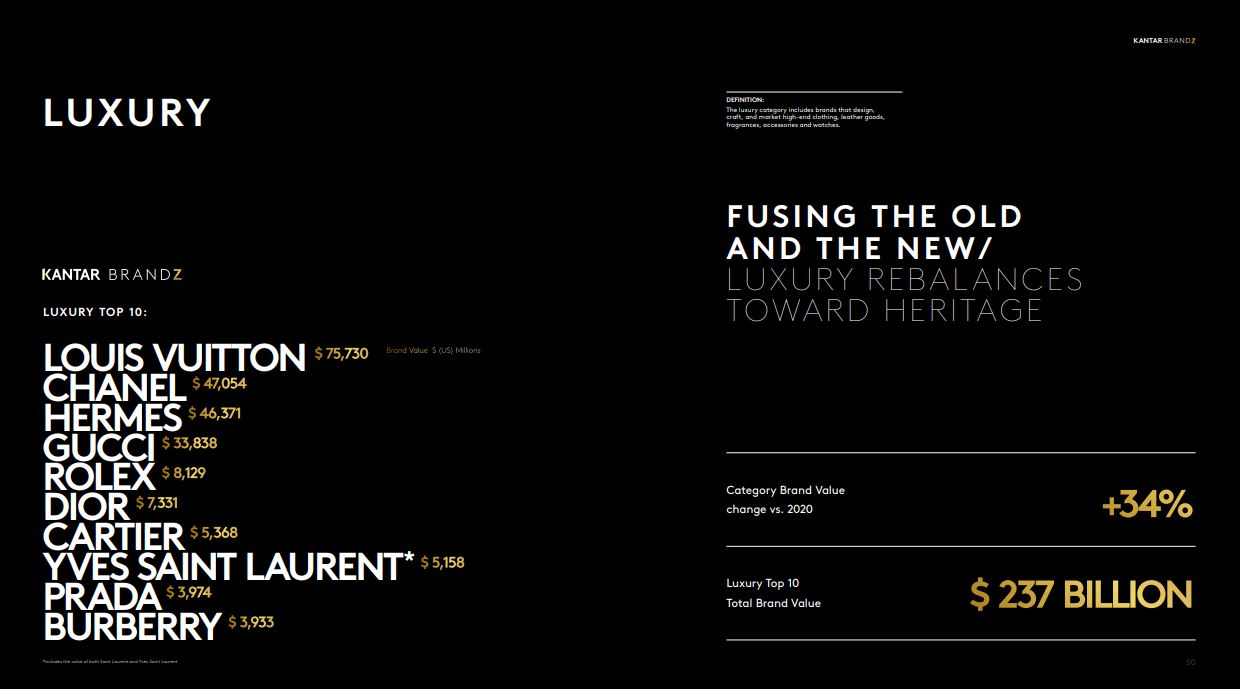 * includes Saint Laurent and Yves Saint Laurent
Luxury sales within China were stronger than ever in 2020. Online shopping, especially, is one area where luxury brands can no longer afford to lag behind. The Chinese market, thankfully, already boasts robust ecommerce platforms like WeChat and Tmall's Luxury Pavilion.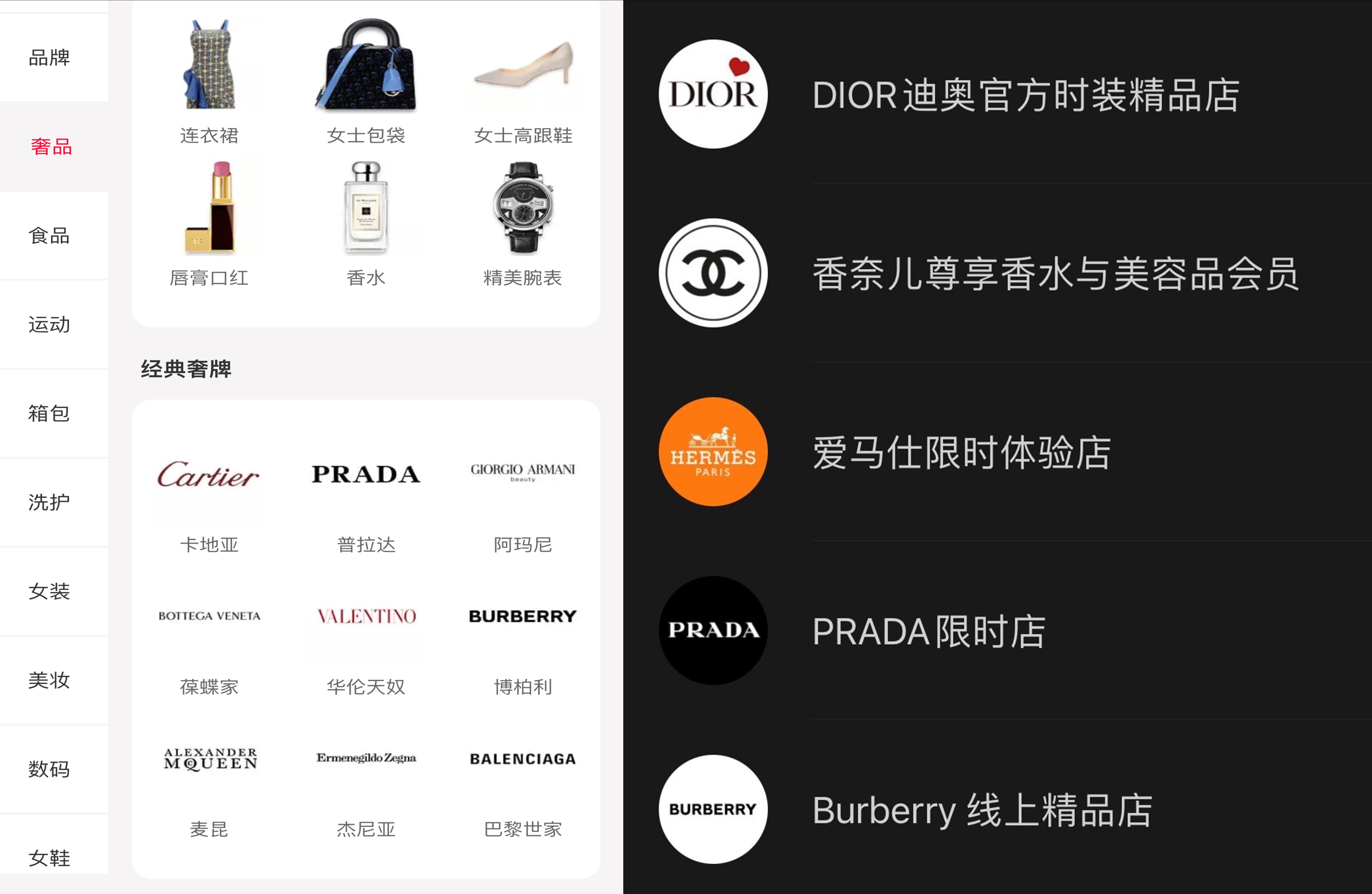 Luxury consumption in China keeps increasing even in the post COVID-19 era. Chinese consumers never stopped their passion for interacting with luxury brands, products and experiences. This is largely due to the premiumisation trend happening at a national scale, and the growth of the middle class. Luxury in China witnessed a shift: from possessing expensive products as a representation of wealth, to having access to exclusive experiences with luxury brands and products. From another aspect, as digitalisation in China continues to deepen, it brings new dynamics to luxury brands and allows them to innovate in new ways, such as with digital applications and virtual journeys, to appeal to younger generations.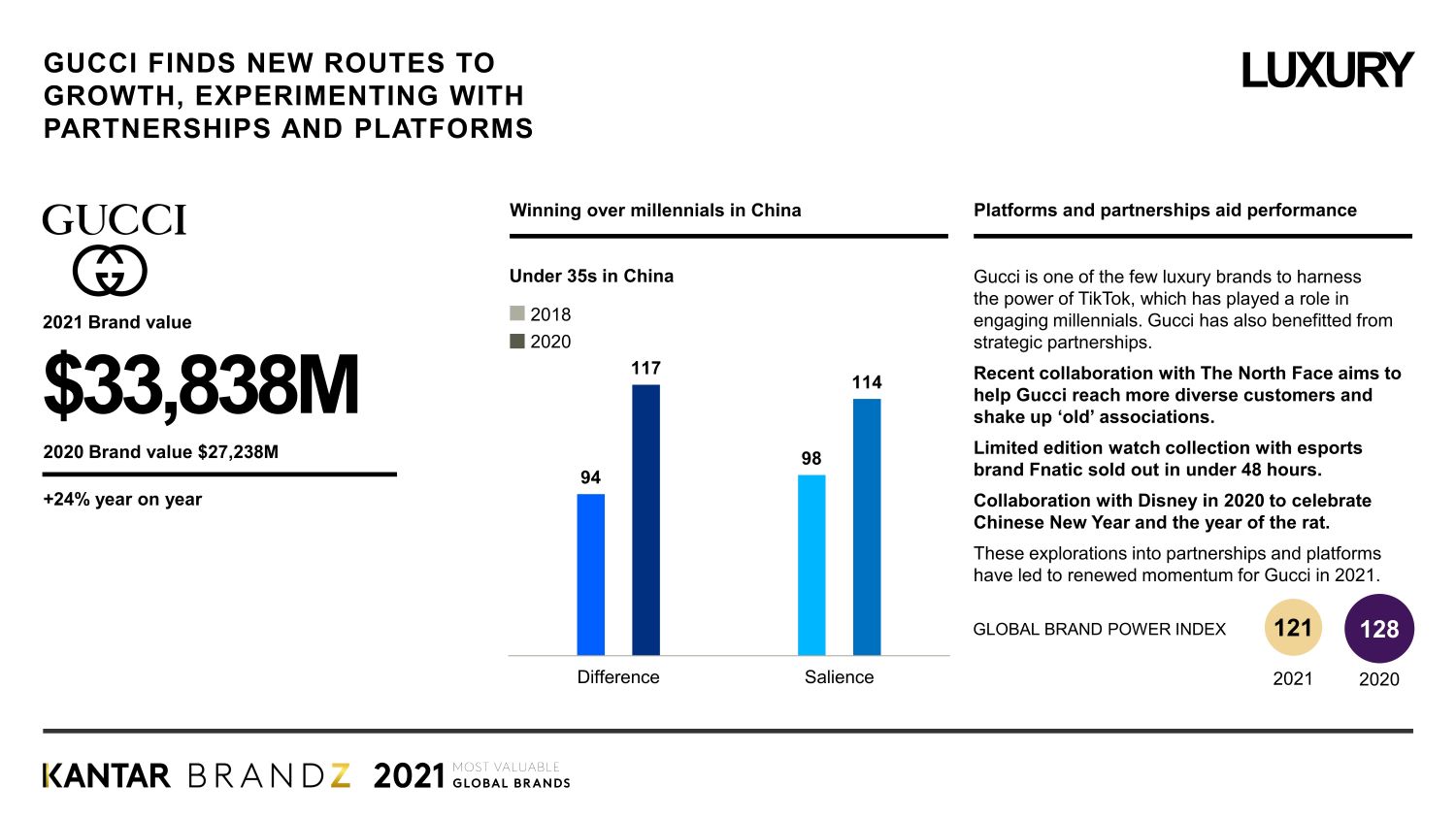 The driver of luxury brands: Heritage and fashion
For these brands, recovery has meant doubling down on their most affluent customers, and on their biggest markets – especially China. Luxury brands that recovered quickest and best, however, tended to be those with strong heritage positioning. Thanks to a robust second-half sales rally, for instance, Hermès finished the year with a revenue decline of only 6 percent. Hermès's recovery was driven by demand for classics like its Birkin and Kelly handbags, as well as its home goods and jewellery offerings. Similarly, LVMH's strongest performing businesses were heritage brands like Dior and Louis Vuitton.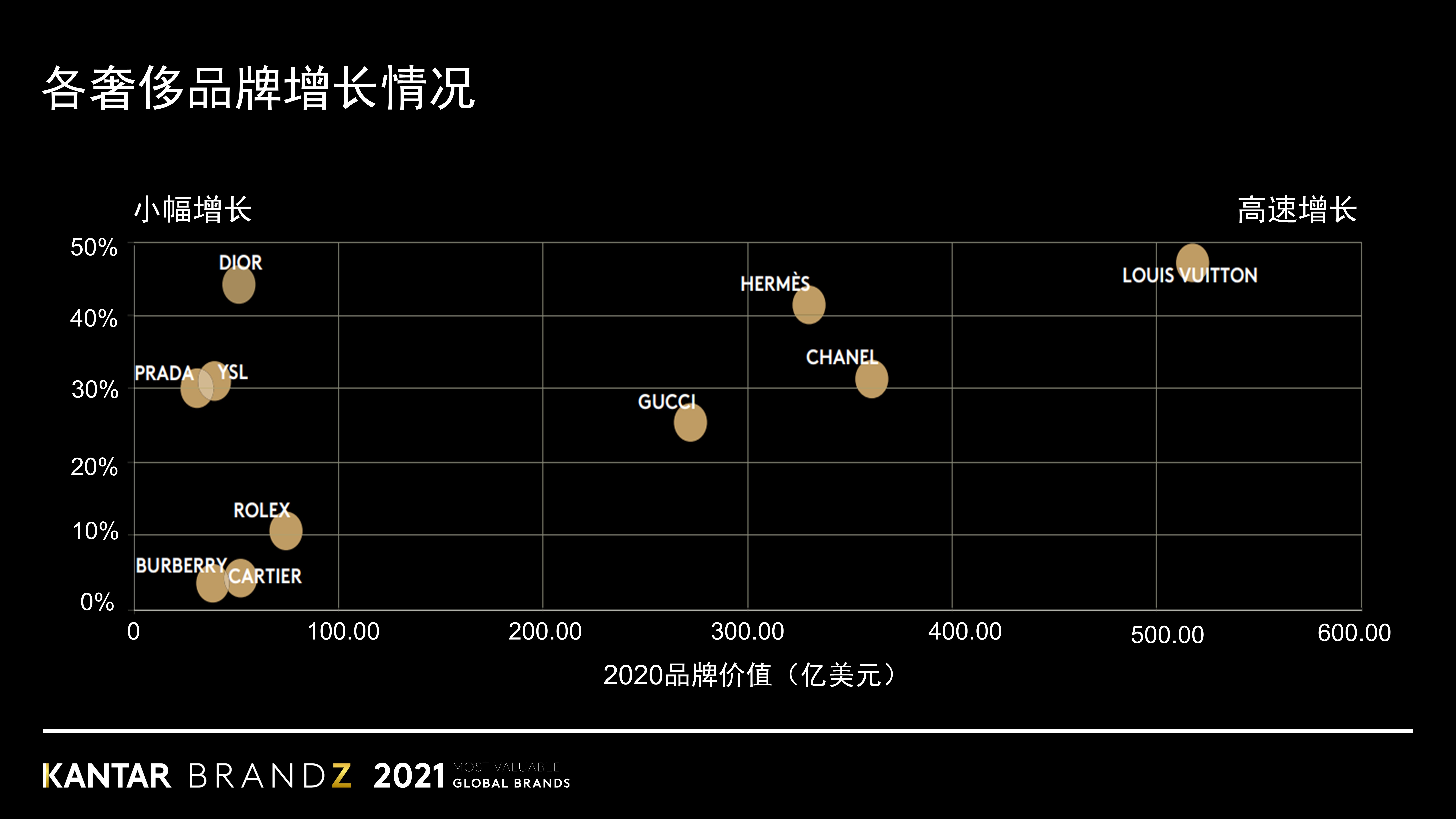 "Heritage," meanwhile, need not suggest stuffiness. There will always a portion of the luxury market that's driven by cutting-edge fashion propositions. Witness, for instance, the continued 2020 success of 2019's buzziest brand reboot, LVMH's Bottega Veneta – as well as strong demand for the streetwear-inflected silhouettes of the Dior and Vuitton's mens' collections. Celine turned heads with a series of TikTok inspired collections.Work and leisure patterns will continue to evolve post-pandemic toward a greater casualness. As a result, brands relying on formal tailoring might well struggle – while those that master luxe athleisure are primed to win.
Build sustainable luxury brands
luxury brands' sustainability efforts have also become more nimble – and more lucrative. Stella McCartney, Loewe, and Chloe have built collections around the reuse of deadstock fabrics and surplus leather scraps. Burberry launched a program to donate unused fabric to fashion students. Prada expanded its Re-Nylon range, which turns recycled ocean plastic and fishing nets into high fashion.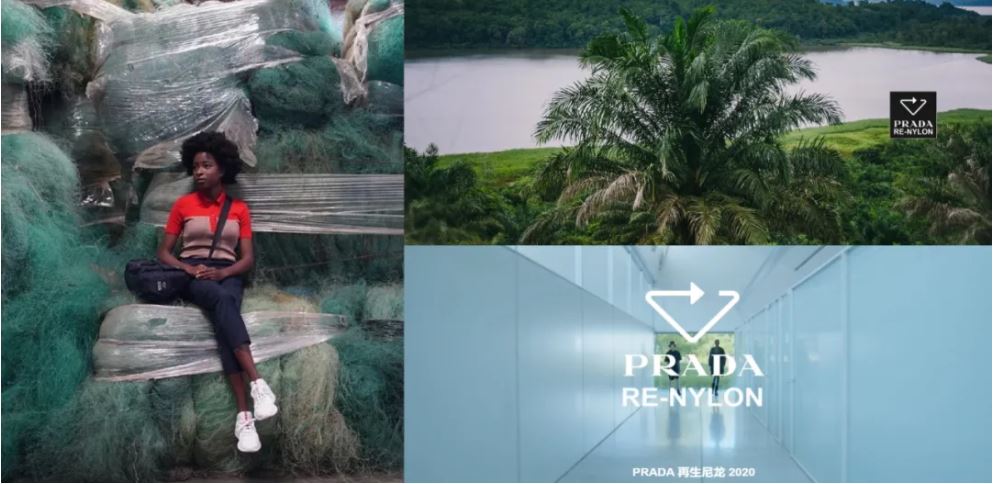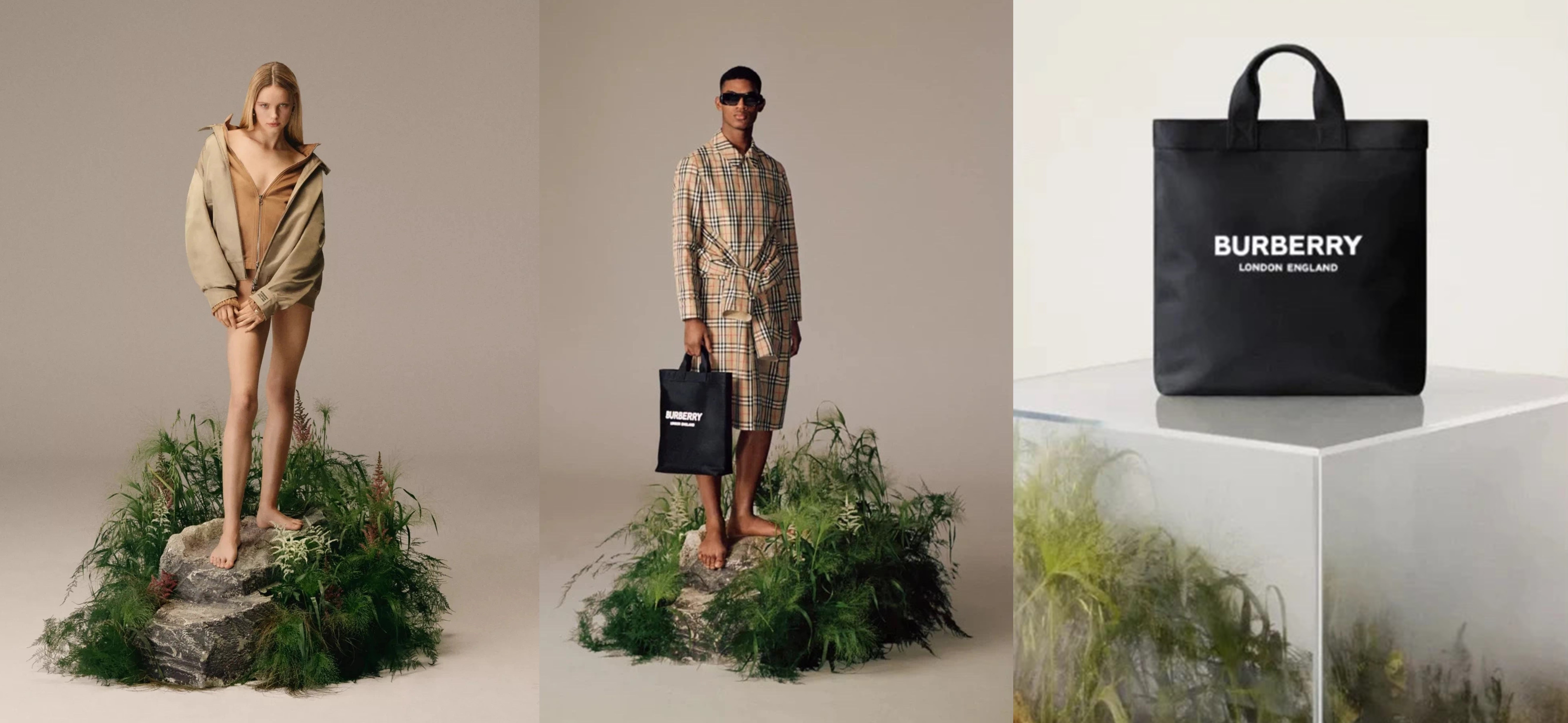 Online luxury resale sites emerged as a cornerstone of the effort to reduce materials waste – while offering brands and consumers alike the chance to cash in on past-season wares. Gucci, for instance, launched an official partnership with The Real to authenticate goods on the fashion resale site.

Alexander McQueen went one step further with its "Brand Approved" service in partnership with Vestiare Collective. Customers can now return preowned McQueen items directly to the brand's boutiques, in exchange for store credit – while McQueen puts the old wares up for sale on Vestiare's website. Not coincidentally, McQueen's parent company, Kering, recently acquired a 5 percent stake in Vestiare Collective in a deal that valued the startup at some $1 billion


Games win hearts of GenZ
With store closures, and traditional runway shows and travel bought to a halt, luxury brands have had to find new ways to connect with consumers. Gaming and Esports have thrived against the backdrop of COVID-19 – presenting a unique opportunity for brands, given their highly engaged GenZ audience. With high crossover in well established luxury markets – China, US, Japan, South Korea – it's little wonder that brands find this an attractive platform to drive reach.



Big names from both sectors are getting involved (see Louis Vuitton and League of Legends, Valentino/Marc Jacobs and Animal Crossing, Burberry and Honor of Kings, Gucci and Fnatic). This phenomenon is going nowhere.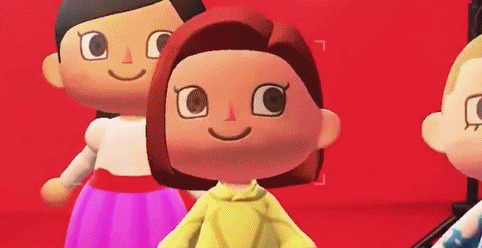 The gaming platform not only provides brands with the ability to drive cultural relevance, but gives players an ability to stand out and differentiate online – interweaving the brand into the characters and styles. Offering rich storytelling, not just product placement, it means brands can connect more deeply, and gives gaming audiences a new way to explore product.


Action points
1.MASTER THE MIX
Today's ideal luxury brand range is one that balances high-ticket heritage items with directional design that makes the house feel relevant to modern living. Not an easy balance – but lucrative for those who can manage it.

2.THINK LOCAL
Overseas travel will eventually return, and it will be a boon for luxury when it does. But going forward, brands should take pains to understand – and cultivate – both their local and tourist customer bases.

3.RETHINK EXPERIENCE
For those who are lucky enough to snag an invite, attending Fashion Week shows is the zenith of brand love. How can brands use new technology – combined with exquisite physical lookbooks and trunk shows – to cultivate this fervour and give that thrill to more loyal customers
EDITOR'S NOTES
* To reach the author, or to know more information, data and analysis of China's auto market, please contact us.