According to Kantar Worldpanel, sales in China's fast-moving consumer goods (FMCG) market (note 1) in the first quarter of 2021 increased by 10.5% year-on-year, which is a 3.1% increase compared with the same period in 2019 (before COVID-19 outbreak). The market growth mainly came from the southern region (note 2) and online channels. Recently, the National Bureau of Statistics released the year-on-year GDP growth of 18.3% for the first quarter of 2021. With the pandemic under control and the overall economy continued its rebound, China's FMCG market has been recovering well.
The out-of-home FMCG market (note 3) grew significantly by 38.9% year-on-year in the first quarter, equivalent to an increase of 0.4% compared to the same period of 2019. This indicates that China's out-of-home consumption market has totally recovered. As a result of the increase in people's outdoor activities, skin care and facial cosmetics categories showed double-digit growth. Meanwhile, consumers are cooking less at home and caused declines of some food categories, such as instant noodles and frozen products.
Modern trade
Modern trade (including hypermarkets, supermarkets, and convenience stores) has recovered and slightly increased by 1.4% compared to last year, but still decreased by 2.6% compared with the same period in 2019. Among them, the sales from small supermarkets (+6.5%) and convenience stores (+8.7%) increased steadily. The value sales of hypermarkets saw a similar performance to last year with a slight increase of 0.3%, while that of large supermarkets kept falling by 1.3% year-on-year. This implies that many consumers are keeping their newly found habit of buying fast-moving consumer goods from stores near their homes and communities.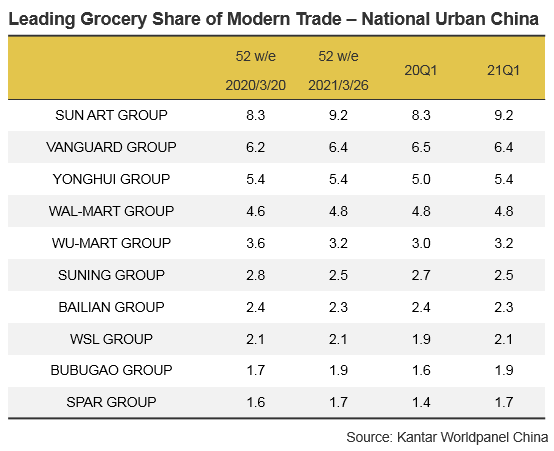 Among the top players (note 4), Sun Art Group maintained its first place with a market share of 9.2% which increased by 0.9 percentage point compared to last year, driven by both an increase in the number of consumers and the expansion of shopping baskets. In order to meet consumers' digital and near-field shopping needs, Sun Art Group is investing heavily in setting up its small and medium-sized stores and O2O channels as they continue to build their omni-channel presence.
Wu-Mart Group has entered the top 5 ranking of retailers in China for the first time, with its strong performance in the northern and western regions. The market share of Wu-Mart Group reached 3.2%, growing by 0.2 percentage point year-on-year, which is likely attributed to its highly developed digital retail network - Dmall. The "Wu-Mart + Dmall" model has realised the integrated development of online and offline retailing, attracting more consumers who have strong purchasing power and pursuit of convenience.
For local retailers, both Better Life Group and SPAR Group performed well, achieving double-digit growth of their sales value compared to the same quarter last year. The growth of Better Life Group is mainly driven by the expansion of consumer shopping baskets with the help of its digital transformation. The growth of SPAR Group mainly comes from the outstanding performance of its corporate member Jiajiayue. In addition to cultivating the market in Shandong, Jiajiayue began its national expansion, accelerating the expansion of North and East China, and further improving its coverage of surrounding regions.
Ecommerce
Online shopping channels maintained a strong growth, with an increase of 33.4% over the first quarter of 2020. Online shopping is still favoured by consumers even in the post-Covid era in China, as it now represents 22.8% of total FMCG value sales here. Ecommerce continues to attract new customers (especially in lower-tier cities (note 5) where penetration rate grew by 10.7 percentage points over a year ago), and consumers are buying online more frequently - both contributing to the growth of online sales.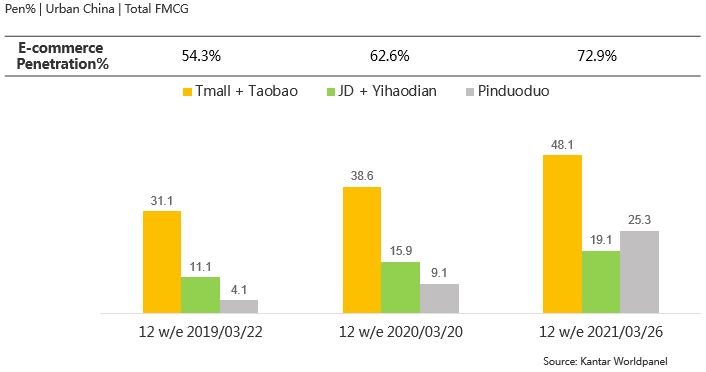 Among the top ecommerce platforms, Alibaba Group holds its leading position with over 40% of the total online market value. Nearly half of Chinese urban households have purchased FMCG on Alibaba's platforms during the first quarter. JD Group's market share dropped slightly compared to last year, while Pinduoduo continues its phenomenal growth, increasing its market share by 5.7 percentage points and reaching nearly 10% of the total share.
In addition, slightly more than a quarter of urban families (25.3%) made at least one FMCG purchase on Pinduoduo in this quarter. This number increased fivefold over the past two years and directly helped Pinduoduo to surpass JD Group. We can see that Pinduoduo is expanding particularly fast in lower-tier cities, as its number of consumers have tripled there compared to the same period last year. The annual report of Pinduoduo shows that its number of active buyers has reached 778.4 million by the end of 2020. Pinduoduo is aiming to build a logistics infrastructure platform focusing on agriculture, where consumers can get fresher and healthier fresh food at lower prices.
Notes to editor:
1. Kantar Worldpanel China continuously measures household purchases over 100 product categories including cosmetics, food and beverages and the toiletry/household sector. Its national urban panel has 40,000 households from 20 provinces and four municipality cities (Beijing, Tianjin, Shanghai and Chongqing);
2. The east region includes Shanghai, Jiangsu, Zhejiang, Anhui, Henan; the north region includes Beijing, Tianjin, Shanxi, Heilongjiang, Liaoning, Jilin, Hebei, and Shandong; the south region includes Fujian, Guangdong, Hubei, Hunan, and Jiangxi; the west region includes Chongqing, Shaanxi, Sichuan, Guizhou, Guangxi, Yunnan;
3. Kantar Out-of-Home Panel tracks 8,000 individuals covering Key & A cities;
4. Suning Group includes Carrefour and Suning CVS; Wumart Group includes Metro, Wumart, and New Century; Better Life Group includes BBG Department Stores, Nancheng Department Stores, and Jiarunduo;
5. Lower city tiers include prefecture level cities and county-level cities & counties.