Kantar BrandZ™ Most Valuable Global Brands 2021 ranking report includes in-depth analysis of brand landscape and trends of 18 categories. We will publish the analysis content about a number of categories in English and Chinese. This article is based on the category focus section of automotive industry.

Key findings for the automotive sector in this year's study include:

- Tesla more than trebled its brand value, increasing from US$11.35bn in 2020 to US$42.6bn in 2021;
- German automotive makers had a strong year, with brand value increasing by 21% for BMW to US$24.8bn, Audi by 22% to US$8.9bn and Mercedes-Benz by 21% to US$25.8bn;
- Honda led the charge for Japanese brands, growing its brand value by 6% compared to a less positive year for Toyota and Nissan, with each declining their brand values by 5% and 4% respectively;
- Only the top four car brands achieved a brand value high enough to be ranked in the Top 100 global brands, with Tesla's meteoric rise positioning it at #47 in the index;
- Chinese start-ups Nio, Li Auto, Xpeng are equally formidable forces in the Chinese market for electric vehicles. So is the Wuling Hong Guang Mini EV model, developed by state-owned SAIC motor in partnership with GM.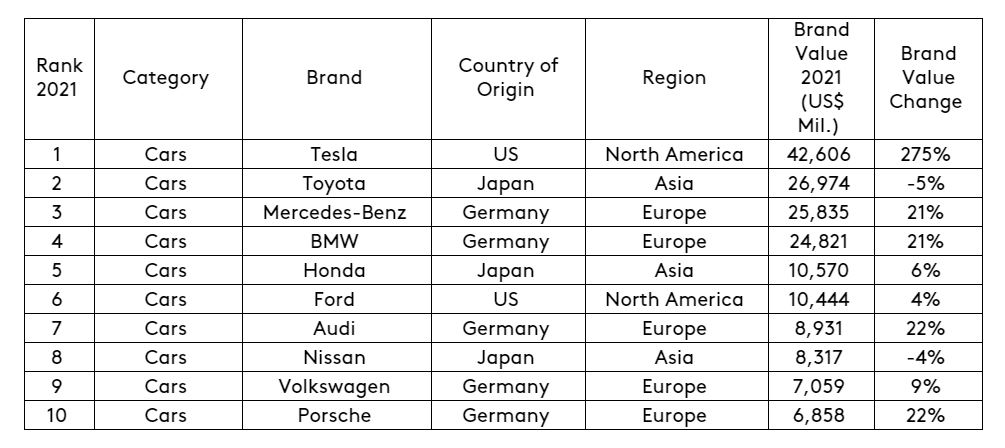 "In the automotive category, brand differentiation will become more and more important as we move towards electrification. The battery and driving technology are likely to converge and become less differentiated – which then has an impact on driving sensation, which may also be a less differentiated selling point in the electric car era," Guillaume Saint, Kantar Global Auto & Mobility Lead comments.

He adds: "So brands will have to find other routes to set themselves apart. They can play in the high luxury or wellbeing space, driven by the quality of materials, or in the space of intuitive and relevant connected features that magnify the driving experience. Differentiation can come through innovative customer experiences related to car and mobility, whether it's in the dealership, on the journey, or at home with relevant content. And naturally, design and style will remain critical drivers of distinctiveness to stand out in the electric car crowd."
Building difference for car brands in a new era for marketing
In the Cars category, Difference is inextricably tied up with design and styling. Certain classic car designs have served as brand assets for generations. It's about intangibles – the look and feel of the car and the emotions it evokes. Some leading car brands score especially highly on "attractive design," while others excel at having a "distinctive look and feel." And some do both.
In recent years, top brands across all categories have begun to emphasise more "virtuous" brand attributes like honesty, fairness, and equality in their marketing materials. Even the most successful car brands, however, tend to be more reliant on more traditional promotional styles that emphasise themes like glamour and excitement. These approaches aren't mutually exclusive – but they have yet to be fully combined in the Cars category.
Brand building action points
1.GO OFF-ROAD

Indoor gathering and air travel restrictions led many to rediscover the joys of nature and the open road. The key for a new generation of off-road vehicles – whether new entrants like the electric brand Revian, or established players like Subaru and Jeep – will be to balance rugged performance and long-range travel with zero-emission specs and ample comfort for camping.

2.SEEK NEW GROWTH SEGMENTS

Before the pandemic, fears of a "deautofication" loomed large: as cities continued to grow, the thinking went, young consumers would increasingly forego car purchasing in favour of public transit and ridesharing. But the pandemic has scrambled demographic patterns in some markets – with some cities seeing an exodus in favour of more spacious suburbs, and some consumers rediscovering the freedom and security of car ownership. Car industry trends and residential trends are closely linked – and brands should understand how consumer behaviours have attitudes have changed in the wake of COVID-19.

3.GET CREATIVE WITH DESIGN

As the CEO of Stellantis (created from a merger of Fiat-Chrysler and Peugeot's parent company) recently explained it, one of his key missions was to create not just great cars – but also strongly distinct brands. Interior and exterior design is one way to accomplish this goal – though too often car brands' design cues converge upon a kind of utilitarian sameness that works against Meaningful Difference. The shift to battery-powered cars offers brands the perfect opportunity to shake up their design codes – not least by freeing up lots of new space in cars' interiors that might otherwise go to support a combustion engine. Brands should take advantage of the opportunity to think big on design.
NOTES TO EDITORS:
*STELLANTIS is created from a merger of Fiat-Chrysler and Peugeot's parent company;
*This is a digest of Category Focus section of automotive industry of Kantar BrandZTM 2021 Most Valuable Global Brands report. To download the report, please click here.