*As we approach the year's end, Kantar China will publish a series of Thoughts Leadership articles from The Kantar BrandZ™ Top 100 Most Valuable Chinese Brands 2021 report. We sincerely hope by sharing these insightful articles, we can help clients to build stronger brands in 2022. This article is based on the 'BRANDS AND PROVENANCE' in page 68-69 of the report with editing.
If you talk to Chinese people from all corners of this vast country and ask them to name the most inspiring and aspirational stories being told in this nation nowadays, do not be surprised to hear a lot about both the 'China Dream' and the 'Space Dream'.
These two stories both involve profound connections between China's traditional heritage and its innovative future, a link that is made immediately clear by many of the names used by China's space program: 
• Chang'e, the lunar orbiter, is named after the ancient goddess who flew to the moon 
• Zhurong, the Mars rover, is known as the 'God of Fire' (is there a better name for explorers landing on the red planet?) 
• The name of Wukong (literal translation: Awaken the Void), China's Dark Matter Particle Explorer, is taken from the famous protagonist in the novel Journey to the West: the one and only Monkey King, who possesses a pair of penetrating eyes 
• The China Planetary Exploration Mission itself is called Tianwen, or Questions to Heaven. It is so named after a poem written by Qu Yuan, one of the greatest poets of ancient China, who lived some 2,300 years ago.
These names might not mean much to an outsider, yet they mean the whole world to Chinese people. Embedded in each of these iconic names is a shared culture which has been passed down for thousands of years. This is the power of leveraging cultural confidence in storytelling. President Xi Jinping describes cultural confidence as a "fundamental and profound force that sustains the development of a country and a nation," which manifests itself through a series of core values, traditional virtues, and humanism. 
If such cultural confidence can prove resonant even in the farthest corners of outer space, there is no reason why brand owners and marketers cannot use traditional heritage to tell similarly effective stories closer to home. At Kantar, we test more than 10,000 ads around the world each year for our clients, and we see many brilliant examples of effective storytelling. Here, we have distilled these learnings into several best practices for the Chinese market. Not surprisingly, cultural confidence has a major role to play in each of them:
1. Be distinctive
In a world where there is a profusion of ads, cutting through the clutter is the first hurdle an ad needs to overcome in order to be effective. Not getting noticed simply means a lost opportunity to communicate.Making yourself look different from the rest of the crowd is key to competing for the ever-shortening attention span of consumers. But that raises the question: At a time when most Chinese brands are now trying to associate themselves with culture heritage, how can you make your brand story a truly unique one?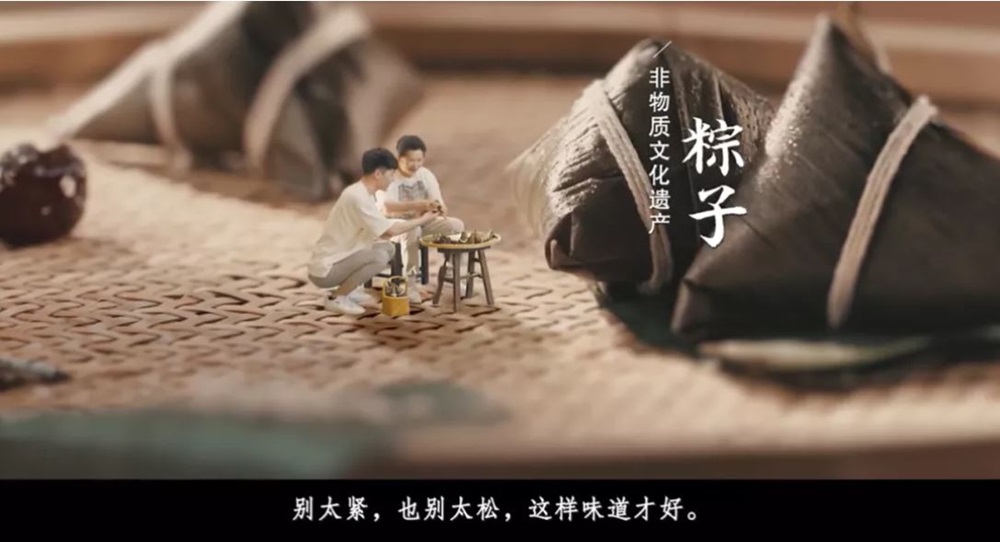 Image source: Douyin x Youzan's intangiblel cultural heritage adervtisement
In a campaign from Douyin, viewers were invited to take a fresh look at some of China's Intangible Cultural Heritages. Zongzi, for example, is not just the rice dumpling we eat on every Dragon Boat Festival occasion to commemorate the death of Qu Yuan. Douyin's ad also highlighted the important lesson that zongzi hold, based on the way they are wrapped. This lesson is tied to China's traditional Doctrine of the Mean: Zongzi cannot be wrapped too tight nor too loose, only the "right" amount of space between the glutinous rice and bamboo leaves will allow the steaming process to deliver the best taste. This ad portrayed the viewing and shopping experience on Douyin a truly unique one, as it takes cultural immersion to the next level.
2. Brand intrinsically
If an ad manages to grab consumers' attention yet fails to make viewers remember which brand it is being advertised for, the effort made to cut through the clutter will, at best, be wasted (at worst, consumers might misremember an ad as belonging to a competitor).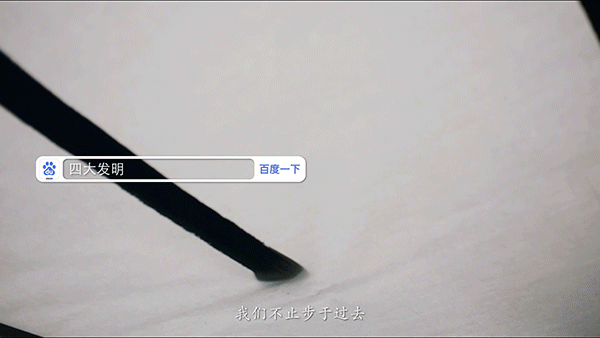 Image source: The search box of Baidu Chinese fad campagin 2021 
In a campaign, Baidu celebrated cultural confidence by featuring key words such as 'blue and white porcelain' and '5G' in the search box, thus portraying the brand as a 'bridge' to better understand how China's great achievements are carrying on into the present day.
3. Be meaningfully different
To make a long-lasting impression and contribute to long-term equity building, brands need to tell compelling stories that fulfil consumers' functional and emotional needs. Increasingly, brands are leveraging Chinese cultural heritage to play in more emotional and social territories. Dairy brand Mengniu, for example, built on its brand proposition of 'born for greatness' by introducing a new ad during the Chinese New Year that encouraged viewers to 'Make Friends with Difficulties'.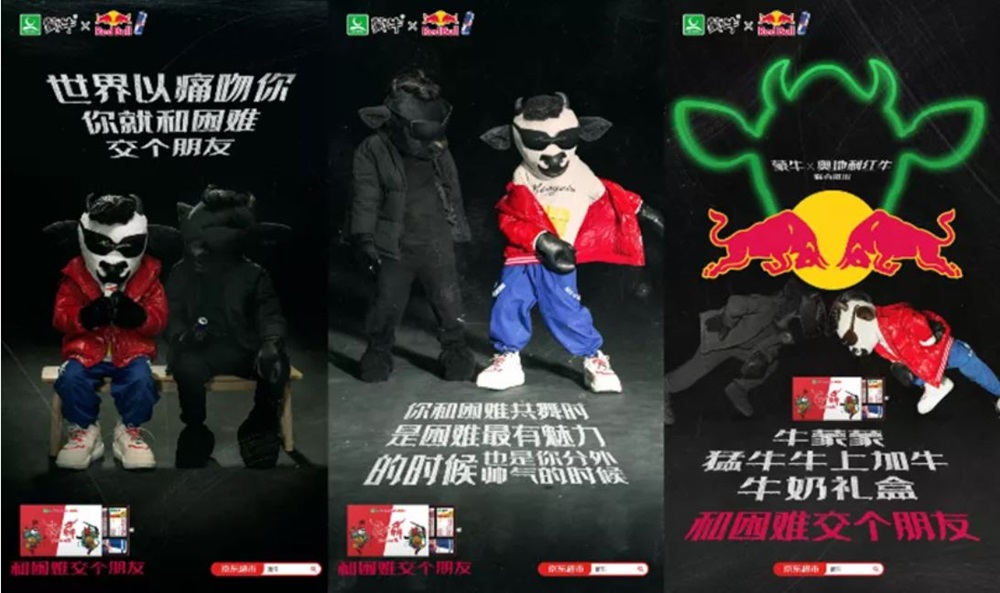 Image source: Mengniu's official posters
2020 was a challenging year with many difficulties, but China's classic Book of Changes has taught us that " just as the celestial bodies never run out of energy to orbit round, so should we always strive to better ourselves." Mengniu's ad exhorts us to not only strengthen our bodies, but to also strengthen our minds, for this is how we can truly overcome these challenges.
4. Trigger emotions
Both our conscious and our unconscious minds are at work when processing an advertisement. If we want our brand story to resonate in the minds of consumers, we should not make consumers 'work' too hard to decode an ad; instead, they should be able to instantly resonate with the ad by feeling the intended emotions we are trying to convey.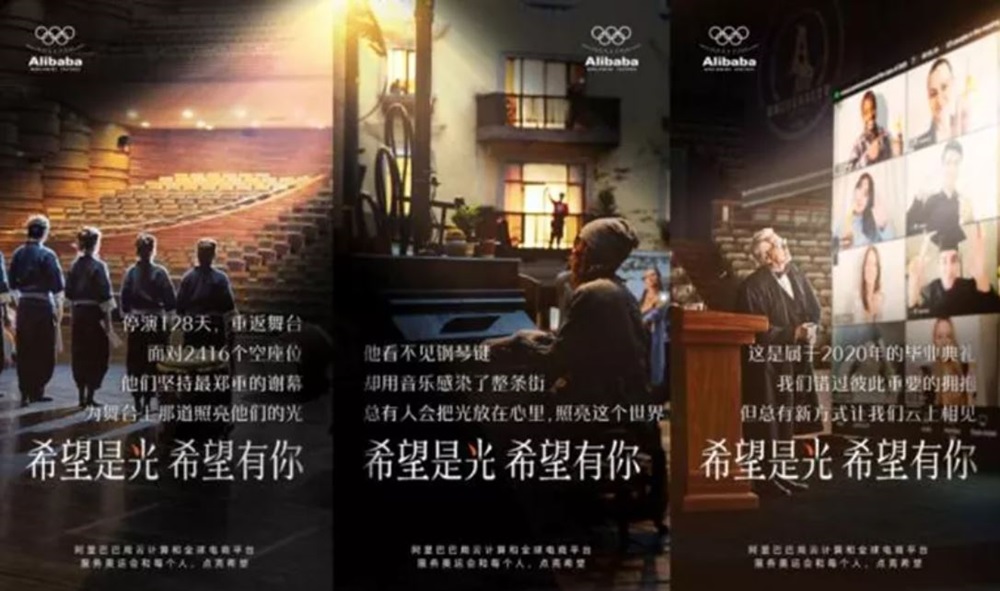 Image source: Alibaba's official posters
'United by Emotion' is the motto for the 2020 Tokyo Olympic Games. Alibaba, as a worldwide Olympic partner, has launched a campaign that is based on one of the most fundamental emotions of all: hope. After what the world has experienced in 2020, this is perhaps just what people need the most at the moment. In sum, China's five thousand year cultural heritage is a treasure box that offers endless inspirations for brands to tell aspirational stories, stories that can be leveraged to forge unbreakable bonds with Chinese consumers.