● Although impacted by the pandemic, Chinese brands continue to gain market share and consumer loyalty globally
● 2021 ranking adds four emerging markets to cover 11 in total
● Consumer electronics and mobile gaming brands still making up the lion's share of Brand Power
● 32 brands remain in the 50 ranking since 2018
(May 10, 2021, Shenzhen, China) Google and Kantar today launched the Top 50 Kantar BrandZTM Chinese Global Brand Builders 2021 Ranking report in Shenzhen, China. Although impacted by the pandemic, Chinese brands continued their brand building investment to grow their business overseas. Top Chinese brands experienced a continued rise in brand awareness in developed markets included in the study.
The Top 50 Chinese Global Brand Builders report reached its fifth anniversary this year since Google and Kantar began to analyze Chinese global brands in 2017. The 2021 ranking has expanded to include four emerging markets – India, Indonesia, Mexico and Brazil – where consumer interest in Chinese brands is rapidly growing, and more Chinese brands start to find opportunities there.
Last year was certainly the most challenging for Chinese brands going overseas. In the face of global disruption, the Top 50 Chinese brands stayed aligned to their core values and actively pivoted to new approaches. By moving quickly on the right strategic insights, Chinese brands have found ways to not merely survive but grow quickly during disruptive times.
"For the first four years of the ranking, one of the main tasks we advised Chinese companies to undertake was to build strong, resilient, and truly global brands. We urged them to take their unmatched logistics and innovation capabilities and use them to create a brand positioning that made them Meaningful, Different, and Salient," said Doreen Wang, Kantar Greater China President & Global Chair of Kantar BrandZTM. "This past year has served as a test of that advice, and it's a test that many Chinese brands passed with flying colors."
In spite of disruptive times and the addition of emerging markets to the formula used to derive the ranking, the distribution of Brand Power across categories has remained relatively stable, with consumer electronics (33%) and mobile gaming (15%) still making up the lion's share.
And while Chinese brands are generally stronger in developed markets, some categories are doing particularly well in emerging markets including transportation apps, cars, and e-commerce.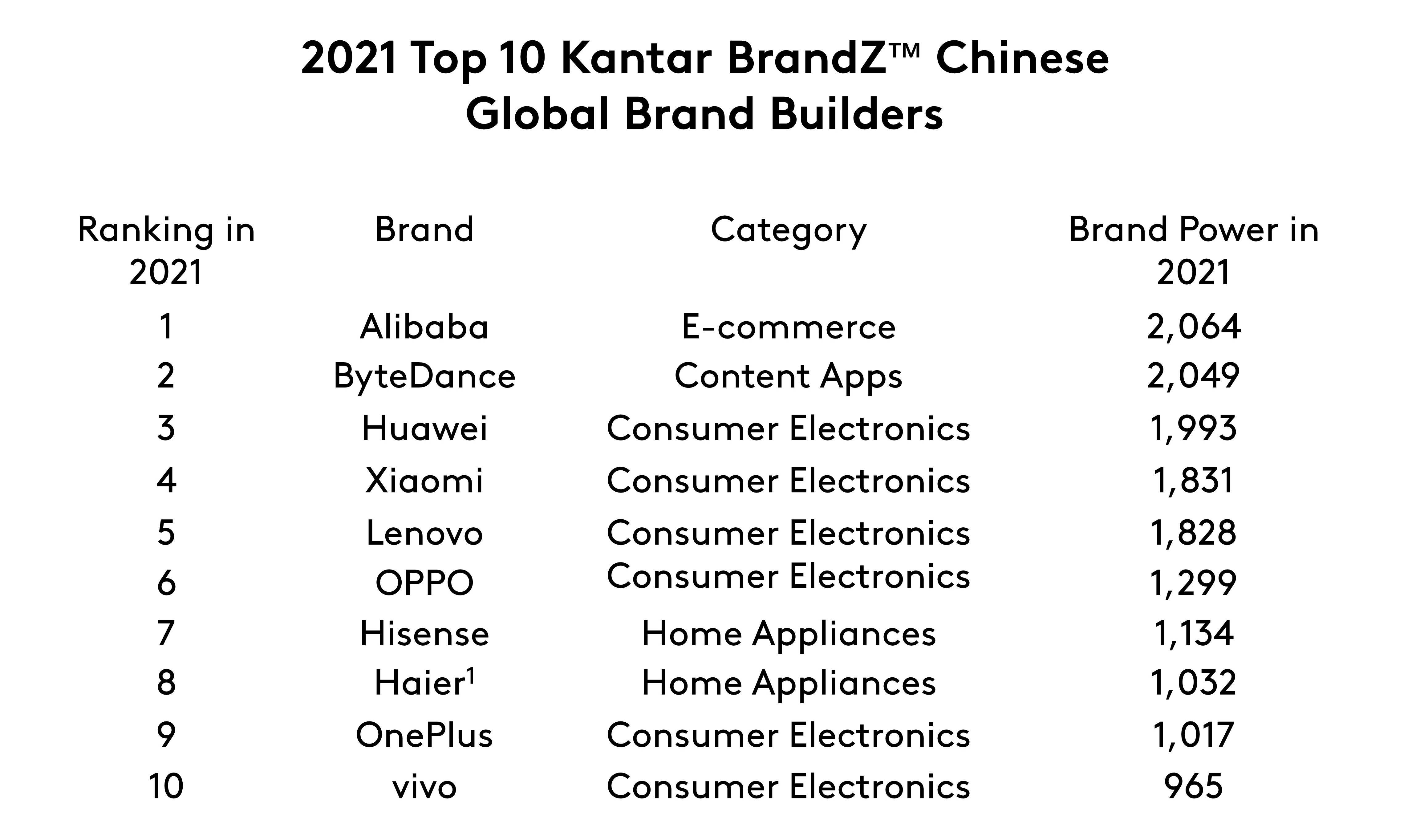 1 The Brand Power evaluation of Haier is based on the data of Haier's single brand Haier Smart Home Co., Ltd, and does not include the data of other sub brands of Haier Group.
"Over the years, we have seen that Chinese companies who have invested in building their brands, are able to achieve sustainable, quality growth and find resilience during financially stressed times," said Annabel Lin, Managing Director of Greater China Solution Specialists and APAC International Growth, Google. "During this challenging year, those brands have managed to stay the course, and increased their trust and relevance with consumers around the globe."
To measure consumer perception of Chinese brands outside of China, Google and Kantar created a four-step methodology that leverages Kantar BrandZTM analytics with Google's online reach and data gathering capabilities. In 2021, the ranking has added data from four emerging markets into the calculation, on top of seven developed markets covered in previous years (Australia, France, Germany, Japan, Spain, the United Kingdom and the United States).
This year's research surveyed more than 860,000 consumers in 11 markets. We compared 282 candidate Chinese brands across 15 categories with 1,380 non-Chinese brands in local markets to select the final Top 50 brands. But since the previous years' ranking are based on the developed markets only, this year's ranking is not comparable year-on-year.
Top five insights from this year's ranking report
1. The strong survive and thrive
2. Stay-at-home brands rise
3. Ten new brands joining the ranking
4. Direct to consumer is a direct road to success
5. Be meaningful and different to increase perceived value
About Kantar BrandZ™ Top 50 Chinese Global Brand Builders
To measure consumer perception of Chinese brands outside of China, Google and Kantar created a four-step methodology that leverages Kantar BrandZTM analytics with Google's online reach and data gathering capabilities. Kantar BrandZTM is the world's leading source of brand equity and valuation knowledge and insight. Google Surveys is an online market research tool for rapidly gaining knowledge and insight about the attitudes and behaviour of people worldwide.
Brand Power is the Kantar BrandZ™ metric of brand equity, the consumer predisposition to choose a particular brand. Three ingredients comprise Brand Power: Meaningful (meeting functional and emotional needs in relevant ways); Different (being distinctive or trend setting); and Salient (coming easily to mind in a buying situation). We calculated the Meaningful and Different scores of each brand based on survey answers. We determined each brand's Salience based on survey answers and the brand's search index in Google and YouTube.