Parents and caregivers alike have been faced with the challenge of balancing their personal needs with those of children, their household, other loved ones and employers. Between school and facility closures, service policy changes, remote working and the stresses of lockdown during a global epidemic, how are people feeling now?
Kantar has conducted an online survey among people globally, asking about their experiences and feelings whilst raising children or being a caregiver during the pandemic and beyond.
The research was conducted online among 5,869 people across eight global markets. Respondents were sourced from the Kantar Profiles Network. All interviews were conducted as online self-completion and collected based on local census distributions in August 2021.
Home-schooling
For many students, the extraordinarily long summer and winter vacations and the experience of online studying at home in 2020 will never be forgotten.
China is one of the countries which have effectively had the pandemic under control. As a result, Chinese parents' average home-schooling period is much lower than other countries at 9.4 weeks. Families in countries with more serious outbreaks, such as Brazil and India, have nearly 30 weeks of home-schooling. Over 20% of parents and caregivers in Brazil, France, Germany and the United Kingdom said they had to give up their jobs to look after their families as the pandemic had disrupted their work-life balance.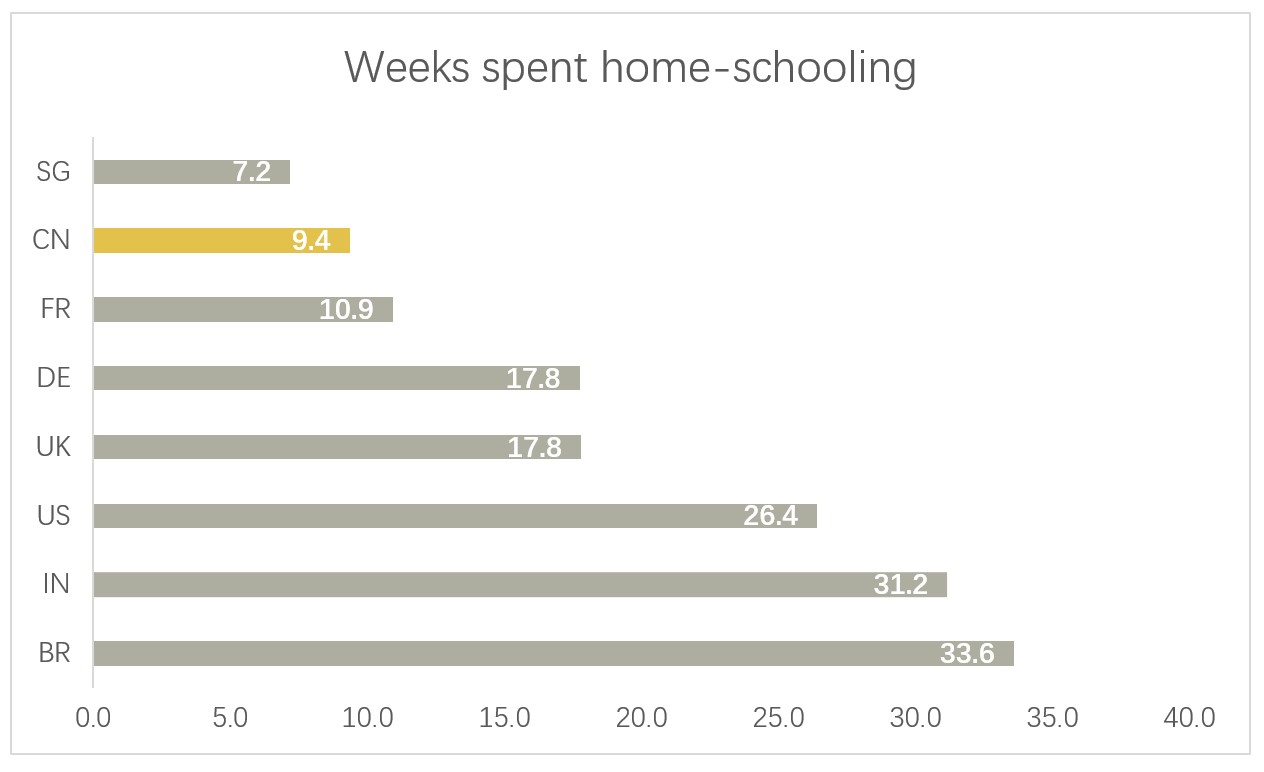 When looking back upon the home-schooling time, parents' experiences vary from country to country. Though quite short, Chinese parents' memories of this "7*24 family bonding time" were not entirely sweet. More than half of them reported not enjoying anything about their experience. Parents had to update knowledge to support curriculum, and they felt frustrated because they didn't give all they could to their work.
On the contrary, in Brazil, India and the United States, nearly 80% of parents reported that they enjoyed the time. They gained more quality family time with their kids and enjoyed re-learning things.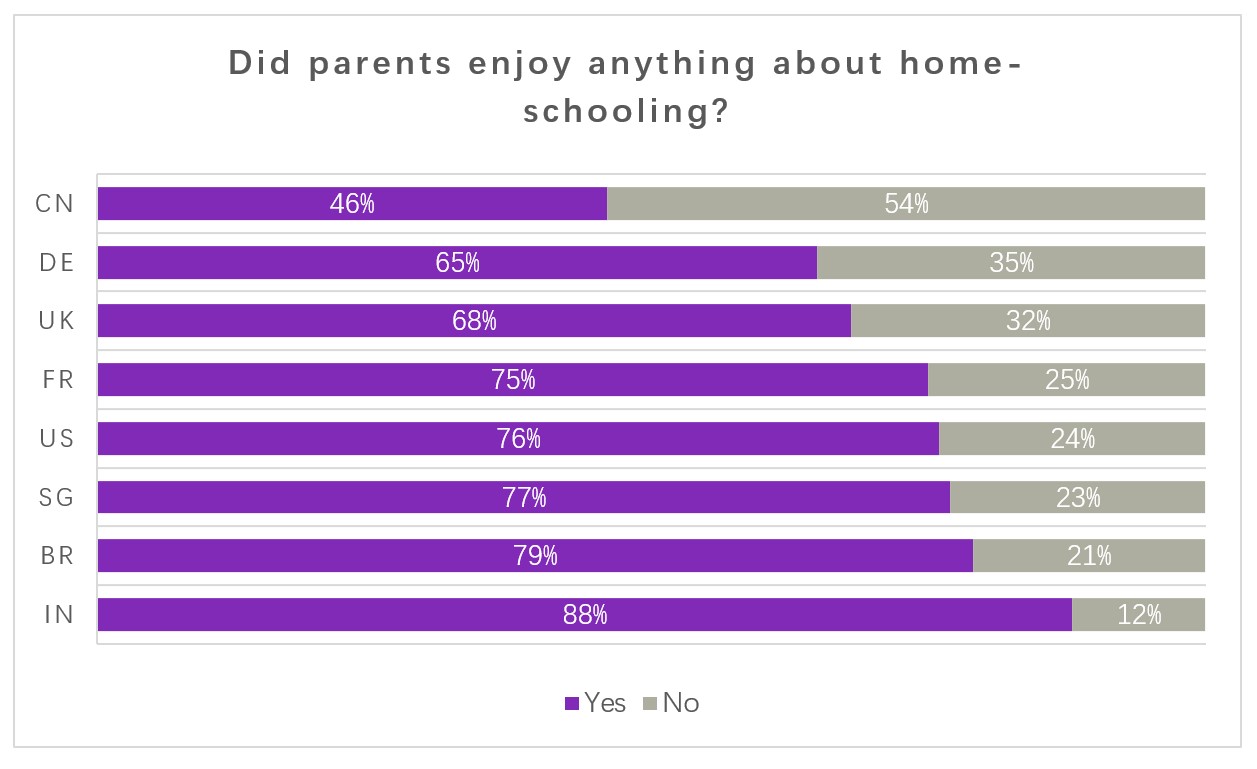 Positive impact home-schooling had on parent well-being (Top 3)

Negative impact home-schooling had on parent well-being (Top 3)

What were the top 3 home-schooling challenges for parents?
When teaching their children at home, balance both work and home-schooling, getting children to do their work and limit screens throughout the day where the three biggest challenges shared by parents around the world.
Parents in China (40%) and Germany (26%) also had very big concerns over getting their children to exercise in a home-schooling set-up, who ranked these challenges as second and third biggest respectively.
Helping their children with classwork was third biggest concern for German parents (26%) and the second biggest for UK parents (34%).
Parents' biggest challenges with home-schooling (Top 3)

Biggest concerns for young adult students
The pandemic had a greater impact on young adults, especially 18-22 adult students, compared to the primary and the secondary school students. According to the survey result, 88% of young adults chose to live with their parents during the pandemic, an increase of 20 percentage points than before. It has had an impact on adult students in terms of future career, social and financial independence.
In China, for example, more than 42% of parents are concerned that their children had missed the social experience of their higher education. More than any other age group, young adults between 18-22 have been most affected by the outbreak in terms of social development.
In addition, for students who plan to study abroad, the overseas study had to be postponed due to different entry-exit policies between countries. The three most affected countries are India (25%), Singapore (20%) and China (18%).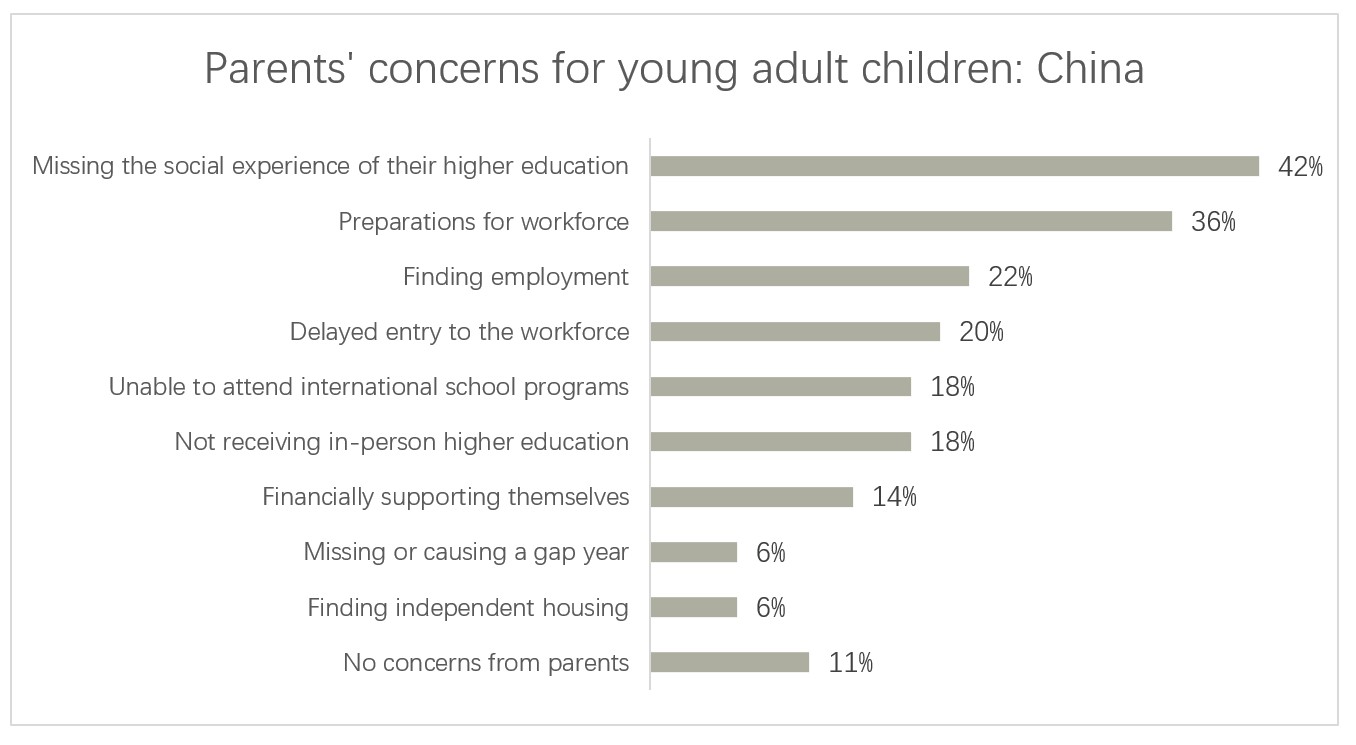 Learning from pandemic
For many parents around the world, they feel more confident in their parenting skills now than before the lockdown. A total of 61% of parents report to feeling much or somewhat more confident. This decreases with the age of their children, with 68% of parents with children aged 0-4 feeling more confident whilst only 50% parents with young adult children (18-22) feeling more confident.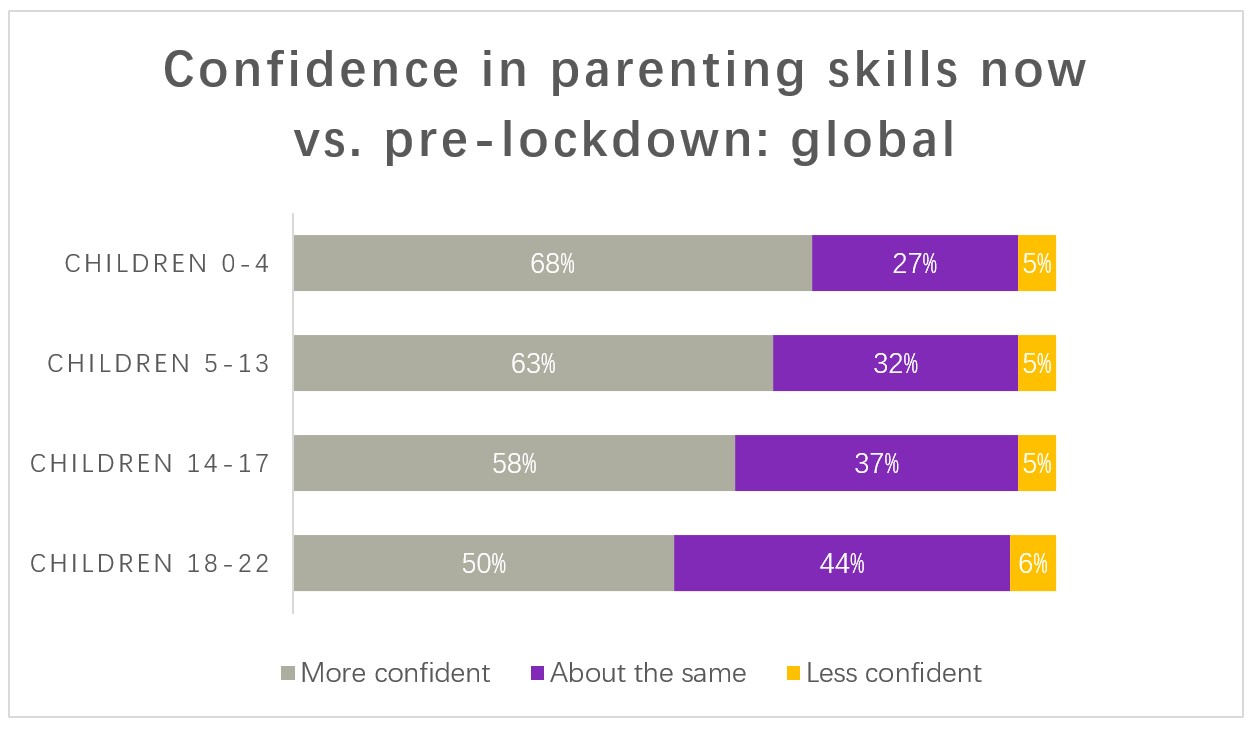 Compared to the negative impact of the pandemic on their children's social skills and learning progress, 30% of parents globally feel that their children's mental and emotional health has improved. Especially in India and China, 51% and 43% of parents respectively are more satisfied with their children's improvement.
Impact on caregivers
As caregivers with family responsibilities, 87% of them received encouragement and support from their families in caring for other family members, as did 72% from employers or governments. The experience of caring during the outbreak allowed them to spend more quality time with family members and learned new things about caregiving.
Long-term change
Are there any changes made during the pandemic that parents would like to see continue long-term?
Globally, more than 60% interviewers reported they want to spend more time with their families and 38% reported they want to do better in their hygiene efforts.
To know more about the results from this study, please click here to read our e-magazine "Communities: Parents and Caregivers - Aug 2021".
More about this study
This research was conducted online among 5,869 people across eight global markets: Brazil, China (only on mainland), France, Germany, India, Singapore, United Kingdom and United States. Respondents were sourced from Kantar's LifePoints Research Panel, only accessible through the Kantar Profiles Network. All interviews were conducted as online self-completion and collected based on local census distributions.
The Kantar Profiles Network, under Kantar Group, is the largest in the industry and built with highly validated, permission-based respondents. With simplified, dynamic access to 100 million people in 80+ countries, Kantar Profiles Network deliver more than 80 million completed samples for different industries and research topic.