The annual NCAA Division 1 Men's Basketball Championship tournament generated a record-setting $1.24 billion of national TV ad spending in 2016, making it one of the most valuable franchises in televised sports.
The three weeks of "March Madness" offers brands a center-stage platform for integrating themselves into the tournament through paid advertisements in offline and online channels, social media conversations, branded placements and experiential events.
CBS and Turner Broadcasting, which recently extended their media rights agreement with the NCAA through 2032, will follow the game-sharing structure that has been in place since their partnership started in 2011. Live TV broadcasts of all games will be spread across the CBS, TBS, TNT and truTV networks through the regional finals. The semi-finals and championship games, which alternate each year between CBS and Turner, will be carried by CBS in 2017. As in past years, all games will be streamed online to desktop, mobile and over-the-top devices, providing advertisers with additional outlets to reach viewers.
Modest Growth in TV Advertising
In 2016, marketers spent an estimated $1.24 billion to air national TV spots in the men's basketball tournament, a 4.7 percent increase compared with the previous year. This figure includes game programming and studio shows on CBS and the Turner networks. During the past few years, ad spending has been growing at 2 to 5 percent annually, which is in line with rights fees increases.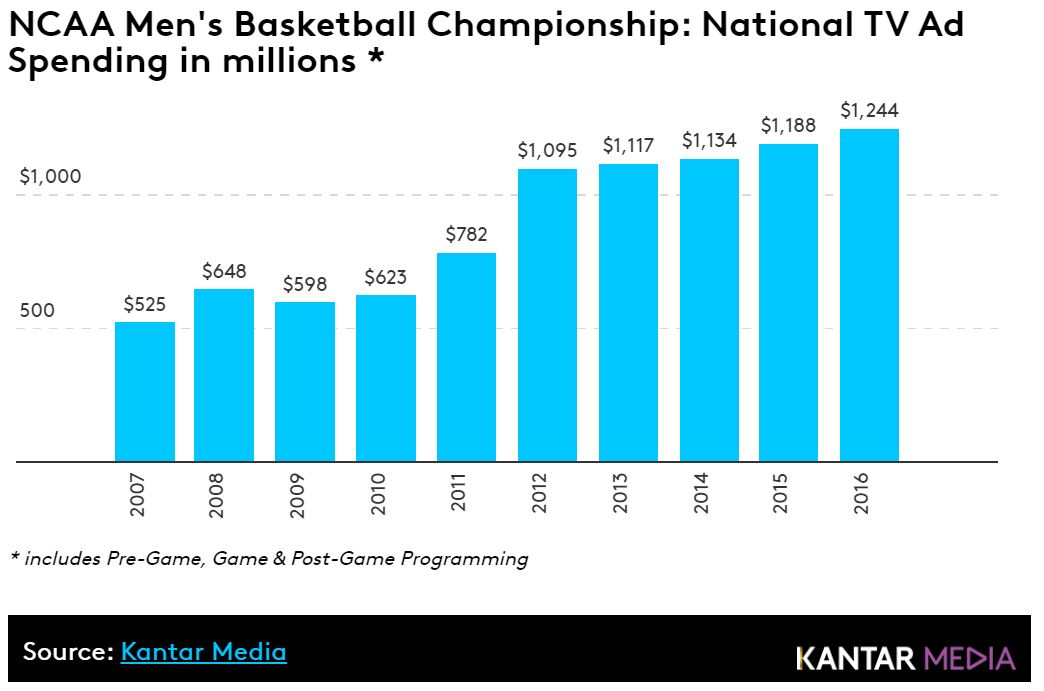 A Leading Post-Season Sports Franchise
In terms of national TV ad spending, the NCAA men's basketball tournament is consistently the second largest post-season sports franchise, trailing only the NFL playoffs.
The NFL post-season reaches its level with just 11 televised games, including the Super Bowl, while the college basketball tournament has the benefit of 67 game broadcasts. The other pro sports leagues use "best-of" multi-game series, and the total number of games can change from year-to-year, affecting ad revenue trends. Ad revenue for the 2016 NBA and MLB post-seasons each got a boost from championship series featuring compelling matchups (Cleveland Cavaliers-Golden State Warriors for the NBA and Chicago Cubs-Cleveland Indians for MLB) that went the maximum seven games.
NCAA Sponsors Dominate Top Ad Buyers
Each year 90-95 different companies purchase air time in the tournament. A small proportion hold dominant positions and the top ten consistently account for more than one-third of total spending. In 2016 this select group invested $464 million to pitch their messages at NCAA viewers.
All of these top spenders have a long-term affiliation with the event. Eight of the ten have participated for at least ten consecutive years.
Many of the largest marketers in the event are also NCAA corporate sponsors. Seventeen companies currently have marketing and promotional arrangements with the NCAA and are granted a wide variety of benefits, including certain category exclusivity around the use of NCAA logos, marks, designations and event tickets. CBS and Turner negotiate and manage these financial agreements for the NCAA. Sixteen of the 17 sponsors aired commercials during the 2016 tournament and accounted for nearly one-third of total ad spending.
First Week Wonders: Advertisers Who Go Home Early
The tournament stretches over three weeks, but many of the teams don't make it past the first weekend. The same can be said for some of the advertisers. Last year 95 different marketers showed up and 10 of them ran spots only during the first week. In contrast, 61 of the 95 had activity in all three weeks.
Several of the early departees aired comparatively large schedules and had a notable share of voice during their one week of participation.
Automotive is the Top Ad Category
Given that a lot of tournament ad spending comes from official NCAA sponsors, it's no surprise the top ad categories are tilted towards their lines of business. Spending by automotive, telecom, financial service, restaurant and insurance companies accounted for more than 60 percent of the total ad revenue in 2016.
The larger number of sponsors in each of the top categories points to the perceived attractiveness of the basketball tournament as a multi-week marketing platform.
Digital Marketing Opportunities
In addition to advertising on linear TV, the NCAA men's basketball tournament has ad-supported digital elements that allow marketers to reach consumers on multiple screens.
All of the games are streamed online through the branded March Madness Live service. Fans can access ad-supported video casts, real-time scores, statistics and other related content through web browsers, mobile apps and over-the-top services. According to Turner Sports, which manages March Madness Live, the 2016 tournament generated a record-setting 18.1 million hours of live video consumption.
In past years, advertising sales of March Madness Live have been bundled with linear TV ad packages, although not every TV sponsor appears in the online video casts.
As an alternative, some advertisers seek to exploit the popularity of online tournament brackets by placing digital ads adjacent to this content or by sponsoring contests where fans submit bracket entries and compete for prizes. And of course, general sports and news web sites that are destinations for fans seeking scores, schedules and other related content typically get a traffic boost during the basketball tournament and have their own ad monetization strategies.
Social Media Strategies
As an integrated complement to their paid media advertising on linear TV and digital platforms, many NCAA sponsors also seek to capture and convert consumers through social media campaigns tied to the basketball tournament. Some of the best performances during the 2016 event were turned in by Allstate, Capital One and Reeses.
Allstate ran a two-pronged Twitter campaign around the theme #MarchMayhem. On one front the well-known basketball sportscaster Dick Vitale was paired against former astronaut Buzz Aldrin to pick a winning tournament bracket. The two personalities tweeted their predictions for key games and then offered reactions and comments to the action in real-time via additional posts. In parallel, Allstate used its popular "Mayhem" character (who was also featured in TV spots during the tournament) to tweet humorous GIFs and videos about busted brackets.
Capital One's social media campaign was effectively connected to both its TV commercials and its sponsorship of JamFest, an on-site live music event held during the Final Four weekend. The integrated marketing program featured a single hashtag (#RoadtoOne) and highlighted the long road trip to the Final Four taken by celebrity buddies Charles Barkley, Samuel L. Jackson and Spike Lee. There were tie-ins for the Capital One Quicksilver Card and cross-promotion of JamFest. According to statistics compiled by Unmetric, a Kantar Media partner, Capital One published 109 pieces of content (some promoted, some organic) across Facebook, Instagram and Twitter and these generated more than 100,000 interactions.
Reeses, the official candy partner of the NCAA, ran a #MarchMood campaign during the tournament that played on the emotional connection of fans to their favorite teams. The brand used the "Reese's Peanut Butter Cup Twitter Channel" to distribute several dozen promoted tweets featuring animated candy pieces depicting mood states ranging from anticipation to celebration to disappointment. Some of the animated content was repurposed on Reese's Facebook page and thematically these social posts had the same look and feel as the brand's TV commercials that aired during the tournament. According to Unmetric, the Twitter and Facebook posts produced nearly 70,000 interactions.