In our recently published study, 'Data strategies for brand growth,' we discuss how advertisers can realize the full power of their own direct consumer relationships to drive brand growth. But while advertisers may love the promise of their first-party customer data, they face significant challenges as they navigate the demise of the third-party cookie, and other challenges.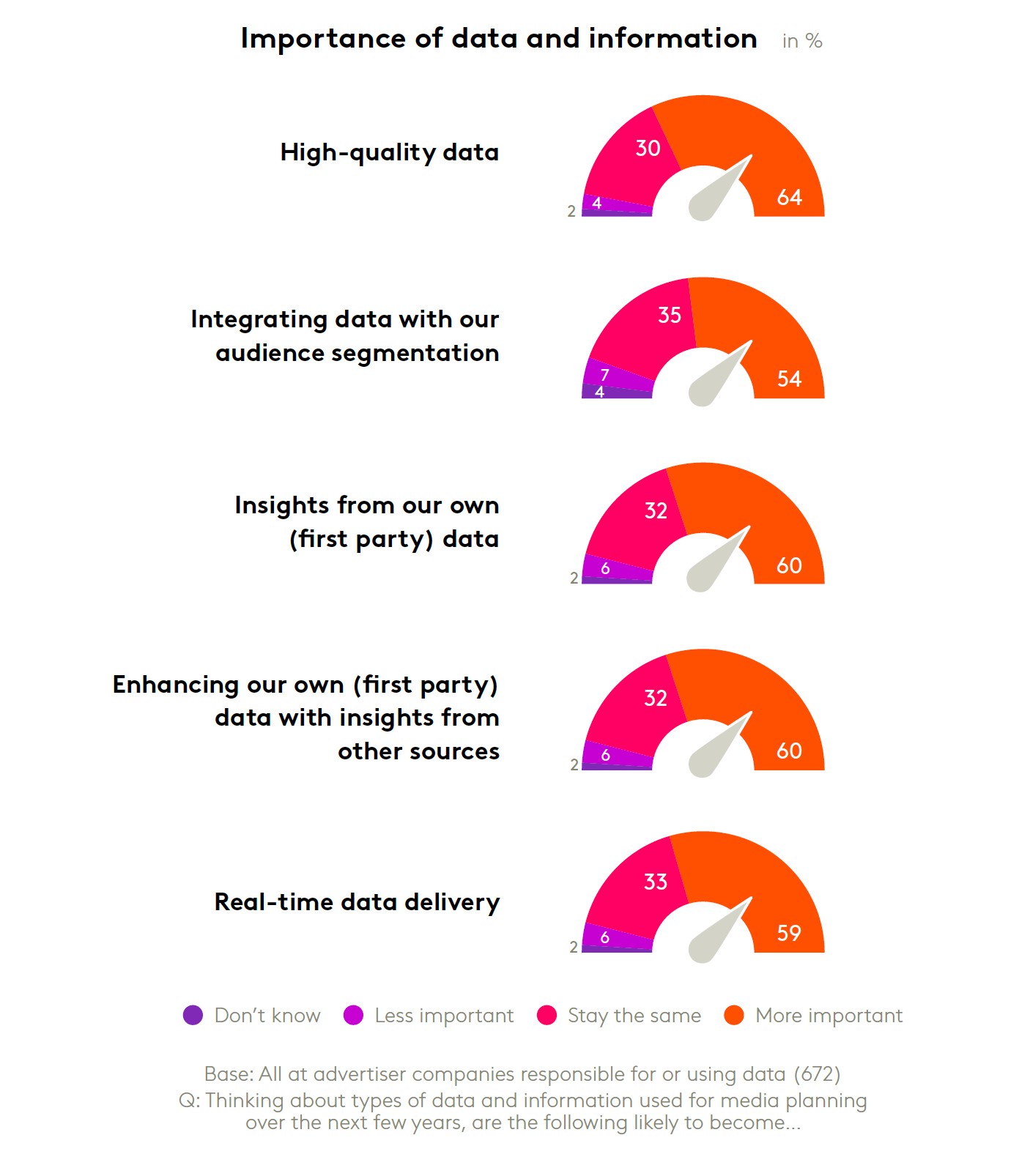 Importance of data and information
Some 60% of the advertisers we spoke to predict that enhancing their own data with data from other sources will become even more important in the coming years, and 60% expect insights from their own data to increase, rising to 74% amongst larger companies (10,000+ employees).
Data activation in a post-cookie world
The way forward for brand success is for brands to activate first-party data and combine it with other relevant data sources. This will guide relevant message formulation, better targeting, and improve impact across the sales funnel.
Profiling target segments across the web for customer acquisition is useful when scale is needed. Yet the imminent demise of the cookie is threatening the investments that advertisers have made in marketing technology and systems developed over many years.
As a result, it's no surprise that brands want to activate their own data by connecting it to other, external, data sources. 80% of the advertisers we spoke to say they want their own in-house segmentations to enable media planning and activation. And, 54% believe that integrating other data sources with audience segmentation will become even more important.
Quality counts
This all places even more importance on high-quality data and trustworthiness. It's the data dimension rated to grow most in importance over the next few years, particularly for larger advertisers where more money is at risk from hooking up to imprecise profiling data and inaccurate data sets.
We offer solutions to help brands better activate in-house data sets at speed and scale, in ways that work for them. By combining our insights with a brand's first-party data and other data sources, such as selections of Kantar's TGI data, we overcome advertiser concerns about ease of connection and access. TGI can address 'gaps' in knowledge not afforded by first-party data. Advertisers can now more easily enrich their first-party data with selections of TGI data that build up a rich, multi-category view of their consumers.
Download the full report here and find out more.
Editor's Notes:
672 advertising executives from 39 countries took part in online survey. Collectively these countries account for over two thirds ($423 billion) of global advertising spend.  The results of the survey were combined with consumer data taken from Kantar TGI studies across the world, and Advertising spend data sourced from Kantar's advertising intelligence services which monitor hundreds of millions of ads each year across over 26,000 media properties worldwide.
This short report provides an overview of the consideration's advertisers can take to leverage the full power of their own direct consumer relationships, bringing relevant stories to the right audiences at the right time. It affirms how responsible data stewardship can enable marketers to grow share of pocket in order to grow market share.
Kantar brings speed to insights by equipping advertisers with the tools they need to build a focused the best advertising strategy, pivot when needed and execute effectively in the moment.