Last year Amazon was the world's most valuable brand, now it's third on the list. Apple and Google's exceptionally strong year-on-year growth figures enabled them to leapfrog the retail, media and cloud services giant. As lockdown-era surges in online shopping began to recede and stabilize, Amazon grew 3% year-on-year, for a total brand value of more than $705 billion in Kantar BrandZ Most Valuable Global Brands 2022 - a massive valuation. Last year, Apple and Amazon became the first brands in BrandZ history to surpass a half a trillion dollars in total brand value.
Given that Amazon is unlikely to quickly return to its pandemic level retail growth, Amazon will seek to elevate its growing advertising, media, and cloud computing divisions.
Amazon is meaningful, different & salient
Kantar evaluates brands on a matrix of being Meaningful, Different and Salient. Here, like Apple and Google, Amazon ranks very highly compared to other brands.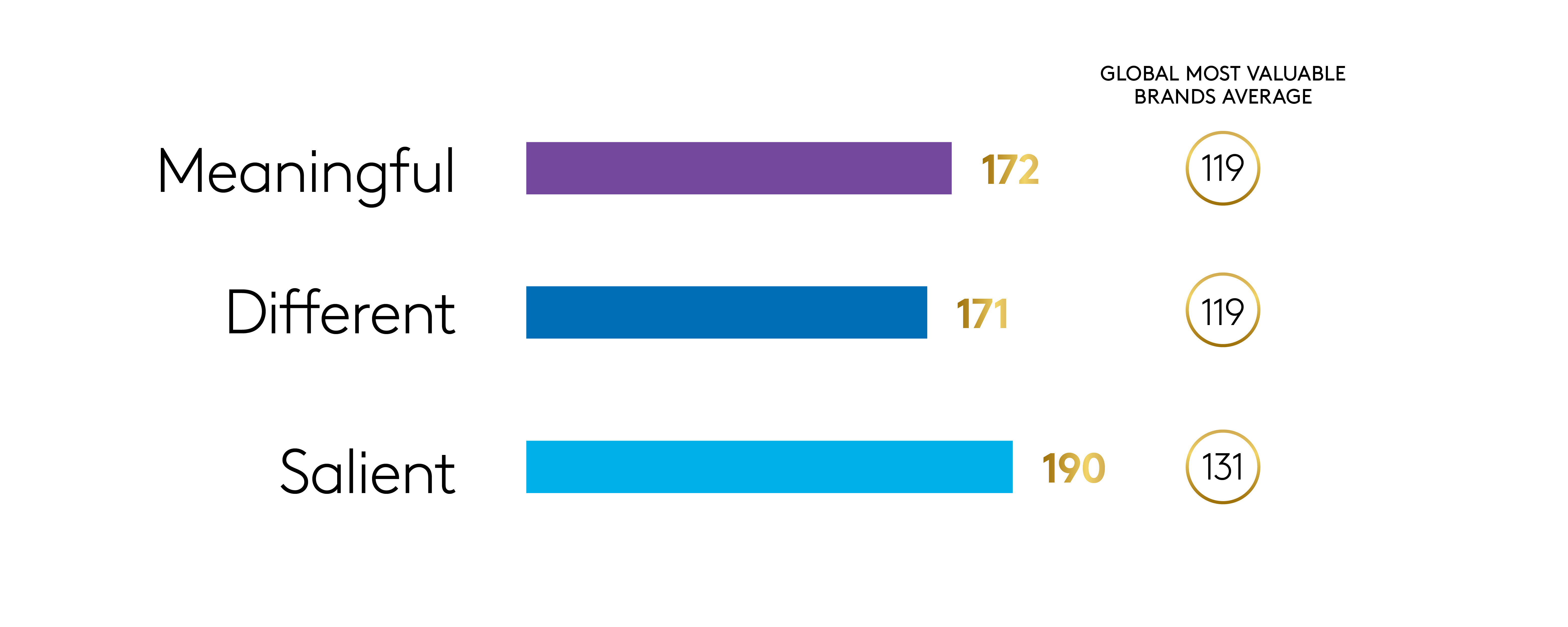 In today's environment, it's so important to understand the matrix of how Meaningful, Different and Salient a brand is; the meaning of a brand can stem from a functional meaning (i.e., the brand does a good job of fulfilling a need consumers have). Think of how Amazon came to the rescue so often during the pandemic when local stores might have been out of inventory.
Difference is what leads a consumer to interrupt their normal buying habits – to stop and look at a brand that catches their eye in a store, online or in the street. Amazon ranks strong here, due to its sheer breadth of product offerings. Remember too that for consumers, Amazon is likely an ecommerce company that has a streaming service that comes with Prime Membership. The Cloud services are more known and admired in a B2B realm.
Strong salience is the result of amplified meaning and difference, and acts as a catalyst for growth. Highly salient brands are the ones that spring to mind when a consumer thinks of a category or has a need. Amazon is pretty much the definition of ecommerce, something that competitors like Walmart and Target continue to fight with even their own customers.
Cross category reach
Amazon sits in multiple categories: retail, media & entertainment, and business solutions & technology providers. These three categories account for over half of the total value of brands in the Top 100. This year, Kantar BrandZ refined its valuation process to better reflect certain megabrands' cross-category reach. That meant, for instance, valuing Amazon Web Services as a separate business solutions and technology providers brand for the first time, while Amazon's e-commerce brand value is reflected in retail. Amazon Web Services ranks second behind Microsoft in business services & technology, second in media & entertainment and first in retail with a brand valuation here of $282 billion.
Amazon Web Services stands on its own
Amazon Web Services (AWS) continues to grow at an impressive rate. Founded in 2002, AWS is a pioneer in providing on-demand cloud computing platforms and APIs to individuals. Just as importantly, AWS has retained its reputation for value and disruption through the unique flexibility of its "volume based" model. It offers a range of transparently priced cloud deals for huge corporations and small businesses alike.
Many of the top business solutions and technology providers have made real strides on their corporate reputations over the past year. Nine out of the world's 20 most valuable business solutions brands improved their responsibility credentials in the last year.
Streaming to the top with Prime Video
In the entertainment space, Amazon Prime sits alongside Netflix and Disney with active subscriber bases of more than 200 million accounts.
Sports has emerged as an important asset for customer acquisition in the "streaming wars," because of the way loyal fans will follow their teams to whatever platform may be airing them. Amazon is now paying more than $10 billion to air the NFL's Thursday Night Football for the next ten years. This will surely cement their reputation with Millennial "cord cutters" and Gen Z "cord nevers" as the wired cable TV business continues to contract.
Amazon's deep pockets are helping them break records for content production and acquisition budgets and have garnered them major awards for shows like The Marvelous Mrs. Maisel and Fleabag. Amazon will pay a reported $465 million for the first season of its "Lord of the Rings" series to try to win over the legions of HBO fans of "Game of Thrones."
A relevant and useful ad business
Ad equity is a Kantar metric that quantifies attitudes towards a media platform's advertising program. It can be measured both in terms of consumer and marketer preferences. In consumer sentiment in 2021, online video sharing brand TikTok led the way in 19 of 23 markets surveyed as the most fun and entertaining ad platform. Amazon, rated number two globally has a completely different profile. In markets such as Germany, Mexico, Spain, the US, and the UK, Amazon was seen as the platform with the most relevant and useful advertising.
Brands are always hoping for the much vaunted halo effect and Kantar assesses the media personality types of media brands. More cautious, introverted brands place greater importance on trustworthy advertising environments and may prefer to be associated with media brands that have Expert, Sage, Innocent or Caregiver archetypes. Kantar here ranks Amazon as a competent Expert.
Amazon's influence continues to expand
Amazon was once again the world's most valuable retail brand, and one of the most valuable global brands of any kind, with a value of more than $281 billion. Supply chain issues, rising transportation costs, and labor supply challenges made this a tough year for Amazon's core e-commerce business – but it nevertheless remains the brand's biggest division by far. And while Kantar's shopping trackers suggest the growth in online grocery shopping has slowed somewhat from its lockdown-era peak, retail's larger shift toward e-commerce is permanent, irreversible, and ongoing.
Amazon's dominance in retail has also fueled the emergence of a robust advertising business for the brand - primarily around selling sponsored ads and links on Amazon search results. Among Silicon Valley heavyweights, the brand now trails only Google and Meta in digital ad sales, exceeding more established brands like YouTube and Twitter.
This year, the $20 increase in the price of annual Prime memberships will give Amazon more cash as it begins to position itself for its next phase of retail growth. Amazon is refining its brick and mortar strategy which was so shocking even 5 years ago. While they are largely thought to have killed the retail book business, they launched algorithm curated bookstores in the US. In 2021, they shuttered most Amazon Books and "4-star" stores.
Amazon plans to expand its use of cashierless "Just Walk Out" technology, that was developed for Amazon Go and Amazon Fresh stores in the US and UK. They have begun to experiment with the technology in Whole Foods grocery stores in Washington, DC, and Los Angeles and hope to license the technology to outside clients as well. Investing in this sort of innovation clearly pays off – in more ways than one. This plan for tighter integration between the Amazon and Whole Foods brands could also increase the profitability of online grocery (no need for food warehousing when you have a Whole Foods backroom).
For Amazon and many of its customers, "same day" has quickly supplanted "two-day shipping" as the ideal default expectation for delivery speed. In the grocery sphere, 90-, 60-, and even 45-minute delivery guarantees are becoming a challenging but attainable gold standard for large brands, especially in urban areas.
Amazon has become successful online and on mobile partly thanks to their interface, the brand experience and the ease of finding products or features. They have effectively navigated how Meaningful, Different and Salient their brand is by continually evaluating this matrix – an approach all brands, of all sizes can now tap into via our agile Brand Equity Evaluation tool on Kantar Marketplace.
Amazon trained entire generations of ecommerce consumers about what their experience should be. Interestingly, while Amazon wrote the rulebook on online shopping, they are now perceived to be trailing other leading global brands in important activation areas of distinctiveness and product design. But with Amazon's deep pockets, vast data troves, computing and AI expertise, we can expect more volatility in their Brand Z rankings in 2022.