China MONITOR is a synthesized annual report rooted in Kantar's proprietary database tracking changes in values, attitudes and demands. It offers insights around category trends, reveals growth opportunities, and helps clients keep their fingers on the pulse of the dynamic Chinese market. Also, the report examines the landscape through the lens of "eight major consumer segments*" to present a multifaceted picture.
Many things that happened in 2020 had a huge impact in Chinese consumers' lives, changed their values, and brought uncertainty to most industries. In 2021, brands must regain their focus to understand the changes that have happened in the marketplace, so that they can get ready for all the challenges and opportunities down the road.
In the full report of 2020 China MONITOR Consumer Insights Annual Report, we present a holistic view of consumer trends based on research data from 2020. It covers trends in six value sectors, three life attitudes, and eight major consumer segments. The eight segments are: Urban GenZ, New Mom, Urban White-collar, Urban Middle-class, Urban Blue-collar, Urban Elderly, Small-town Youngster, and Small-town Middle-aged & Elder. You can access the report on our China website.
In this article, we present a summary of top 10 changes of Chinese consumers' values.
1. Shopping intention grows in low-tier cities, potentially driving luxury sales
After China rebounds from the shockwave of COVID-19, it is not only Urban Middle-class consumers who are confident with their relatively sound financial footing: consumers in low-tier cities also show a strong purchasing intention. Although COVID-19 has significantly influenced their income, their willingness to buy luxury goods are not impacted. Buying premium goods have become a routine shopping behavior pattern, because it was considered to be a symbol of personality and taste. Compared with their peers in first-tier cities, lower-tier consumers are more willing to take short-term loans to satisfy their desire.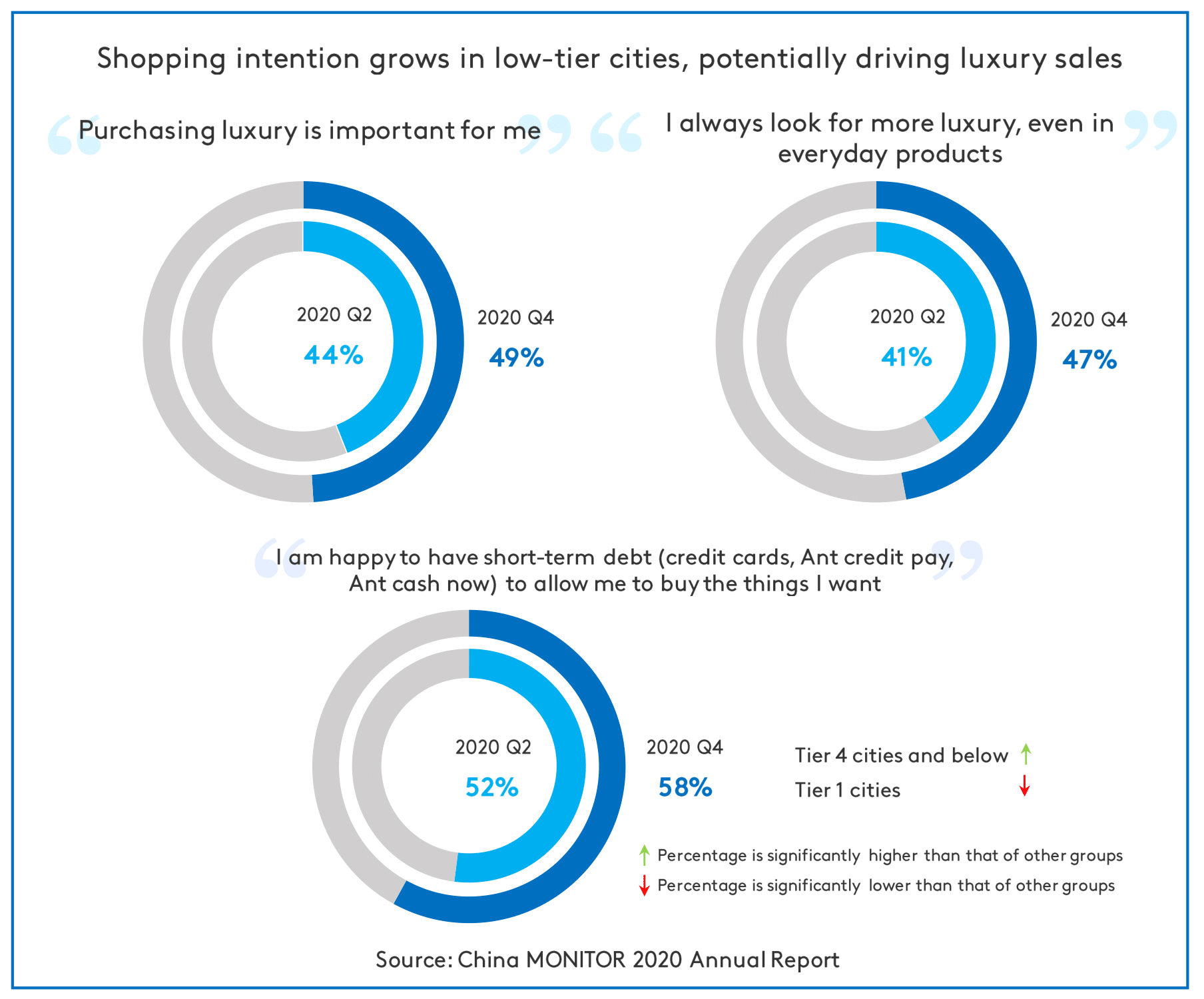 2. Upgrading and downgrading co-exist in consumption
The expansion of China's economy, propelled by diversified growth engines, has created multiple layers of shopping preferences towards "value" and "price": consumers like premium goods, but on some occasions they are also looking for value for money. Consumers with stronger purchasing power are willing to pay more for "brands taking a stand" because of their shared value and emotional bonding. Younger generations and small-town consumers, whose purchasing potential are yet to be tapped further, care more about what they are paying for and product functions.
Marketing campaigns and content should appeal to not only consumers' rational thinking, but also their emotions. An integrated marketing strategy can consolidate their engagement with the consumer segments that have strong immediate purchasing power (Urban Middle-class, Urban White-collar), and nurture connections with those consumer segments, such as Small-town Youngster, Small-town Middle-aged & Elder, and Urban Elderly, who will drive incremental sales. Brands can thus meet diversified demands from different segments to maximize conversion.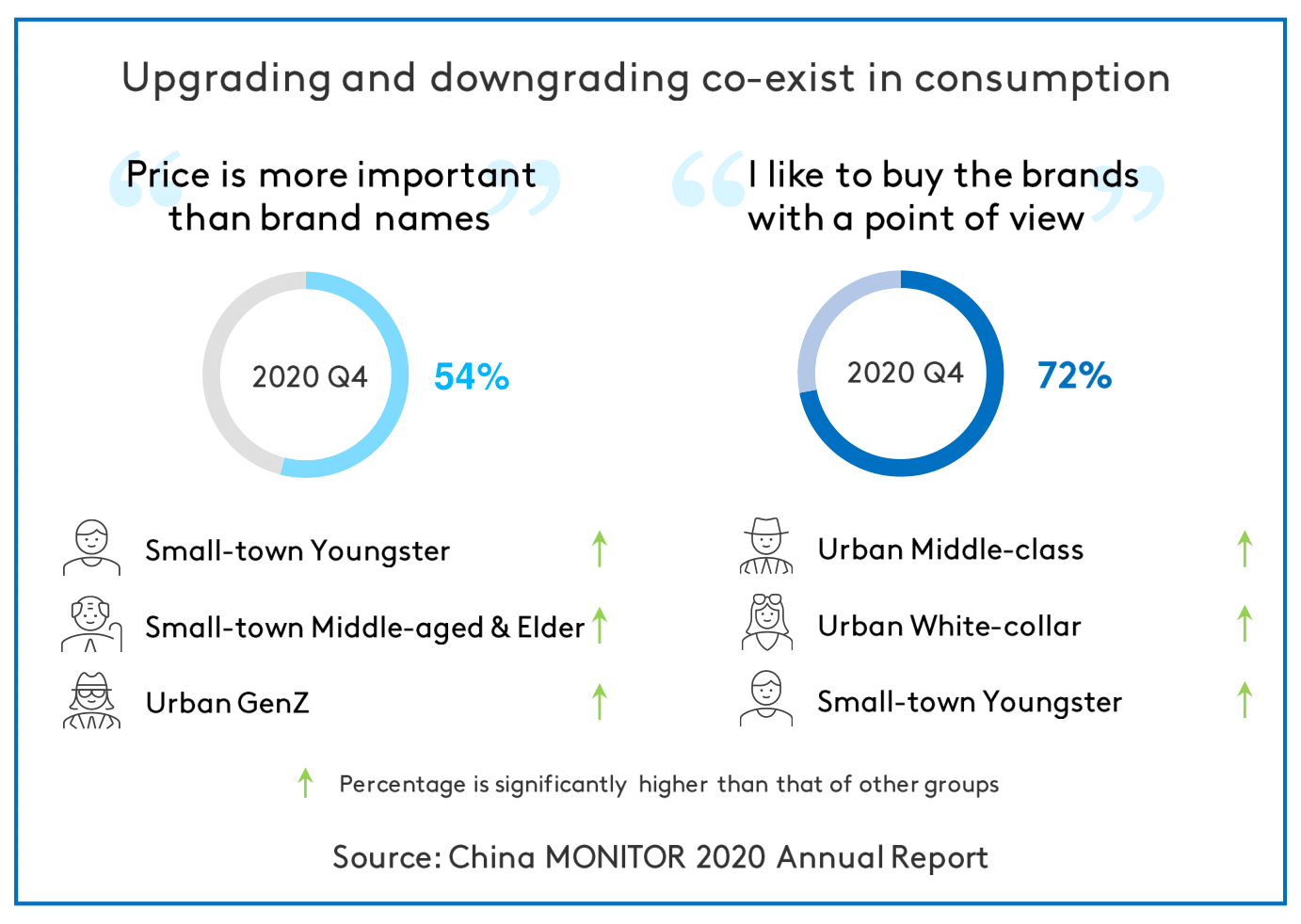 3. Migration to online shopping is a one-way road. Outstanding consumer experience across omnichannel is key to winning.
The COVID-19 pandemic is a shot in the arm to further accelerate the growth of ecommerce. Digital transformation has unlocked more channels and technologies for brands to enhance their shopping and usage experience across all touchpoints. Livestreaming, for example, has quickly become an all-in-one retail channel that brings marketing, communications and sales together. It is quickly becoming one of the most important channels that is worth brands' attention. Against the backdrop of irreversible migration to online shopping, brands should quicken their pace to design their omnichannel strategy, create a seamlessly smooth omnichannel experience, and up their game in managing consumer life cycle value.
4. Ease of use and professional expertise become lifelines of digital service platforms
Chinese people have increasingly become time-poor. Service/product providers are trying their best to increase speed and ease of use. From O2O platforms to short-video apps, "convenience" is no longer a nice-to-have – it is a make-or-break feature of a business. Chinese consumers are always looking for something that can make their lives even more convenient.
When choosing technology products or apps, consumers recognize the value and simplicity brought by those one-stop service platforms, expecting them to take care of demands in all aspects of life. But they also like to use vertical platforms that specialized in a certain area/function. Brands should continue to ride on the wave of digitalization, constantly re-innovate themselves and repeatedly launch the next version of their services or products. Only through providing hassle-free shopping and user experience, or even creating a new lifestyle or shopping pattern, can brands become consumers' "partners for life".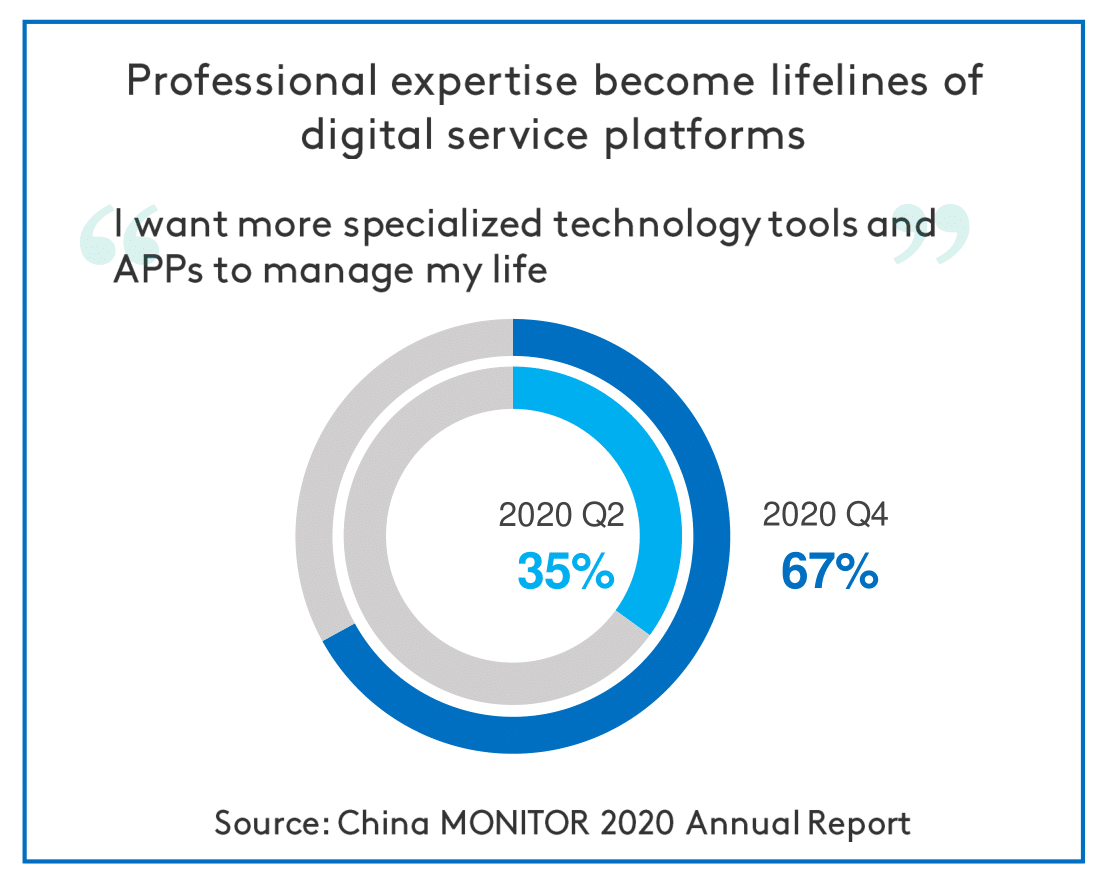 5. Health and environment concerns start to influence purchasing decisions
COVID-19 has largely increased Chinese consumers' attention to health, and created a fresh wave of "new welling-being theories", such as "punk wellness" from young people, or "spiritual healing" from the avant-garde middle-class. There are also numerous new apps helping people to track their movements and diet. Besides, Chinese people have a real preference for environmentally friendly products to keep their life safe and healthy, and expect brands to take on their due social responsibilities.
Brands should align themselves with the trend to activate new product concepts created by people's desire for a healthier and green lifestyle, and also develop a credible brand purpose based on sustainable development concepts with practical follow-up actions. When brands can demonstrate that they're delivering on their promises, they can build a powerful, lasting, positive corporate reputation and brand association in consumers' minds.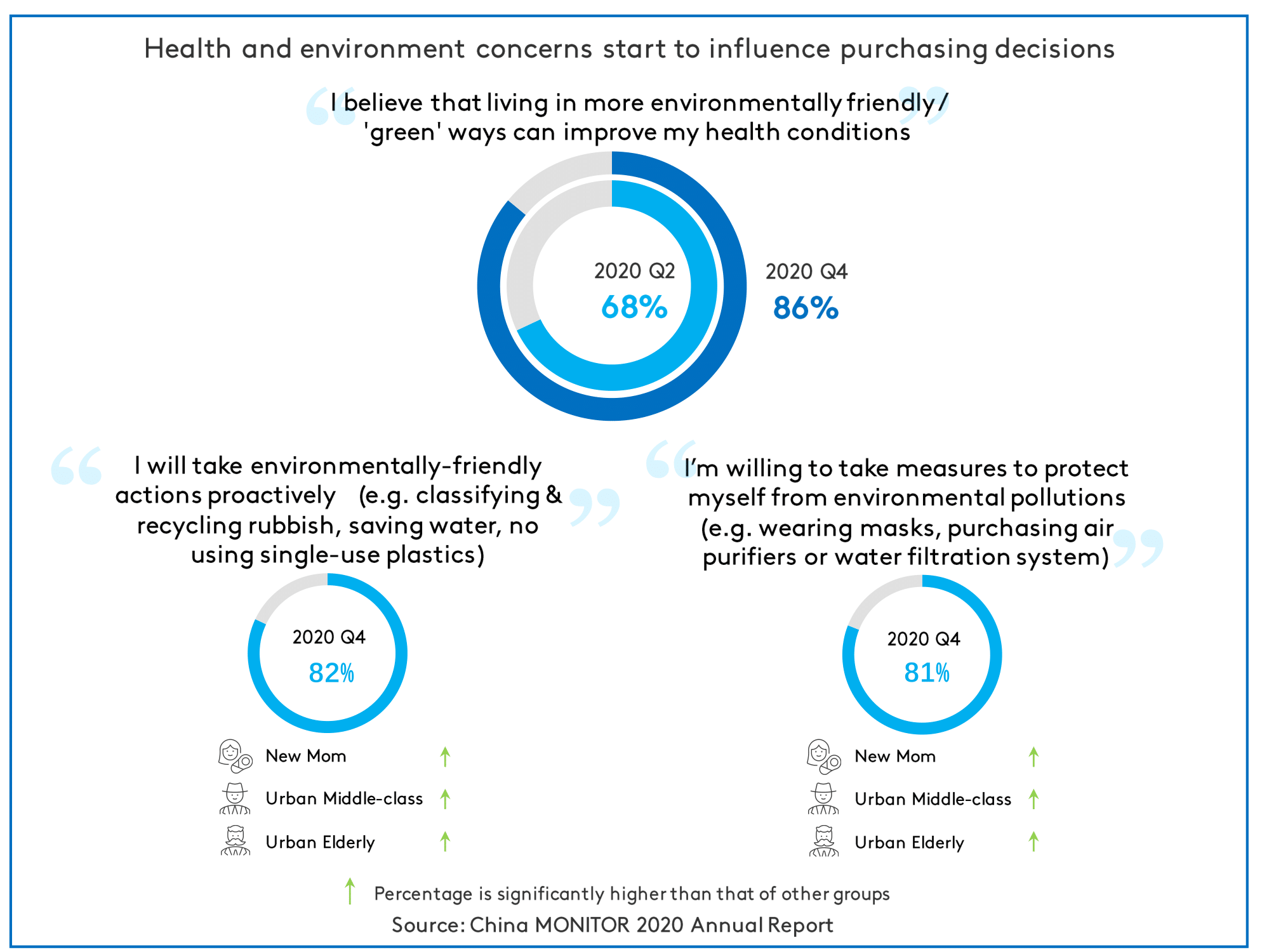 6. Back to home, rebuild intimacy
During the lockdown period, people had to stay with family members at home and spend more time together. People kept their appreciation for this "quality time" even after China lifted its lockdown across the country. When at home, people can feel the warmth and healing power of family life, from small chats over the dinner table to spending time with children. Brands, if relevant, should develop products/services fit for family scenarios to bring family members even closer and enjoy their intimate relationship.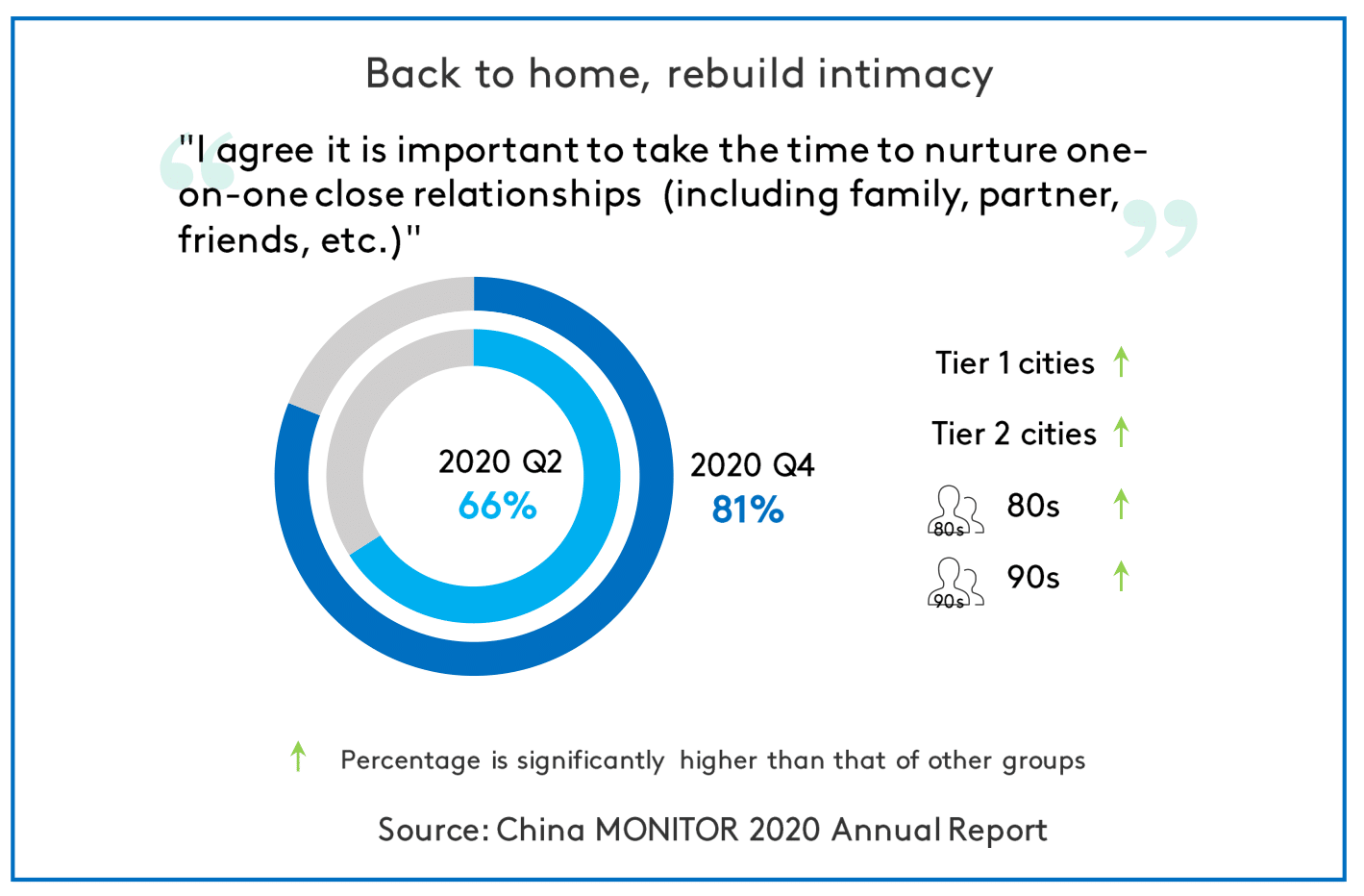 7. Desperate for solutions as anxiety sweep society
The rapid economic growth of China has benefited most Chinese people financially, but at the same time, pressure is also piling up on everybody at an unprecedented rate. Negative words like "anxiety" (焦虑), "corporate livestock" (社畜), "involution (of competition)" (内卷) have become household buzzwords, especially after COVID-19. People want to always achieve their best score in work and study, and maintain a perfect public image on social media. People are anxious in many aspects of life, such as in appearance and wealth.
Chinese consumers are desperate to find a way out: they are seeking groups/communities that can recognize their views, and are also investing to improve themselves to feel safer and fight against anxiety.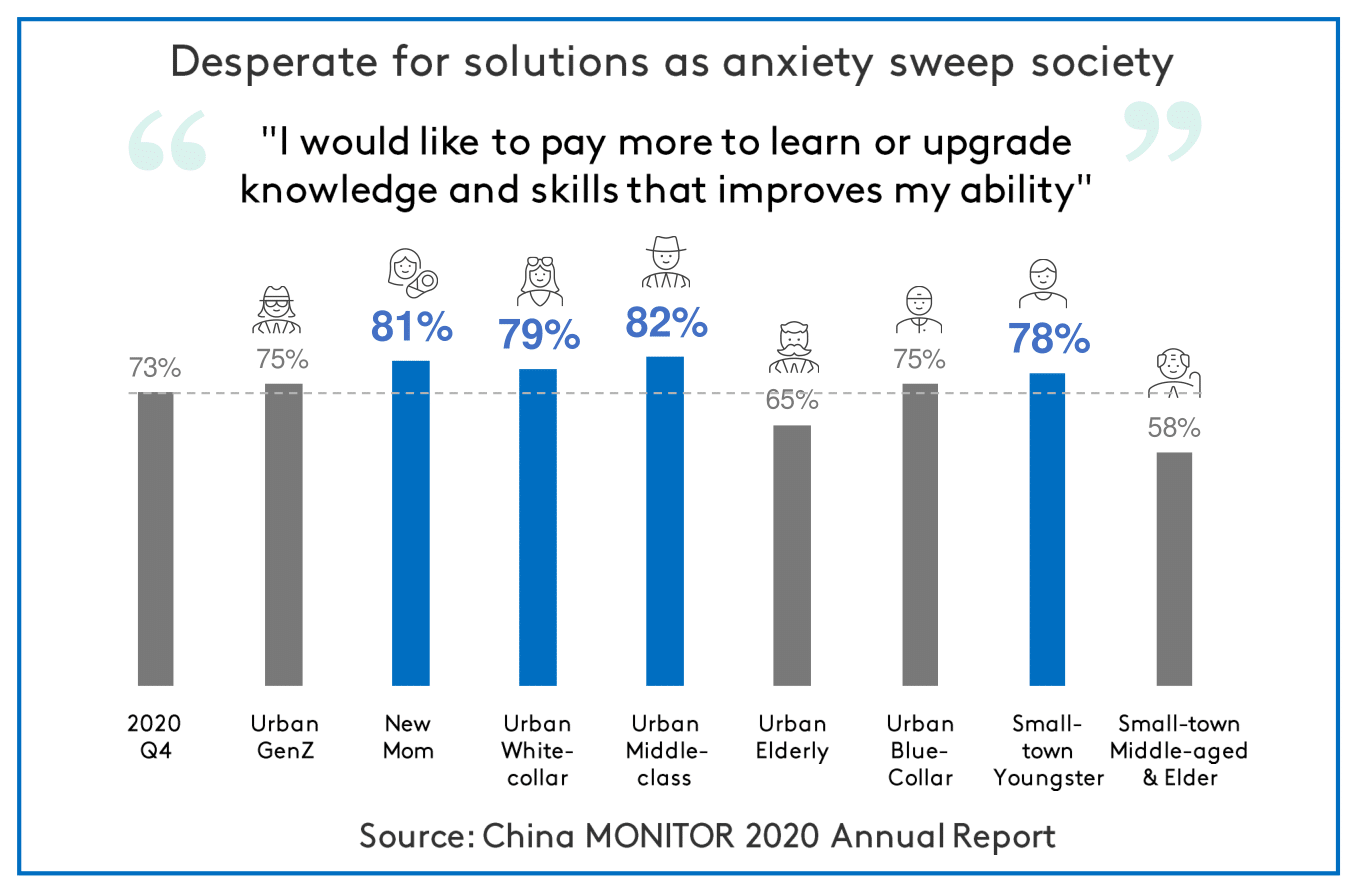 8. Interest-based circles create growth opportunities
The internet has brought down barriers previously blocking social expressions. Consumers who are looking for identities are keen to join circles that fit their interests, and hence forming communities based on a common cultural understanding and world views. In addition to joining such circles, young consumers also attempt to "break out" of their circles, which means promote their circle's core interests to a wider audience, to make their voices heard at a larger stage. Equipped with insights into commonality within each interest circle as well as nuanced differences across different circles, brands can achieve higher communications efficiency by designing "personalized" content for each circle and leverage circle members' power to amplify their messages organically.
9. Brand purposes becomes vital as consumers expect brand to show credibility, social value
In the long term, Chinese consumers' pursuit of individualism will support, not damage, public interest. They want to contribute to the whole society, partly through buying products that are aligned with public well-being. In the increasingly competitive Chinese market, consumers are starting to make their purchasing decisions based on more important factors beyond a product itself, such as a brand's purpose, i.e., a brand's reason for existing beyond profit. A clear brand purpose will be the compass to guide everything a brand does and every marketing decision a brand makes.
10. National pride on the rise, but still open to foreign culture
Chinese people showed great solidarity and perseverance during the pandemic. The outstanding result has created a new wave of national pride in being a Chinese. Against this backdrop, Chinese brands, time-honored and start-up brands alike, are also winning more local consumers with their first-class quality, design and other advantages. But the rise of local brands doesn't necessarily mean the end of Chinese people's curiosity and openness to foreign culture. They have become more sophisticated and will look at foreign culture and brands through various perspectives to learn how to best understand them. The culture element is still one of the most important ingredients to decide a brand's equity.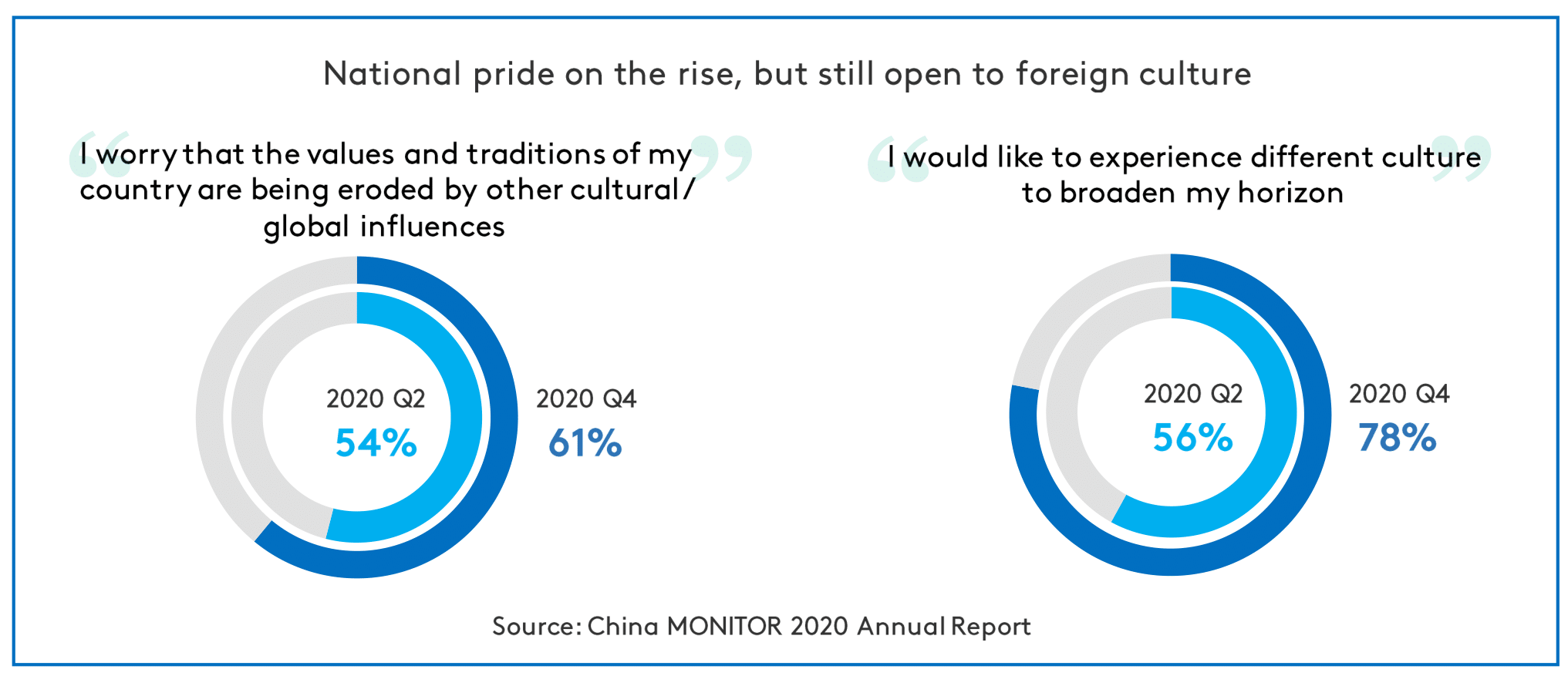 Editor's Notes
*Based on Alibaba and Bain & Co's 2019 concept of "Eight Consumer Segments", the Kantar Consulting team categorized the sample respondents of China MONITOR into Urban GenZ, New Mom (female pregnant or with (oldest) baby younger than 3 years), Urban White-collar, Urban Middle-class, Urban Blue-collar, Urban Elderly, Small-town Youngster, and Small-town Middle-aged & Elder. We decipher the life values of these eight segments, use big data analysis tools to understand their online media touchpoints, and draw holistic portraits of each segment.