Last fall, when forecasters began looking at expectations for ad spending in 2020, their crystal balls signaled a conservative, cautious year for most marketers around the world. But buoyed by the presidential election and the Summer Olympics, and factoring in media price increases and continued growth in digital channels, ad spending in the U.S. was projected to grow by 4% to 5% this year.
And then the COVID-19 pandemic hit the U.S. And everything stopped.
Marketing began to reflect the impact of the pandemic in March, when U.S. ad spending across all media fell to $10.5 billion, 17.5% below the spending total from March 2019, according to Kantar. By June, spending was down 30%.
Kantar pegs first-half U.S. spending at $59.3 billion, down 19.3% from 2019. Second quarter spending alone dropped 32.4% year to year, to $25.5 billion.
Ad and subtract
The economic crisis played out in ad spending. There were significant ad spending declines for the first half of 2020 in every medium measured by Kantar. Print media were the hardest hit, with year-to-year ad spending declines of 24.6% for magazines and 36.3% for newspapers. Television spending fell 16.5%.
Even digital media fell 18% from the previous year. Conventional wisdom held that people increased screen time while sheltering at home, but advertisers weren't there.
"Interestingly, there's no media immune to the current environment," says Gregory Aston, head of digital media research science, Kantar Media Division. "When we look at major contributors to digital spending, for instance, we look at the automotive, retail and travel categories—and those three categories alone contributed 42% of the decline in digital spending," he says. These three industries traditionally represent about a quarter of total U.S. ad spending.
Kantar's numbers show overall ad spending by retailers tumbled 22.6% in the first half of the year to $5.9 billion. There was a split in the category, however. While department stores and specialty retailers were for the most part not open and often not advertising, spending by food stores and supermarkets was up 43%, Aston says, as households hunkered down and ate in, and going to the grocery store became the outing of the week.
The automotive industry also has seen mixed results. In particular, new-car sales suffered as manufacturers coped with supply- chain issues and product shortages in addition to mandated factory and showroom closures. Edmunds estimated a 52.5% decrease in new-car sales in April, compared to the previous year, calling it the worst auto sales month in more than 30 years.
Not surprisingly, ad spending in the automotive category fell 36.4% to $3.8 billion in the first half of the year.
Travel advertising almost stopped entirely as consumers sheltered at home and international borders were closed. In percentage terms, the category's ad spending declined more than any other large ad category. Spending by airlines, hotels, car rental companies and other travel marketers fell 53.3% to $1.8 billion in the first half of the year. Travel ad spending in April alone plunged by a staggering 84% compared to 2019.
With most movie theaters closed across the country, ad spending for the movie category fell 57% in the first half of 2020 as most planned new releases were sidelined.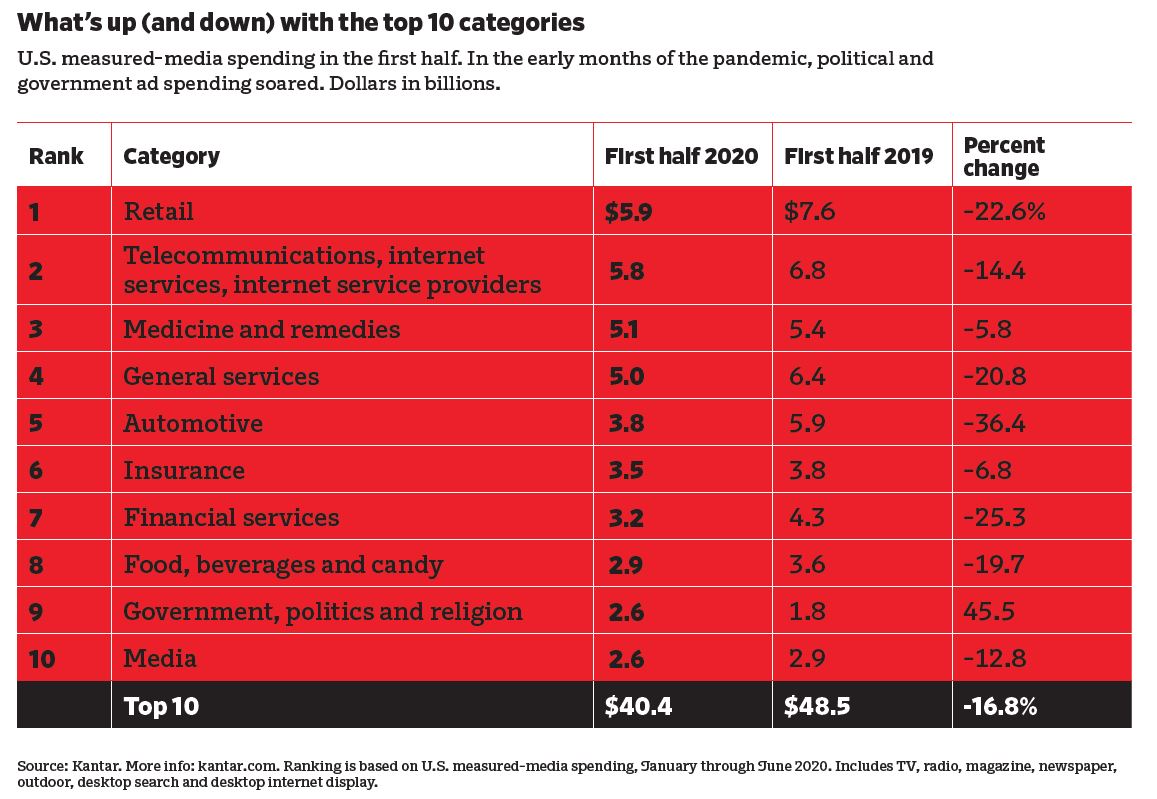 Road to recovery
Just as the travel category was the poster child for the disruptive impact of the pandemic, it promises to be a leading indicator of economic recovery, Aston says.
"If you're timing the rebound, keep an eye on travel," he says. "An uptick in travel means consumers are confident enough to resume normal behaviors and activity—that they're willing to travel, willing to go back to stores."
Discretionary travel also will be an indicator of an improved personal financial situation for consumers. "If consumers are going to part with dollars for a vacation, they will part with dollars for other discretionary buys," he says.
Marketers and agencies are wondering what to expect when life begins to settle on a new normal—what short-term strategies or consumer behaviors might morph into permanent changes in the marketplace, and how the media marketplace will adjust.
Aston says the crisis will accelerate the industry's transition in video strategies, coming off the huge increase in over-the-top streaming options and consumer interest in them.
"Two years ago, it was a legitimate question in whether OTT was really augmenting reach," he says. "But today, it's a must-have instead of just a consideration."
In addition, because the traditional TV upfront deals were essentially abandoned this spring, more marketers and agencies will be buying fall and winter TV time in the unpredictable scatter market, which as a result will likely be competitive and pricey this year.
Digital first
Moving into 2021, Aston says he expects an even stronger push toward digital channels of all sorts as chief marketing officers look for return on investment.
"CMOs as well as any team managing investments on behalf of brands will need to be far more accountable for the dollars they're spending. That pressure for accountability will accelerate the ongoing trend to digital media," he says. "With national television, we're already seeing heightened interest in OTT placements as digital video environments where you can implement more direct targeting— whether that's geotargeting, behavioral targeting, interest-based targeting or targeting based on CRM (customer relationship management) data."
His conclusion: "During the recovery, it will be universal that we're going to be in an environment where it's digital first, in that paid media investment will start with the digital assets and build from that core."
Aston expects to see greater emphasis on integrated communications strategies. "Brands will need to focus not only on how paid media influences consumer behavior, but how those paid media are amplifying messages across owned media—websites, apps, e-commerce, CRM," he says. "And then, how the brand is sustaining and leveraging consumer connections through user-generated content, earned mentions in social media or the press. The implications for agencies are that they'll need to be able to engage across all these assets and deliver on a holistic strategy."
Aston adds: "Post-crisis, the speed with which brands and media sellers and agencies can transform will determine their success."
Download the full report, Marketing In the Time of Covid-19, to learn what comes next on the road to recovery: