One of the areas of the US economy hit hardest by the coronavirus pandemic is the restaurant industry. With dine-in restaurants ordered shut in much of the nation, and nearly 90% of the US population told to shelter in place, many restaurants are relying on food delivery and takeout orders from homebound consumers.
Kantar analysis of food delivery advertising during the 10-week period from February 2 through April 11 shows ad spending in the category at $269 million, down just over 5% compared to the equivalent 10-week period in 2019.
Given the state of the economy and the pervasive uncertainty gripping the nation, a year-over-year decrease in advertising is not necessarily unexpected for any industry, even companies offering food delivery. However, certain food delivery advertisers have stepped up their efforts considerably amid the pandemic.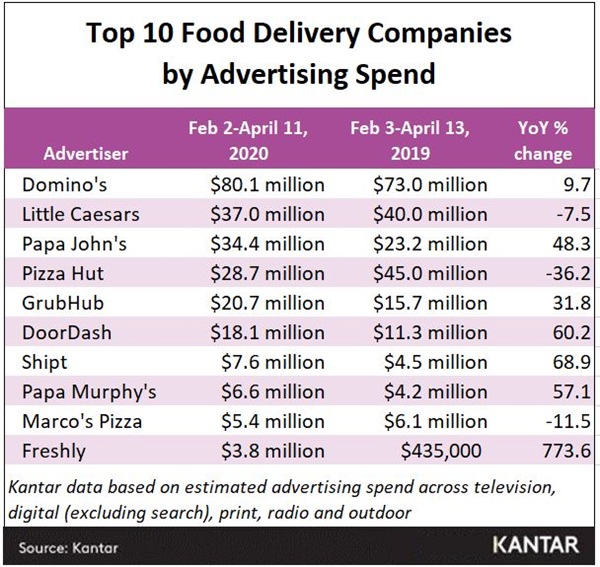 According to Kantar data, seven of the ten highest spending food delivery advertisers increased their year-over-year advertising expenditure in the 10-week period beginning February 2.
Domino's, the top spender in the category by far, boosted its ad spend during the period by a relatively modest 9.7%, to $80.1 million. However, other top food delivery advertisers increased their year-over-year advertising spend by double digits during the pandemic, including Papa John's, which saw a 48.3% increase, GrubHub (31.8% increase), DoorDash (60.2% increase), Shipt (68.9% increase) and Papa Murphy's (57.1% increase).
The outlier is Freshly, a prepared meal delivery service whose high triple digit increase in advertising (774%), and benefit-focused creative content ("Eating better is easy when everything is done for you") suggest that it may have simply launched a planned major ad campaign this year rather than specifically increased or changed its advertising in response to the crisis.
Little Caesars, Pizza Hut and Marco's Pizza all decreased ad spend compared to the same period in 2019, with Pizza Hut dropping spending by 36% during the ten weeks.
That being so, these decreases could certainly be temporary as companies feel out the situation. It is possible we may find them increasing their spending on advertising going forward in response to how their business is faring during the crisis.
Responding to the Crisis in TV Creative
The majority of the top 10 food delivery advertisers have been running television commercials that address the pandemic crisis, though not always exclusively.
Among pizza chains, safety has been the major theme, by way of reassuring concerned consumers that the companies have no-contact pizza handling and delivery policies in place.

Papa John's, for example, stressed that a human being does not touch its pizzas once they come out of the oven while also promoting "No Contact Delivery". Pizza Hut mentioned "contact free delivery" while also appealing to sheltering consumers tired of eating mac and cheese and peanut butter and jelly. In addition to running ads promoting "contactless delivery", Domino's also ran employee recruitment ads looking for help during "these tough times", suggesting the company is especially busy during the crisis. Papa Murphy's re-edited footage from one of its humorous commercials to promote its online delivery and curbside pickup under the theme "We're in this together", and Little Caesars ads showed how consumers can safely pay for and pick up their pizza through an automated machine.

Food delivery services, whose fortunes are intertwined with the restaurants they partner with, approached their commercials in a manner more akin to public service announcements. GrubHub ran TV ads featuring a plaintive appeal to the American public to "help save the restaurants we love" by ordering food for delivery, while DoorDash appealed to consumers' sense of community and loyalty by imploring them to be there for the restaurants that "have always been there for you". In addition, GrubHub and DoorDash, as well as UberEats, have also been featured in delivery-themed commercials from chains like Chik-Fil-A, Wendy's and McDonald's. Like Freshly, Shipt ran non-coronavirus-themed ads, humorously showing how the company is "over-delivering delivery".
Food Delivery in Paid Search Advertising
Like many industries, online food delivery services saw a dip in paid search advertising, likely as a result of companies pulling back on advertising while they assessed how the crisis affected not only their business but daily life and the economy at large.
The chart below depicts weekly spending on U.S. Google search ads displaying for 44 food delivery-related keywords from February 2 through April 11. As illustrated, paid search spend by food delivery companies steadily dropped in February before picking back up in March, and then climbing to a high point in the first week of April, suggesting the industry is adapting well to the crisis.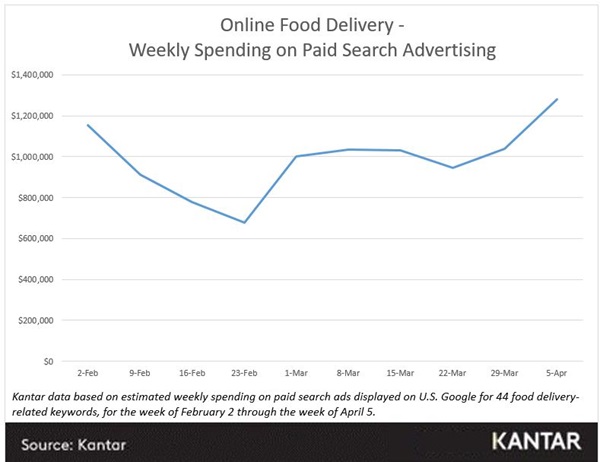 The trending chart below measures advertisers' share of voice based on ad impressions for the 44 food delivery keywords we studied.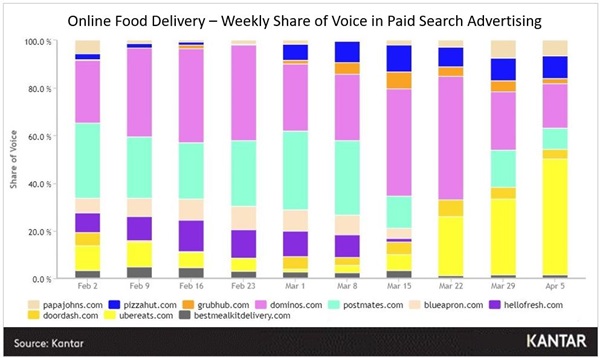 Domino's is the clear leader, keeping a strong presence throughout the 10-week period. However, other advertisers have either waxed or waned in impression share during this time. In the latter group, Postmates started off stronger than it finished, while prepared meal companies HelloFresh and Blue Apron largely petered out by mid-March. In contrast, Pizza Hut, GrubHub, Papa John's and especially UberEats have all grown their impression share since March, suggesting a concerted effort to increase engagement with homebound consumers during the crisis.