The meaning and value Americans ascribe to their homes has continuously evolved. In the 1950s having a home represented the realization of the American dream, but by the 1990s the introduction of McMansions signaled that American homes had become more fortress and status symbol. The COVID-19 pandemic has ushered in the next evolution, with Americans placing a high value on "flow" as the need for headspace, energy, and proficiency has required us to utilize our homes to manage our busy lifestyles. American homes have had to become productive, efficient hubs, with people incorporating new features to help them better manage and maintain their lives.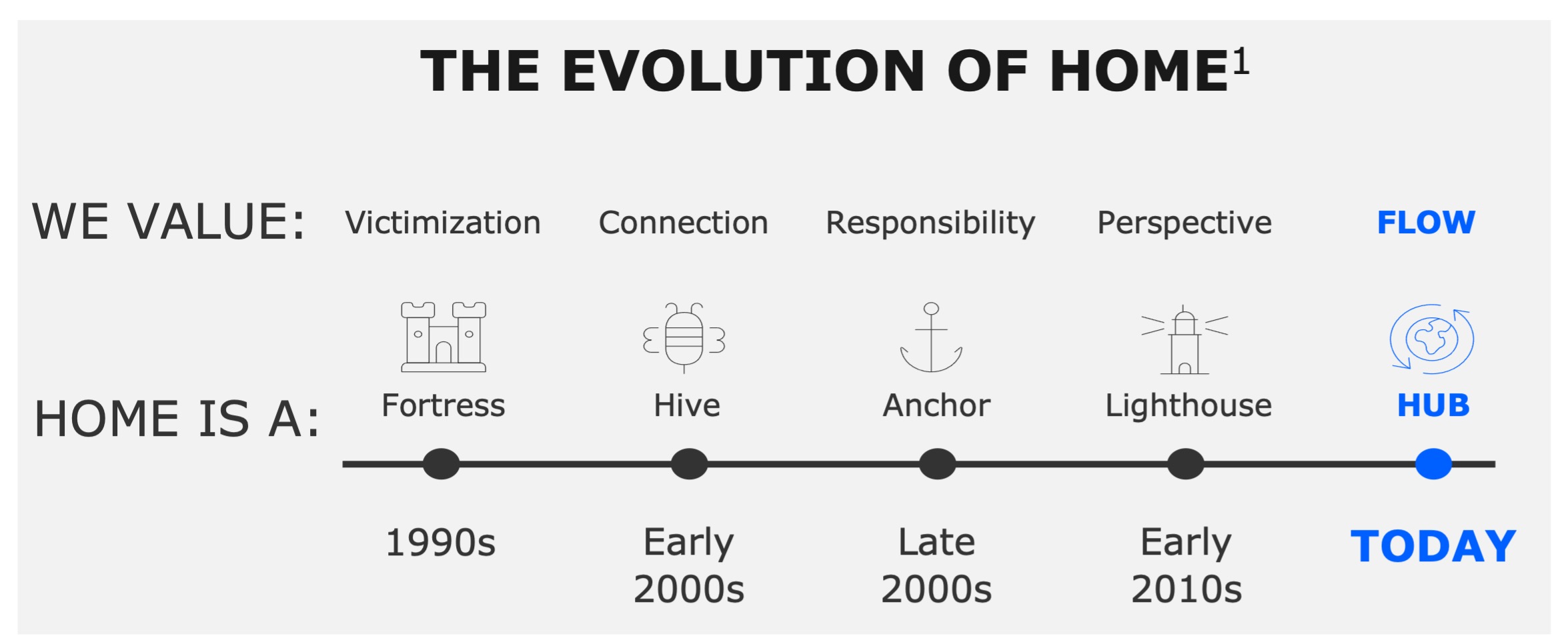 Acceleration of trends
This trend has accelerated during the last ten months as stay-at-home orders have transformed our homes from havens to hideaways, sealing us into shelters that protect and defend us against COVID-19's scourge. A home-centric world was a necessity, one enabled by technology that allowed us to live, work, play, educate and entertain without leaving the house. However, consumers have not just let this happen to them. They have adapted their homes to accommodate myriad roles that not only reflect the flow of our busy lives, but remain a sanctuary from the pandemic.
Evolving mindsets during COVID-19
The America At Home study was a nationally representative survey of U.S. adults, ages 25-74, with household incomes of more than $50,000 that was conducted in April and October 2020. A constant revealed by the study is that the idea of home as a place of security and protection for those closest to us didn't waver during the first eight months of the pandemic. Approximately 90% of respondents in April 2020 and October 2020 defined "what home means" as "a safe place," and 84% defined home as "family." However, as the pandemic lingered and Americans endured renewed shelter-in-place orders, we started to see that Americans were developing a fondness for this new pace of life. Home as Freedom increased to 71% in October from 58% in April; and Home as Financial Stability increased to 63% in the fall from 55% during the summer. The freedom of time and space that seemed to open up for families as commuting, ballet and soccer practices, PTA meetings and Barre classes fell to the wayside, provided new ways to look at time and to spend it differently, to value play and to compartmentalize school and work. And as the economy stumbled, the value of homeownership as a key part of the financial puzzle rose in importance. Our U.S. MONITOR research corroborates this acceptance, revealing that Americans (especially Gen-X, the sandwich generation) are more willing than ever to stick with a slower pace of life after the pandemic is over.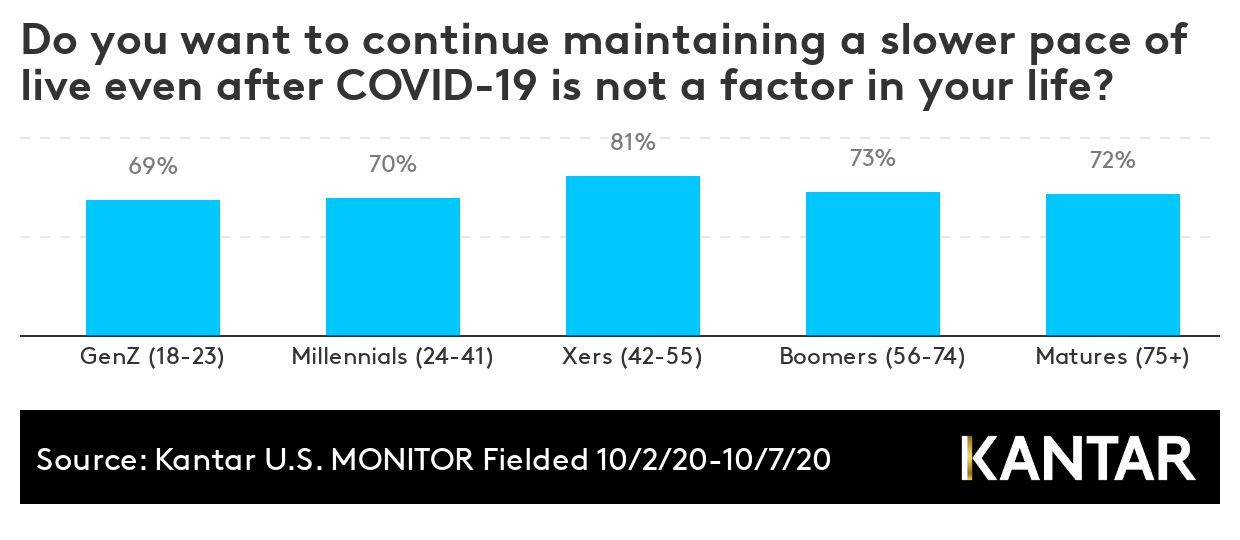 Spending shifts to enhance a hyper-hub lifestyle
While we transitioned to conduct school from home, order groceries online for home delivery, and spent more time cooking, gaming and Zooming, we directed our spending accordingly. We sought to make our homes more comfortable, more stylish, more productive, and leaned into fitness and nature as ways to escape and improve our mental health. The America At Home study showed that 56% of the biggest expenditures during COVID-19 were spent on items related to the home.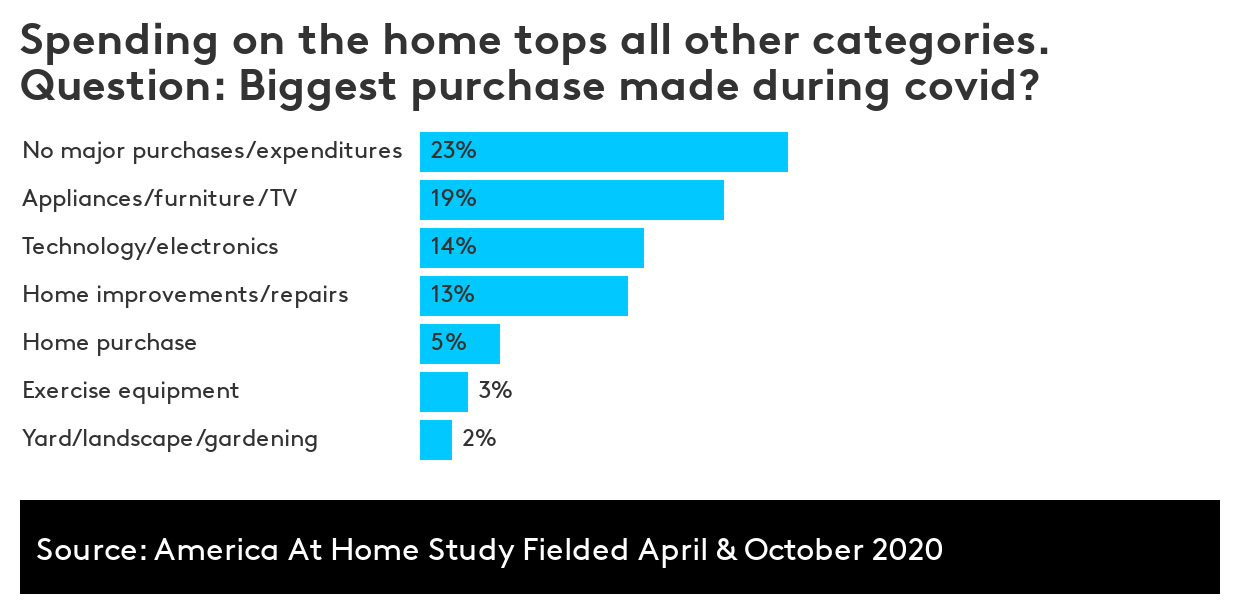 Americans were not just buying more "stuff" – they were investing in their homes for more adaptable living. U.S. MONITOR research in April confirmed that over 50% of American consumers had or were planning on making changes to their homes. The America At Home study indicated an even stronger predisposition to home changes, with only 8% in April and 12% in October saying they had NOT made adaptations to accommodate life at home during COVID.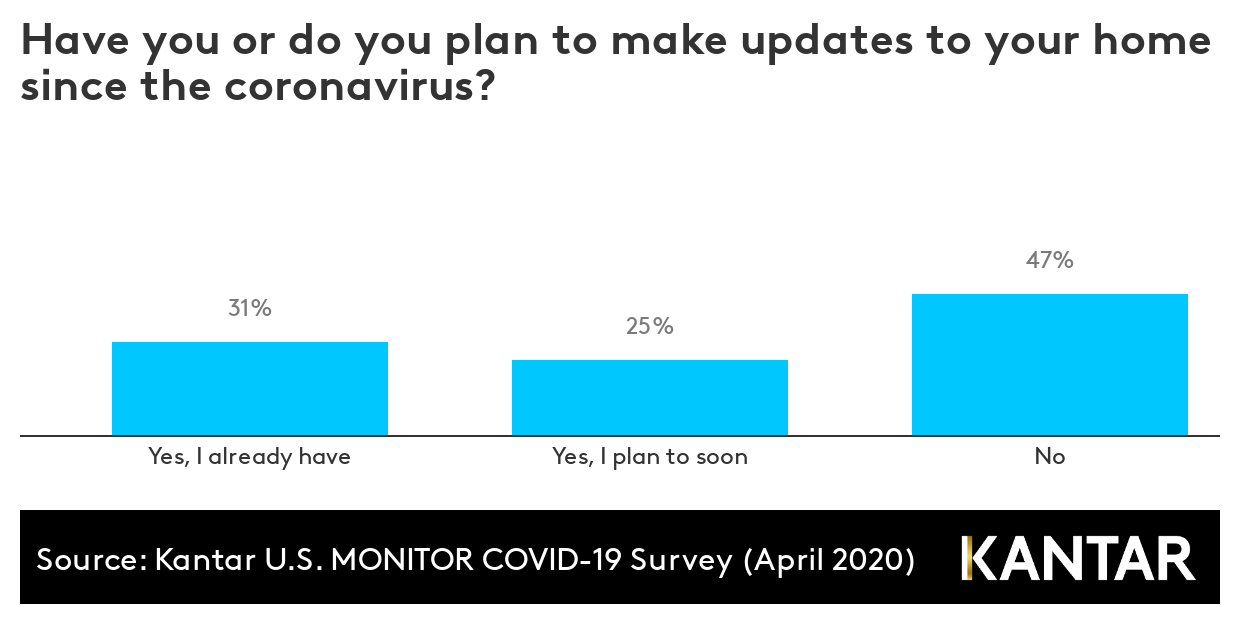 The America At Home study revealed a heavy focus on adaptation of one room in particular – the garage. In April's wave, one-third of those with garages made adaptations to increase storage, while one in five created a home gym in the garage; 14% altered their garage for kids' play space or home office. These real-life examples of "flow" represent consumers' growing need for efficiency, accessibility, seamlessness and flexibility in their homes today and going forward.
What trends are here to stay?
Hygiene is the new health – we will spend more on products and devices that protect and defend our homes and families. Whether that's disinfectant or air filters or HVAC systems endowed with UV-light, consumers will be looking for ways to simplify home cleaning and ensure hygiene reigns. And they'll be willing to pay a premium.
The America At Home study ranked germ resistant countertops and flooring and touch-free faucets and appliances, and smart toilets among the top five elements from a list of items that people "were missing and willing to pay for in their current or next home." But it is the more family-oriented "new traditionalist" and "ambitious realist millennials" who were 27% more inclined to invest in touch-free appliances. And the foodie-fancying "omni explorer millennials" and practical "pragmatic pathfinder Xers" identified "a better equipped kitchen for cooking" as the number one improvement they'd be willing to invest in.
Simplification is the new mantra - Just before the pandemic, a fourth quarter 2019 MONITOR study found that prospective homebuyers, more than the general population, were finding ways to simplify their lives. COVID-19 has also accelerated this trend. While we've been hunkering in our homes, life on the outside has gotten even more complicated and this desire for simplification is only increasing.
Technology will be one of the greatest enablers of simplification. This presents a number of opportunities. Every MindBase segment except one selected "better technology and energy efficiency" as the #1 or #2 greatest need and they're willing to pay for it. This should open the doors for cable, streaming, gaming and tech companies, among others. More energy-efficient homes will drive smart home applications that will restore the drain on America's headspace while improving cost savings, the environment and home value, all of which will contribute to more simplified lives.
The trend toward simplification also means that people could be willing to change what might have been de rigueur in the past. Big homes and big mortgages, elaborate social occasions, long commutes and complicated lifestyles are all being reassessed.
So what might this mean? Even after we're able to socialize outside our bubbles, we'll continue to use our backyards and front porches for more simplified entertainment and want to invest in comfortable but aesthetically pleasing outdoor space and supplies to do this. We'll shop less at stores and utilize auto-ship more to streamline our shopping for staples from dog food to diapers to cleaning supplies. We'll continue to do online research, virtually visit, and even buy a home without meeting a human. "Full throttle Boomers" in the America At Home study were 60% more likely to to shop for and purchase a new home completely online than the other two Boomer segments.
Versatility will be critical – Although we've learned to live with COVID-19 so far, we're still receiving near daily gut punches from the disruptions that a global pandemic, economic turmoil and social unrest are raining on us. Consumers will expect to make homes and the spaces in them more flexible and adaptable for a life that requires even more "Flow" than before. Easy set up, easy take down. Ample storage. Flexible furnishings. Homes and furnishings designed with the utmost versatility in mind will deliver greater value.
Wellness will be seamless – Mental health has been on the forefront of consumer concern during this period and it too has taken a hit throughout the pandemic. Home adaptations, better technology and more flow can address much of this but we foresee a deeper integration of wellness into home and lifestyle than ever before. In 2018, the Global Wellness Institute (GWI) recorded the wellness real estate sector to be a $134 billion business that would grow 6% annually, outperforming many other sectors. While this area likely took a hit because of COVID-19, there is evidence of unmet needs and opportunity growth across the board for companies that can offer support for mental health, financial wellness and physical health. The America At Home study probed on the GWI's pillars of wellness, asking consumers to rank their importance and also to rank their satisfaction with them. Results are telling that there is opportunity to meet and address consumer wellness needs.
Homes are hubs and havens - Our homes will function more than ever as sanctuary and comfort zones while also remaining the epicenter of our life. Many of the practices begun during the pandemic will continue. Consumers will be seeking inspiration and experiences while staying closer to home. In turn, this opens up an infinite variety of services and products to meet these needs and ensure that home as family and security will continue to provide a sense of freedom for consumers adapting to life in a post-pandemic world.
For more information on the Kantar and America at Home Study or Kantar's MindBase Segmentation please complete the form below.