The often-fractious relationship between China and India has recently taken a turn for the worse. This is not only having implications for retail, but is also suggestive of how geopolitics is impacting the industry in multiple markets.
The last few years has seen cross-border commerce growing rapidly while simultaneously nations are increasingly turning inward. COVID-19 is spurring further insularity, often prompted by practical considerations brought about by the crisis, but equally, as we pinpointed in a recent Retail IQ piece, accelerating the ongoing trend towards localization.
At the start of 2020, Kantar's Global Outlook and European Outlook 2020+ predictions reports identified cross-border commerce as a key theme for the year. Pivotal to those predictions was the expectation of continued growth from China. At the time, we added the caveat that this progression was not without risk of being derailed by geopolitics. Sadly, conflicts between nations are almost inevitable and can have repercussions on how we do business many thousands of miles distant from their point of origin.
India and China come to blows
The latest dispute between India and China, sparked by a clash of military forces on a border disputed for decades, has escalated to a point where India's government has banned 59 apps linked to Chinese companies. These include TikTok, one of India's most popular apps with an estimated 200 million+ monthly users, plus Alibaba's UCWeb browser and Tencent messaging app WeChat. TikTok owner ByteDance will particularly feel the impact, with India comprising approximately 30% of its global user base.
The tension has caused a significant backlash against Chinese goods and services in India, with calls for boycotts across a range of sectors. India has enacted a series of measures restricting Chinese firms from carrying on business. Imports are now subject to lengthy scrutiny and additional tariffs, forcing up prices.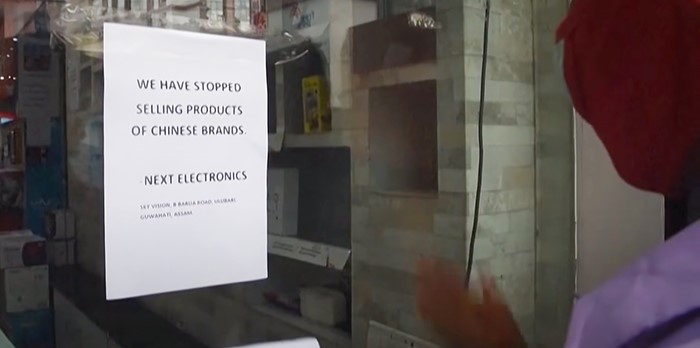 Chinese goods and tech are rapidly being forced out of the Indian market. (Source: Al-Jazeera)
This is already hitting the Indian electronics retail sector hard, given its reliance on Chinese-made products. With over 80% of all India's smartphones made in China, continuing clampdowns may have a ripple effect on the country's ecommerce space, which depends heavily on low-cost gadgets to drive sales. There are now demands for all products sold on sites like Flipkart and Amazon to be clearly tagged with their country of origin.
FMCG is not immune, either. A new edict requiring food products to have detailed ingredient sourcing has been handed down by authorities. This is despite surveys revealing that only 37% of Indian consumers ever check sourcing when buying food. Even so, FMCG retailers have moved to comply, with suppliers forced to hurriedly remodel packaging where necessary.
Fears of 'outside influence'
It is hard to determine whether the prevalent anti-China sentiment represents the peak of the wave or simply the start. The roots of the India-China rivalry go back years, but have come more to the fore of late since China began its expansionist programme via its Belt and Road Initiative infrastructure project to develop trade links across Asia and beyond. This exercising of 'soft power' has stirred deep resentment in India, not least because of perceived growing Chinese influence in neighbouring nations like Pakistan and Bangladesh.
Chinese tech giants have, perhaps wisely, kept their investments in emerging Indian platforms low-key, but that isn't to say they are not substantial. Few, for example, may recall that when in 2018 Walmart took ownership of Flipkart via a 77% stake, one of the remaining lead stakeholders was Tencent. Or that 'homegrown' grocery pureplayer BigBasket is majority-owned by Alibaba, which also holds a major stake in leading eWallet Paytm and its ecommerce offshoot Paytm Mall.
These investments may be at risk should Indian governmental pressure increase. In the last few days cash-strapped on-demand provider Zomato was forced to seek alternative funding to a crucial USD150 million infusion from Ant Technology after its own employees protested against Chinese ownership. Some experts predict Chinese FDI may fall by as much as 50% by the end of 2020.
A wider picture
But it is not only in India that China's attempts to extend its influence are causing concern and worse. Jack Ma being the first business leader to pay court to Donald Trump following his election now seems a distant memory. If, as many believe likely, the US President makes attitudes toward China central to the presidential election in November, the potential knock-on effect for US-China cross-border trade are immense, not least for US companies leveraging Chinese expertise to build a consumer base in Asia. Threats are already being aired around curbs on investment, limiting listings on US exchanges, its own bans on Chinese apps and further import tariffs, all of which must make a retailer like Walmart, with substantial Chinese interests, somewhat anxious.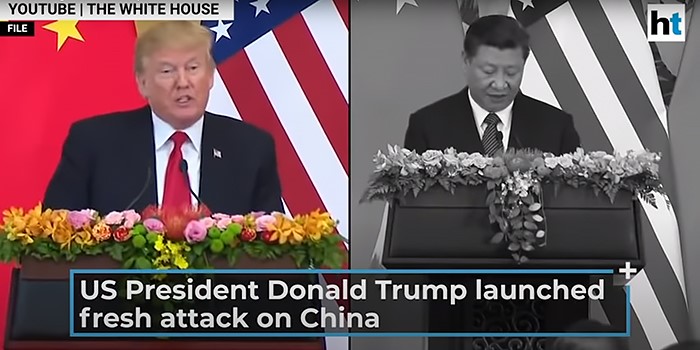 US-China tensions may well lead to a more bifurcated global trade environment. (Source: Hindustan Times via YouTube)
Common sense says there would never be a scenario where a business as influential as Walmart would be forced to pick sides, but given the strangeness of these times, nothing seems too outlandish to be wholly unimaginable. Tariffs have already prompted many US manufacturers to relocate operations from China to elsewhere in Southeast Asia. Should the rhetoric grow more strident, more may follow and India would likely be more than amenable to assist such an exodus.
Kantar has studied Alibaba's European adventures as it pursues its goals here and elsewhere. With some degree of success so far, it might be said. But again, as we flagged in our Outlook 2020+ reports, the advantages Alibaba enjoys in terms of exploiting the various import loopholes (VAT, returns policies etc.) may well inspire demands for tighter control over the mechanisms by which AliExpress can offer the rock-bottom prices that are its USP. A first shot was fired across its bow last year by EU consumer advocate groups, and we can expect the noise to get louder should the marketplace continue to gain online market share in Europe.
Kantar's Point of View:
The major concern for brands around geopolitical instability will be its effect on supply chains. As the India example shows, abrupt about-turns in areas like FDI and import tariffs can have potentially disruptive impact on how goods move across borders and how they are priced in certain markets. This can feasibly wreck the most carefully planned international supply chain should raw ingredients or components unexpectedly find themselves waylaid by disputes between countries of origin and/or manufacture. COVID-19 quickly showed how much dependence many European retailers have on supply lines from China and how rapidly their businesses can be upset should those lines be cut.
The COVID-19 crisis is nudging nations towards insularity and protectionism. Within Europe (with the UK a notable exception), EU law is intended to mitigate against obviously chauvinistic local measures that exclude cross-border brands, although it can be expected that some countries may continue to explore ways to test those limits (as seen in several CEE markets). Given its single-market status, we may see the EU act as a single entity and limit the power of certain non-EU operators to achieve dominance in certain sectors, especially in ecommerce. The Single Digital Market is in place to benefit EU-based businesses and, in a post-pandemic recessionary environment, could act as defensive wall against the likes of Amazon and Alibaba.
Kantar's view is that, despite geopolitical tensions and widespread governmental opprobrium, China's status in global trade is unlikely to be significantly diminished going forward. The past two decades have seen its influence and its place at the heart of trans-national business grown to such an extent that few brands or businesses can pursue aggressive growth without China being a factor. What we may see, however, are attempts to clip its wings through a variety of means, be that new levies and tariffs on Chinese goods and services; blocking involvement of Chinese companies in tech infrastructure projects like 5G, or regional countries forming trade blocs to give them competitive advantage. There is certainly a significant threat to the thus-far unstoppable rise of TikTok on the global stage, which will throw many a marketing strategy into confusion. So, expect volatility for the near future and have agile contingencies in place to take advantage of changing landscapes as they emerge globally.
This article was originally published on Kantar's Retail IQ platform for licensed subscribers. Visit this page to learn more about the insights, data tools, and experiences available to Retail IQ subscribers.