Like many traditional industries, the financial services investment category has seen significant changes due to the emergence of online-based, so-called "disruptor" companies who promote themselves as providing consumers with a cheaper, more efficient alternative to the old way of doing things.
Perhaps the most prominent example of such companies is Robinhood, whose popular mobile app and commission-free trading policies have greatly contributed to the industry at large adopting such measures as well, to the point where they are now virtually standard services for investors.
In the last year, Kantar data shows Robinhood extended its presence in the investment category via advertising as well.
While the company spent no money on television advertising in 2018, Kantar data shows Robinhood was one of the top 10 TV advertisers in 2019.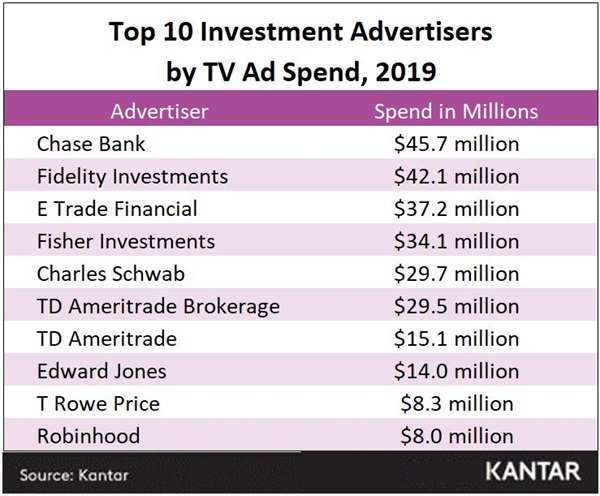 According to Kantar data, Robinhood spent an estimated $8 million on commercials that ran exclusively on cable television during the past year—roughly equivalent to T Rowe Price's 2019 TV ad expenditure ($8.3 million) but far behind the category's top 3 TV advertisers, Chase ($45.7 million), Fidelity ($42.1 million) and E Trade ($37.2 million).
In terms of creative, Robinhood appears to be attempting to differentiate itself from more traditional investment companies by featuring non-traditional individuals using its mobile app in non-traditional settings: a young woman in a comfy chair in her apartment and a young African American man on a city bus.

Within paid search advertising, which is far more oriented toward customer acquisition than brand awareness-building TV commercials, Robinhood had an even greater impact. Kantar data shows Robinhood ranked third in U.S. Google desktop search clicks on 65 popular investment-related keywords in 2019, including 'stock market', 'stocks' and 'how to invest in stocks', capturing a total of 8.3% of all clicks on the keyword group during the year.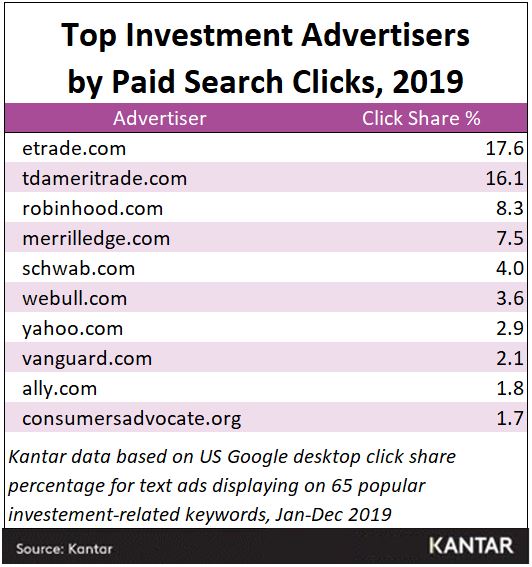 The latter figure increases to a 10.8% click share when examining May through November, Robinhood's most active months of 2019 for paid search advertising. For comparison, in 2018 Robinhood ranked 18th in clicks on the same keywords, achieving only a 0.8% click share for the year.
However, Robinhood was less successful within mobile search, ranking 13th with a 1.5% click share on the 65 keywords for the full year of 2019. Kantar will continue to monitor advertising by investment companies in 2020 to assess Robinhood's performance and other trends affecting the category.