1. FMCG consumption today is more rational
Increasing prices are leading Latam consumers to choose what to keep in their shopping carts, or find ways to reduce their expenses. This is reflected in FMCG value growth, which fell and stabilized at 9% after 12 months of double-digit rises. Purchase frequency has also stabilized at a lower level than before the pandemic.
It's worth noting how consumers in different countries and from different socioeconomic levels (SELs) rationalize their spend to fit their pocket. Mexico is among the countries where consumption is still above pre-pandemic levels. Spending on food among shoppers in the lowest SEL is the highest in the Latam region, and consumers are keeping their basket the same.
In contrast, Brazil, Colombia and Argentina are suffering the most from economic pressures. In Brazil, which has the lowest food spend in the region, households are prioritizing meals; while in Colombia and Argentina consumers are deciding what they are going to keep in their shopping baskets.
2. Shopping online won't go out of style, so capitalize on the opportunity
The digital channel has accelerated its penetration in almost all countries, while the WhatsApp platform has nearly tripled its reach in some markets. Ecommerce continues to reach new buyers at all socioeconomic levels.
After two years of the pandemic, 14% of households in the Latam region now purchase FMCG online. In Chile, penetration is eight times higher than it was pre-pandemic, while in Brazil – which started at the same level in 2019 – it has only doubled. WhatsApp's penetration has increased by 8%, reaching 22% on average, and in some countries – including Argentina, Ecuador and Peru – it has a significant 'non-digital' audience who only use WhatsApp to buy online.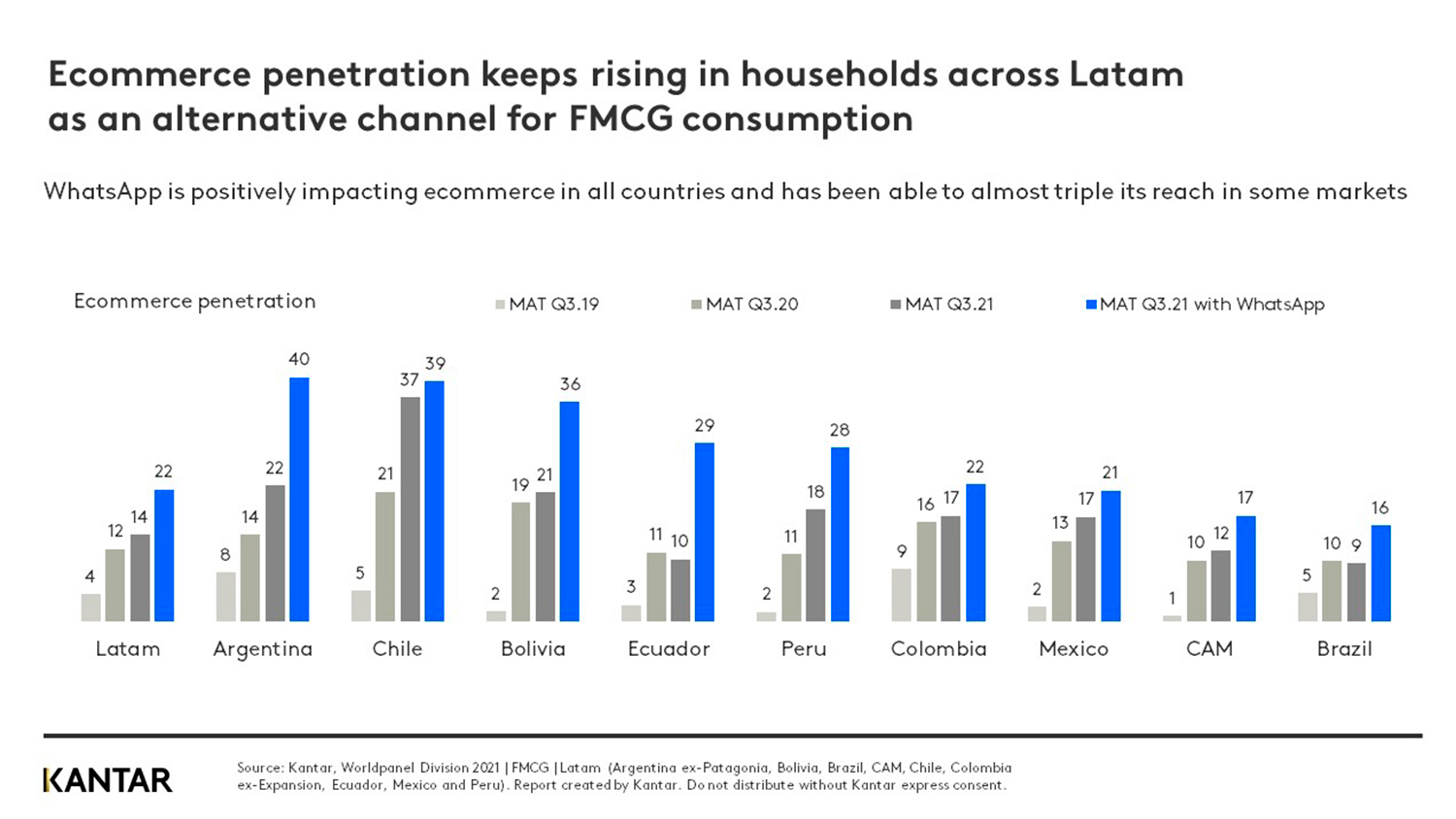 3. We see two key responses to rising prices – and it may be time to diversify your portfolio
Different economic realities mean different consumer responses. Decreasing the number of categories they buy and downtrading to cheaper brands are two ways shoppers are rationalizing their spend. The more impacted the country and the consumer, the more a combination of the two approaches is seen.
This is the case in Colombia and Argentina, where shoppers are reducing the number of categories purchased in addition to changing brands to more affordable options. In Colombia people are choosing to buy private labels, whereas in Argentina they are still buying premium brands thanks to the Precios Cuidados policy – a special pricing program agreed between the private sector and the government.
In Brazil, where the economy has been moderately affected by inflation, shoppers are buying more categories – but at the same time they're turning to lower-tier brands.
4. In food, investing in your perception of affordability will win buyers
In the foods basket – which gives us a barometer for household spending, due to its high relevance to consumers – many categories have increased their buyer base in Q3 2021 compared with Q1 2019. In total across the Latam region, 64% of these categories have gained consumers from low SELs, as well as 59% from high SELs.
What is behind the trend is that consumers are including cheaper proteins in their shopping carts: mortadella, hot dog and pork sausage increased their buyer bases, while more non-essential categories such as desserts and cakes lost shoppers.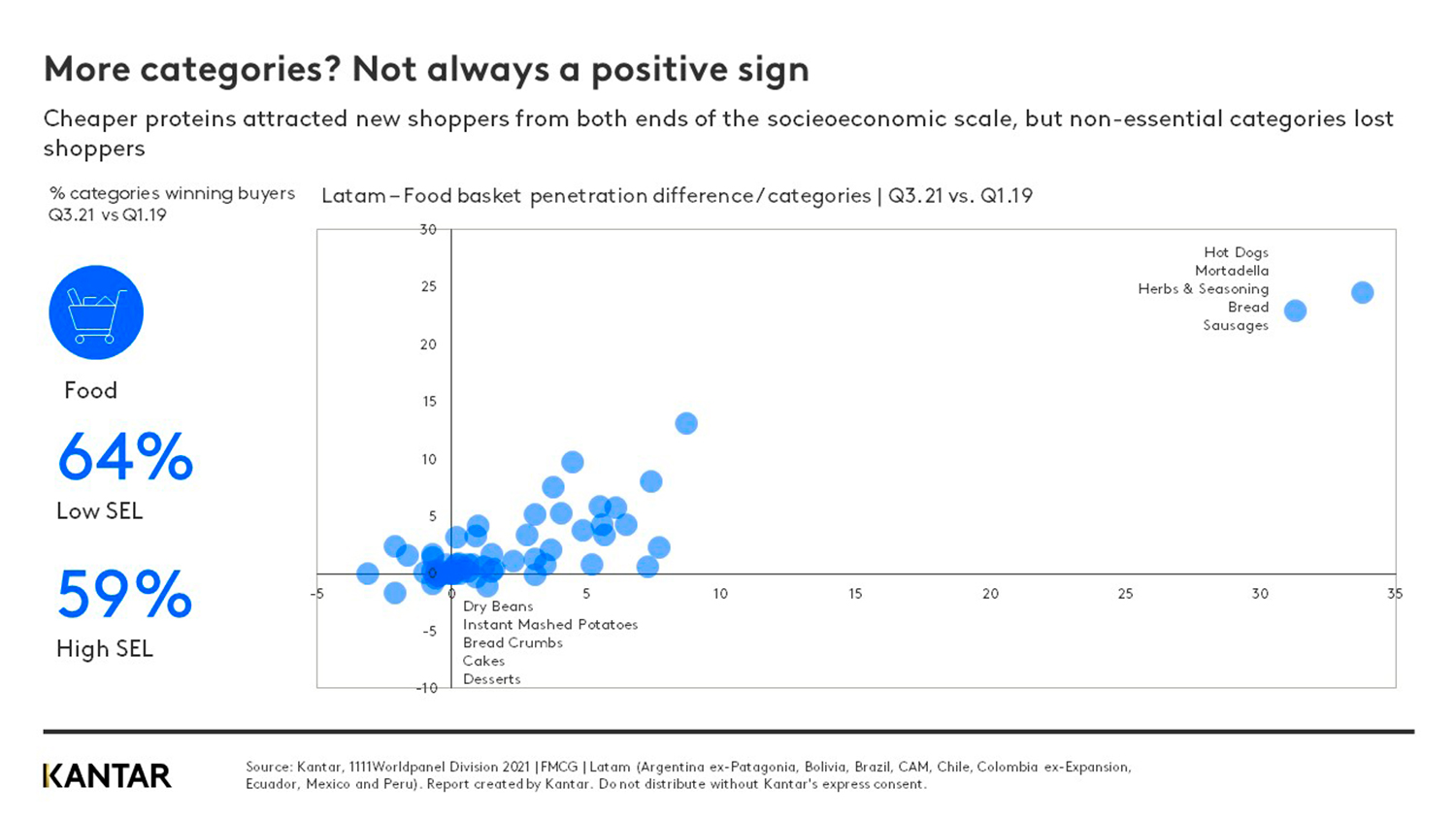 5. Brands that take ownership of the region's green agenda will stand out
At Kantar, we segment consumers into three categories: Eco actives, Eco considerers and Eco dismissers. Eco actives and considerers are those buyers who are very concerned about the environment and are taking steps to reduce waste, but to different extents. They now represent 44% of consumers in the Latam region.
However, more than one-third of shoppers don't understand recycling or cannot find the relevant labels on the products they buy. Providing clearer and more educational labels and instructions is one way brands can address sustainability while successfully engaging consumers.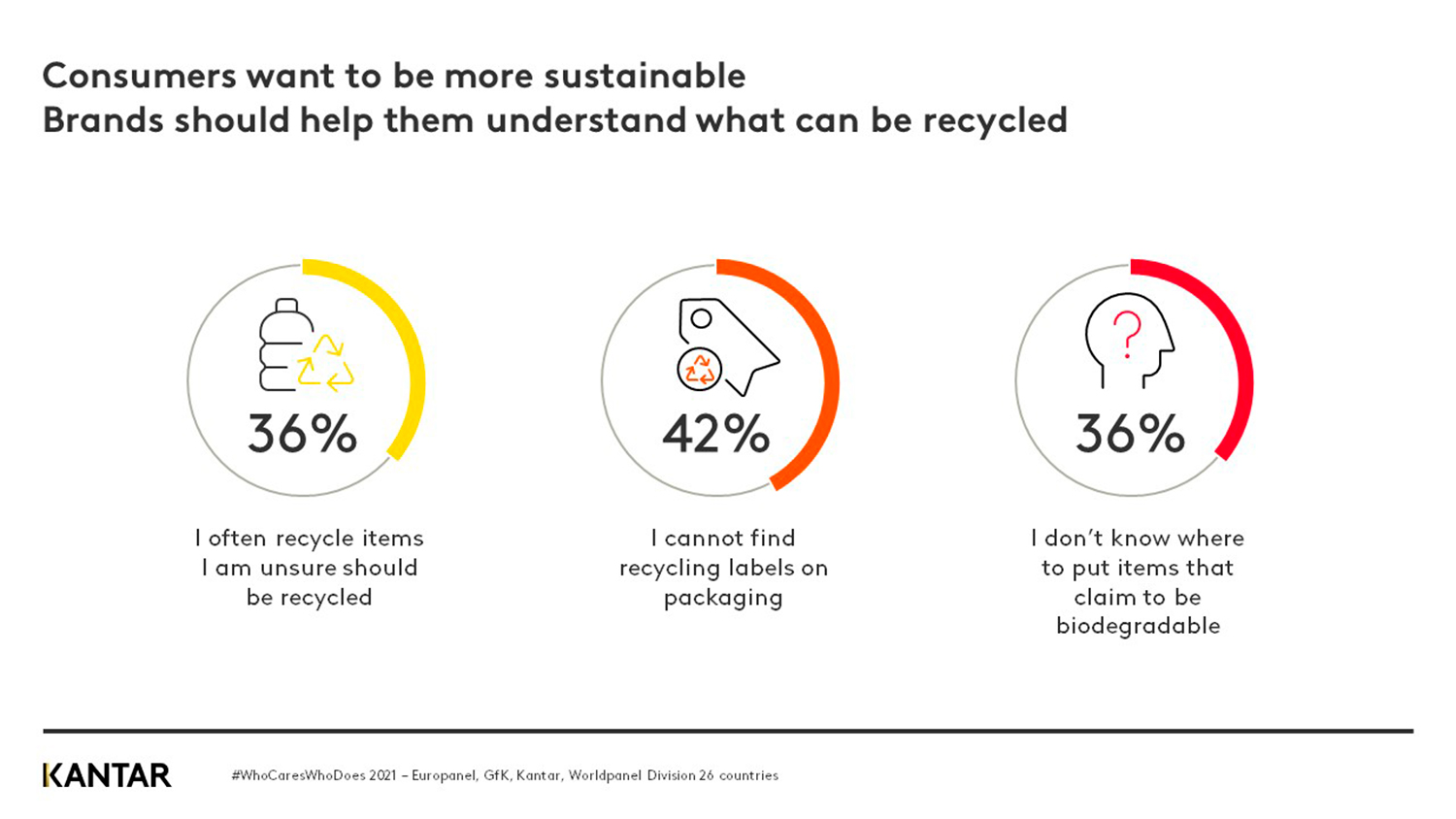 If you'd like to know more about how to keep up with the speed of change and unique trends in Latin America, please contact our experts.