1. Digital adoption has increased sustainably
Since the start of the pandemic, the number of people buying consumer goods online has continued to grow steadily in all countries in the region, with the channel reaching four times more buyers today than it did in 2019. The growth trend ultimately stabilized in the first half of 2022, due to inflation and the end of COVID-19 restrictions.
Demonstrating the significant impact online FMCG shopping still has on households today, even consumers in the lowest socioeconomic levels have remained active within the channel. This is significant, as lack of digital access had previously been a barrier to shoppers in this group.
2. Frequency has remained unchanged
The number of times households visit the online channel has not kept up with the pace of penetration growth: frequency has increased by only 32% since 2019. While it is true that the return to shopping in physical stores has had an effect, consumers also mention the high average price of products and shipping fees as barriers to using ecommerce more often to purchase FMCG.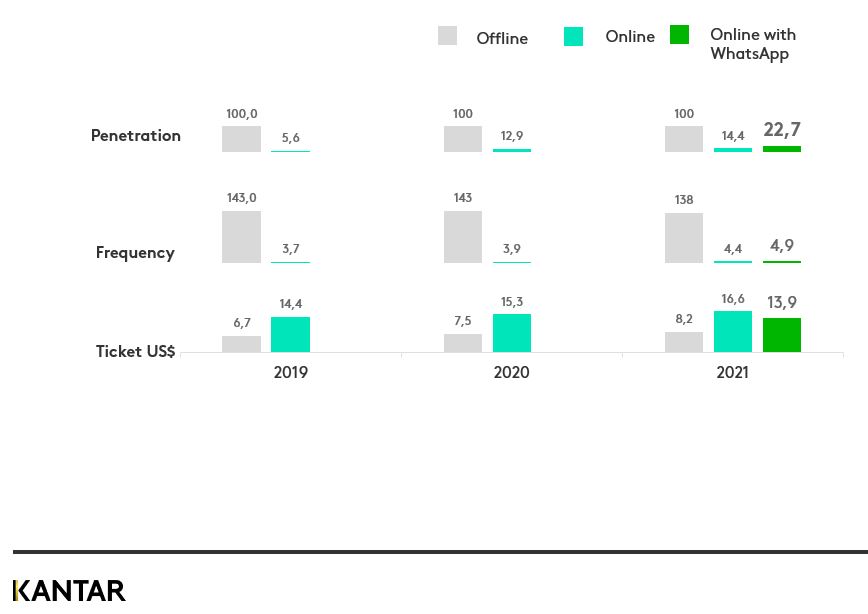 3. Personal care is the winner online
The personal care category has made the biggest penetration gains when it comes to ecommerce, with 67% more users annually. If we include purchases made via the WhatsApp messaging service, that figure would soar to 126%.
Shoppers favour the online channel for personal care as these are smaller purchases of items that are used less often than other FMCG products, so price and delivery charges are less of an issue. The trend is also influenced by the so-called 'pure ecommerce' stores, which are online outlets that specialize in personal care, as well as by WhatsApp, which allows for simple and quick interaction with brands that traditionally sell through catalogues.
4. Food is only added to larger shopping baskets
With online penetration of 34% of Latam households, food categories face difficulties in becoming part of the daily shop. Delivery lead times and shipping fees can make buying food online not seem like a good deal, so food is mainly included in shopping missions that comprise 10 or more categories.
Food was the most-bought category during the pandemic online boom, when over half of all online users would buy a few food items on each 'trip', particularly during periods of lockdown, which rendered the proposition of buying online more compelling. Nonetheless, the category has been unable to sustain its relevance into the post-pandemic era.
5. Retail channels have not benefited equally from the online boom
The methods people use to connect to the internet influence the type of channel they prefer to shop at.
Latin American consumers use traditional stores most often for offline FMCG shopping, accounting for 24% of total value sales; while online accounts for just 6%, owing to the difficulty this channel has with reaching its shopper base digitally. Although WhatsApp extends its reach to some of these people, this has not been enough to give it leadership in the ecommerce space.
On the other hand, hypermarkets, which account for 9% of all offline FMCG spend, is the biggest channel within the digital environment, reaching 26% of Latam consumers.
E-retailers – websites or apps owned by supermarket chains and hypermarkets – are now the most important platform for online FMCG sales in Latam.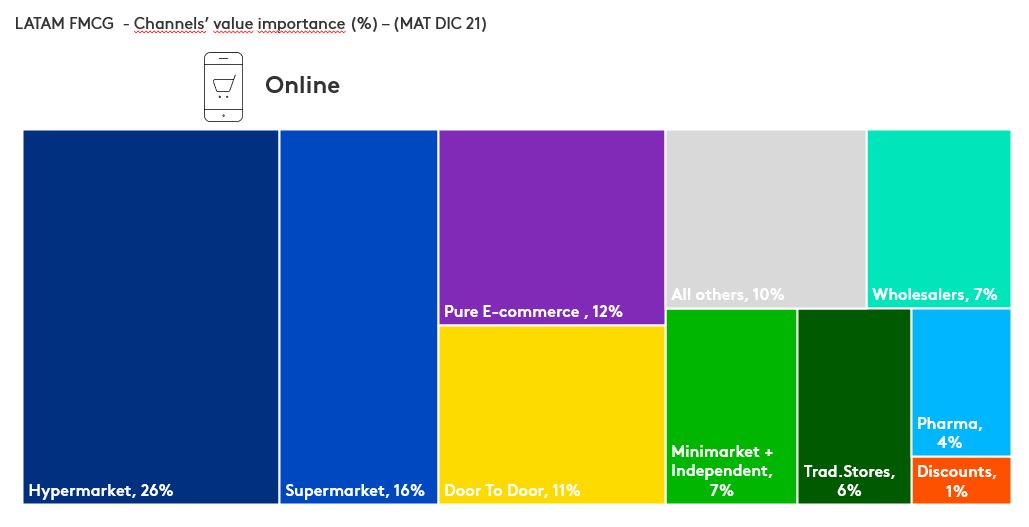 Kantar can offer an in-depth view of the Latin American ecommerce market for FMCG, covering consumers' preferences around categories, channels and shopping habits, and the impact of trends on manufacturers and retailers. Talk to us to take maximum advantage of retail's digital transformation.