Overseas brands have not performed as well as expected in the Chinese Mainland's FMCG market over the past few years. This is due to the emergence of a large number of successful local brands, along with a revival in the popularity of traditional Chinese brands.
According to our research, over the last three years Chinese brands' value share has been gradually expanding – in food and beverage as well as non-food categories.

Source: Kantar Worldpanel Household Panel
The reason Chinese brands are winning is based on a transformation in the tastes and values of consumers, particularly among millennials and Generation Z. Not only do they have higher awareness of Chinese brands, but their confidence in 'home grown' products has also increased.
Many brands have achieved a leadership position by devoting themselves completely to launching products that meet the unique demands of Chinese customers. In the dairy category, for example, Milkground's slogan is 'focus on cheese, specifically for the Chinese', while Feihe's claim is that its Infant Milk Formula is the most suitable product available for Chinese babies.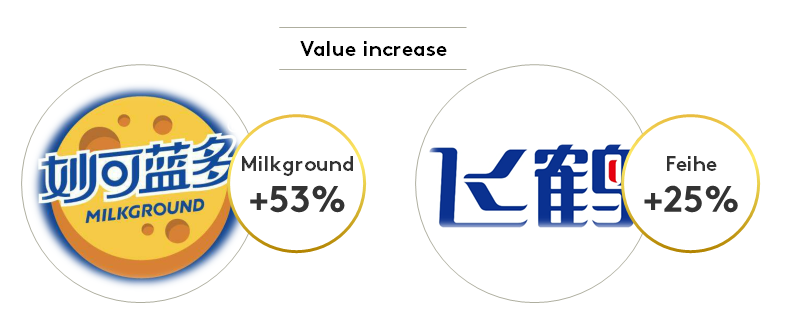 Source: Kantar Worldpanel Household Panel & Baby Panel. 52 w/e 2021/09/10 vs. 52 w/e 2020/09/11, national
These local dairy brands have reported impressive gains, with Milkground achieving a value increase of 53% compared with the same 52 week period last year, and Feihe's value sales rising by 25%, which is much higher than the category average.
In some categories that used to be dominated by foreign brands, domestic brands have made breakthroughs, enjoying the preference of more and more Chinese consumers.
Despite this, the demand for imported brands remains robust, and there are opportunities to be found in this high-potential market for both local and overseas brands to thrive. Here are four key trends that international players can leverage to stand out from the fierce competition.
1. High-tech food combines health and sustainability
Chinese consumers are gradually paying more attention to health-related topics, and healthy snack products and 'plant-based' brands have recently come to the fore as favorites with shoppers. Overseas brands must also seize this new trend.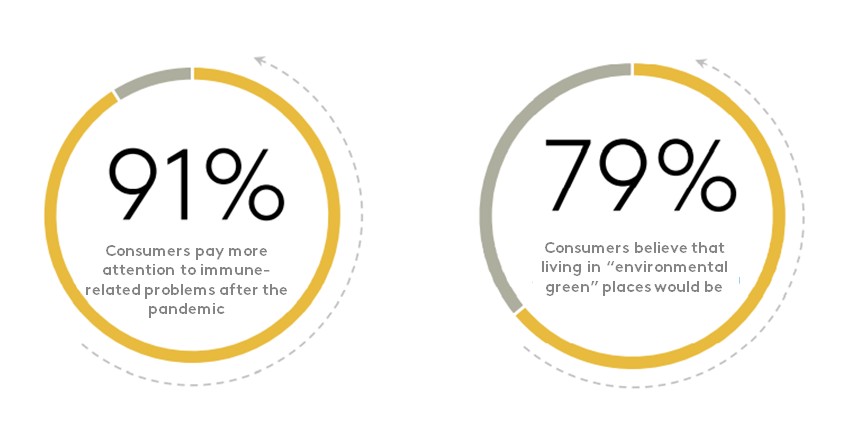 Source: Who Cares, Who Does? 2021, Kantar, Worldpanel Division. Source: Kantar China Monitor 2020
International brands that focus on health and sustainability are resonating more and more with Chinese consumers, and securing share of mind among middle class shoppers. For example, Beyond Meat, which uses plant proteins to replace animal proteins, combines advanced technology with sustainability to advocate a more responsible and healthy lifestyle.
2. Localization drives market development
Effective localization in communication and social ecommerce strategies are also important. Every time Chinese New Year approaches, international cosmetic brands such as Givenchy, Lancôme and Estée Lauder launch creative seasonal limited editions and collaborate with local celebrities, in an effort to attract attention through the use of 'Chinese elements'.
3. Targeting lower-tier channels broadens brand distribution
Imported brands have to promote supply chain cooperation, broaden their sales channels, and expand channel coverage to create greater possibilities to deepen their availability in the local market.
Zespri, a leading kiwi fruit brand that has been present in the Chinese Mainland for over 20 years, is a perfect example. It collaborated with JD Fresh on the supply side, which enabled it to build an omnichannel shopping ecosystem and explore new ecommerce models for fresh food. JD's advantage in cold chain logistics and its ability to reach lower-tier consumers gave Zespri the ability to attract more Chinese shoppers and provide them with a high quality and convenient service.
4. Imported technology empowers Chinese brands
Overseas brands and local brands can mutually reinforce and benefit each other. International brands can leverage their comparative advantages in technology and premium image to encourage consumers to upgrade, while they explore the path to localization.
More and more local brands are adopting imported technology to enhance their competitiveness. For example, domestic skincare brand Dr. Yu adopted the Refractance Window dehydration technology from the US to create a mask that contains freeze-dried essence, perfectly preserving the active ingredients. Empowered by the patented technology, Dr. Yu's mask rapidly grew in popularity among Chinese customers.
While national pride continues to soar in the Chinese Mainland, consumers are also increasingly seeking high-quality products that help them to live a better life. This means imported brands have plenty of opportunities to grow. And, in turn, the injection of global economic vitality and innovation capabilities that they bring will strengthen the market, ensuring that growth will be sustainable. Put simply, it's a win-win situation.
If you'd like to find out more about how your brand could grow in the Chinese market, reach out to our experts.