Kantar's team of analysts cast a keen eye on retailer and shopper behavior on Black Friday and Cyber Monday, noting four key themes this year along with our take on how to interpret the role of these events within the context of the overall 2020 holiday season.
Early kickoff events
With uncertainty around the election and COVID-19, most retailers cranked up the Black Friday sales hype early in an attempt to capture a piece of the holiday spending pie. Amazon kicked things off the earliest with Prime Day in October. Walmart launched Deals for Days, offering doorbuster deals on key dates throughout November. And Target started offering special savings in November on weekly themes to drive shoppers into stores and online.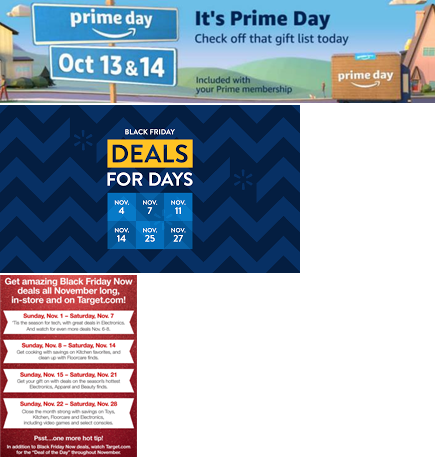 Cyber day every day
Aligned with Kantar estimates and expectations, online sales from these events continued to drive holiday growth. Due to the pandemic, shoppers who avoided stores on Black Friday headed online in a big way. Cyber Monday 2020 sales came in at $10.8 billion — the single largest online sales day in history in the US. But Black Friday online was no slouch either. In fact, at $9 billion, online sales on Black Friday were up 22% from last year and inched closer to the Cyber Monday total. This shift was due in part to most major retailers closing their physical stores on Thanksgiving and directing many of their doorbuster deals online for Black Friday. These shifts in behavior and strategy resulted in the combined online sales of Thanksgiving Day and Black Friday to surpass $14 billion, substantially higher than Cyber Monday sales.
Online sales comparison: Thanksgiving, Black Friday, Cyber Monday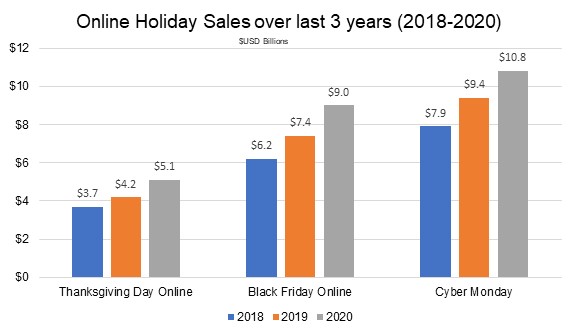 Online tools
Being able to find the best deals is always a top priority for online holiday shoppers. This year, many retailers created tools and filters to help shoppers find and curate Black Friday and Cyber Monday deals. Shoppers get frustrated when they can't find the deals or they run into out-of-stock items. And since it's so easy for shoppers to switch retailers online, retailers need these types of enhancements to keep shoppers on their sites and spending money.
Amazon Black Friday deal filter

In-store fizzled
This was no ordinary Black Friday in stores thanks to COVID-19. This year, brick-and-mortar stores took a bit of a back seat on Black Friday in favor of earlier, more spread-out events and as a fulfillment point for online orders. With most retailers closed on Thanksgiving and messaging directing shoppers online for the majority of Black Friday deals, the in-store experience was almost unrecognizable. The starkest difference was the lack of people and frenzied shopping atmosphere. Without huge numbers of shoppers, noticeable amounts of inventory were still available after the event. We don't know yet whether this excess inventory will eventually sell or if it will cause operational issues in the future. Either way, retailers will likely need to re-examine their traditional model of "stacking it high and watching it fly" for these doorbuster events.
Our take: Retailers and suppliers have gotten into the habit of relying on these big holiday events. That means going bigger each year in a race to the bottom on prices to ward off the competition. Shoppers buy more, often going overbudget even at the lower prices because of the fear of missing out. While these big events create a nice spike in sales, they are riddled with issues like lower margins, supply chain risk, and sell-through opportunities. Habits are hard to break, but maybe due to the changes caused by the pandemic, this year will help retailers reset, create better tools and offerings, and meet shoppers where and how they want to shop for upcoming seasons.