Across US retail, similarities between retailers' strategies have emerged that warrant a closer look. Top players have been preparing for a post-COVID world where spending on traveling and entertainment will return to blot out some of the past year's sales growth at essential retailers and categories, while potentially providing a much-needed lift to apparel sales and nonessential categories. Some of the retailers that saw the biggest sales shifts are likely to see the largest rebounds in the coming year. Reported year-over-year sales growth for much of 2021 and even 2022 should be understood only in the context of 2020's performance, perhaps as a two- or three-year stacked figure. This boomerang effect will not undo the effects of the pandemic or return us to the relative "normal" of 2019 but will likely land us somewhere in between then and 2020 with some aspects of retailing now fundamentally changed.
For instance, almost all retailers — even those deemed nonessential — saw marked ecommerce sales growth.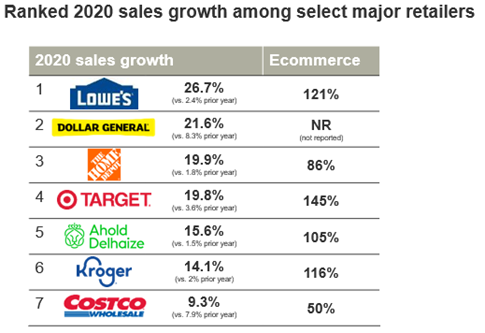 While some online sales growth will likely recede, ecommerce will remain at a permanently higher level of penetration than it was at the start of 2020 as shoppers stick with some of their routines they adopted over the past year. As platforms scaled rapidly under the strain of quarantine shopping, retailers now find they have an expanded toolkit to increase online profitability and invest more in omnicommerce in ways that would not have been possible at the start of 2020. The ubiquity of store pickup and third-party, same-day delivery will allow for the development of more shopper-friendly features.
In addition, the pandemic has caused many retailers to turn a critical eye to their in-store assortment. Though unexpected demand spikes — and the resulting shortages — caused shifts outside of anyone's immediate control, many retailers, such as Walmart and Target, have used the pandemic as a catalyst for longer-term changes. Vendors need to double down on their most popular items while taking a scalpel to underperforming items that may currently exist only to round out a shelf or provide more varieties that add little for most shoppers. Retailers are looking to gain more from less and reap the associated efficiencies. The real question now is what shoppers will expect from retail's selection going into the second half of 2021 as more consumers become vaccinated. Many retailers are still uncertain and are holding off on any number of company or storewide changes until the picture becomes clearer.
Speaking of shoppers, with so many of them reconsidering their core set of shopped retailers in the past year, loyalty has taken on renewed importance. Retailers and brands alike are eager not only to attract new shoppers, but also to capture more spending from their existing shoppers. New loyalty incentives as well as the exclusive, branded appeals of private label have been on the rise. Retailers are no longer solely sources of product, and their expanding media, ad, and services empires are realms that vendors can't afford to ignore.
While these themes pervade retail, every player is responding in ways tailored to its role, circumstances, and shopper. Our briefing guide explores how top US retailers are planning for the future as we exit the restrictions imposed by COVID-19. Retail IQ clients can access the complete report here.
Fill out the form below to download the executive summary.