With the sheer level of disruption affecting the retail industry, it's easy to lose focus on the bigger shifts underway. Being able to distinguish the "weather" from the real "climate shifts" will continue to be a key focus at Kantar. As we enter the 2020s, it's important to reflect on the decade that was. I challenge you to stop and think about the trends that had a real impact on what you do, how you sell, and where you invest. Each shift has a lesson we must take forward into the next decade of commerce. In this spirit, we've compiled a list of the top 10 trends that impacted our industry over the last 10 years, supported by our expert-driven insights published throughout the decade.
1. The online tipping point:
Somewhere between 2017 and 2018, online retail sales growth reached 50% of all U.S. retail growth. On the way there, online fundamentally altered the path to purchase, and this transformation has not stopped. For the first part of the last decade, online sales may have comprised only 10% of total retail sales, but it had 100% impact on shoppers' decisions.
U.S. Channel Sales: Online in USD, Billions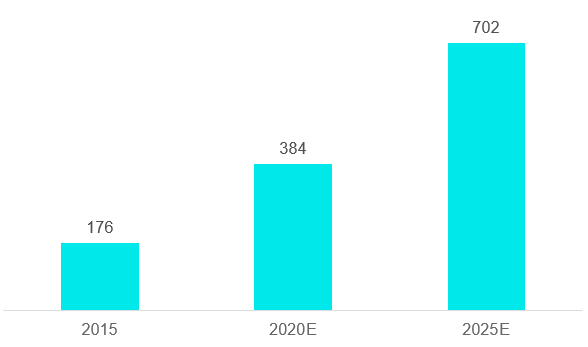 Source: Kantar
2. The Death of "the middle":
Middle income, middle age, and generally mainstream mindsets fizzled out this past decade, forcing the industry and the economy to rethink what growth even looks like. The demise of the middle class has left us with a fundamentally polarised and fractured consumer base that affects everything from shopper preferences and political leanings to media consumption platforms and the rise and celebration of new "moments."
3. The acceleration of services spending:
Spending on services surged through the 2010s while share of spending on goods diminished. While this trend will carry through to the next decade, it already has retailers and retail players vying for a greater share of services spending — spending we know is largely focused on three core areas: financial services, healthcare, and personal care/clothing services. At the same, this shift in spending aligns with shoppers' evolving preferences for private label brands and retailers' strategies.
Share of Shopper Spend is Shifting from Goods to Services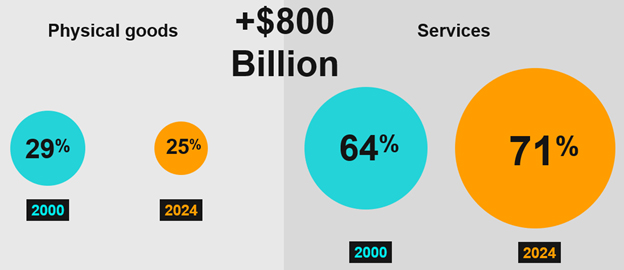 Source: Kantar, U.S. Department of Commerce, Understanding Incremental Pathways to Growth 2019
4. The game of (retail) thrones:
As retail growth became harder to find in the 2010s, retail competition intensified. For many, survival meant merging and acquiring, expanding into new markets, and improving their localization efforts. Others started to form new partnerships inside and outside of retail. As we look to the 2020s, this game of thrones moves further outside the realms of the retail "wall" itself.
5. The birth of Primerica, Prime World, and Prime day:
Although Amazon's membership program launched in 2005, its real impact on retailers, shoppers, and the consumer ecosystem was not felt until the 2010s. Prime membership penetration overtook Target shopper penetration this past decade, according to Kantar's ShopperScape®. Today, Prime members represent approximately half of U.S. households and more than half of Amazon shoppers, leaning especially toward parents. As Amazon's reach continues to expand globally, along with the Prime Day holiday (now four years in), Amazon has now reached 100% influence on shopper behavior through its ecosystem.
Percent of Households Who Are Prime Members (Among U.S. Primary Household Shoppers)

Source: ShopperScape®, December 2011-2018
6. The evolved store (and the rise of new formats):
Several factors drove store and format evolution this past decade. Chief among them? The quicker death of bad physical retail. As the impact of online and shoppers' growing demands for convenience shifted notions of value away from price alone, the best retailers in the 2010s made sure their store formats could accommodate new fulfillment methods. They also reinvented the center store entirely.
7. The emergence of social commerce:
The 2000s are known for the birth of Facebook, Twitter, and YouTube as community-based communication vehicles. The 2010s will be known for the rise of next-generation social networks that act as more experiential and commercial media platforms. Instagram, Pinterest, and Snapchat took off this decade as TikTok and esports sites like Twitch launched. In the U.S. today, 29% of shoppers use social media to either research products, connect with brands, or complete a purchase, according to Kantar's ShopperScape®. That number is poised for more profound growth as we flip to the next decade.
8. Mind over matter: The rise of mindful consumption:
In an era characterized by consumer and economic fracturing, few areas of thematic retail, let alone global, alignment remain. One area that took off in the 2010s and that we expect to gain more traction in the 2020s is mindful consumption. Increased transparency, authenticity, and sustainable supply chain and packaging processes are at the heart of aligning with shoppers' growing preferences for mindful consumption. And the numbers speak for themselves: By some estimates, 50% of CPG growth between 2013 and 2018 came from sustainability-marketed products. We know through our work at Kantar that purpose-led brands grow twice as fast as their counterparts.
9. The abundance of new retail technology:
The 2010s brought a proliferation of new technology, some focused specifically on retail and some converted into the commerce environment. A few of the forms we saw take shape include AI and algorithmic retail, new checkout (and cashierless) formats, payment platforms, self-driving cars and freight trucks, virtual or augmented reality, blockchain and digital watermarks, embedded technologies and smart home devices, and voice and facial recognition. The four things to take into the 2020s here are: 1) this is just the beginning; 2) sorting out the tech "weather" from the "climate" is vital to determining where to place your bets; 3) learn fast to fail fast; and 4) don't neglect data privacy as an emerging brand currency.
10: The elevation of China as a consumer economy and retail harbinger:
Trade feuds and tariffs aside, the 2010s saw China surpass the U.S. as the world's largest economy based on purchasing power parity (which adjusts GDPs for price differences), according to the IMF and World Bank. In addition to the rise of China's consumer power, the country's global influence continues to spread as key retail players like Alibaba and JD.com and retail events like Singles Day rapidly expand globally. China's current and future relevance as a center of excellence for retail innovation simply cannot be overestimated. The lesson: Expect more and invest.
It was certainly an exciting decade for retail. What other paradigm shifts come to mind when you think back on the last 10 years? I'd love to hear about them. Also, stay tuned to Kantar's Retail IQ for our take on the year ahead with our U.S., European, and global outlooks coming in mid-January.
Download the Top 10 Retail Moments of the 2010s: