Disruptive new businesses and partnerships are challenging the status of traditional retailers. Amazon, Alibaba, and JD.com continue to climb the retailer rankings, replacing companies like Gap, J.C. Penny, and Giant Eagle.
Highlights from the 2019 list include:
Walmart, Amazon, and Costco retained their positions as the top three global retailers since our last rankings were issued in May 2019.
Ulta, JD.com, and Alibaba show strong prospects for future advancement
Retailers worth keeping an eye on: Burlington and Sprouts. They are advancing, and we expect them to make a future US top 50 list.
Key Assumptions Contributing to the 2019 Forecast
This season, Kantar's retail forecasts push ahead one year to 2025, reflecting a five-year outlook of moderating aggregate retail growth (Figure 1).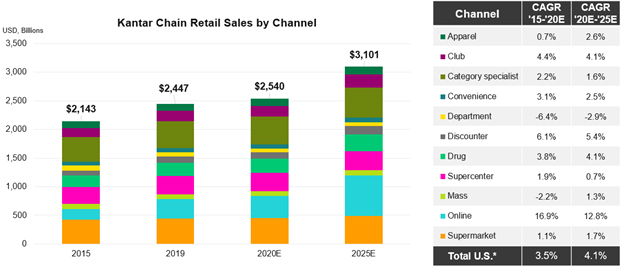 Figure 1. Kantar Chain Retail Sales by Channel, 2015-2025
* Kantar coverage of retail chains only.
Source: Kantar
Six themes overlay this round of channel- and retailer-specific forecasting updates:
Plan for positive though moderate aggregate retail growth over the next five years.
That pace is due to the fading tax stimulus, an aging U.S. population, and slower job growth. Expect more downside risks to the outlook than in the previous five-year period. While online will continue to drive more rapid growth, select channels will benefit more from store-based growth as retailers shed unprofitable, cannibalizing operations and begin to realize positive outcomes from remaining stores and remodels. At the same time, retail competition will intensify as services spend, value positioning, and omnichannel capabilities become differentiators.
Anticipate that the retail market could slow more sharply than expected.
Heightening risks in credit markets, global geopolitics, and U.S. policy could be factors. While this could further elevate the risk to more vulnerable channels like apparel, department, drug, and home improvement, it may conversely benefit players like clubs, discounters, and Walmart whose value propositions are tied to deal-seeking behaviors.
Assume modest inflation in the short term followed by sharper price increases.
Low commodity prices are expected to keep inflation low through 2020, but pockets of tariff-related price increases in home goods and softgoods will hurt unit demand. In the latter half of the five-year forecast, rising cost pressures will emerge due to higher gasoline prices and their pass-through effects to other goods.
Watch for service spending to grow.
Shoppers will shift more of their budgets to service categories, siphoning dollars away from core retail. From the essential to the discretionary, higher prices and growing digital platforms will push more spending toward services. Retailers that are evolving their strategies more rapidly toward service integration will better demonstrate growth.
Expect value and omnichannel shopping to gain even more prominence.
With shoppers facing tighter budgets and prioritizing convenience, mass retailers, online, and select supermarkets should hold or gain share, while category specialists and department stores stand to lose share over the next five years.
Prepare for retailers to invest in existing stores and online rather than additional stores.
They will limit their physical brick-and-mortar footprint to deliver on shoppers' value and online needs while maintaining profitability.
Retail IQ clients can access the complete breakdown of retailer and channel assumptions here.