As climate change concerns escalate, consumers are expecting brands to take more responsibility for improving the situation. While certain industries might have a greater impact on the environment, it is perhaps surprising to note that new home construction creates a substantial portion of greenhouse gas emissions as well as a significant waste of material resources that end up in our landfills.
Growing concerns about climate change
A research partnership between Kantar and The America At Home Study exploring consumer behavior, values, and attitudes about home and community during early, peak, and post-pandemic times, recently revealed that almost one in three Americans list climate change as one of their top 3 concerns (after inflation and the economy) and nearly half of Americans agree that "having a home that minimizes impact on the environment is very important to my personal wellness". Kantar's U.S. MONITOR Q1 2023 data finds that a significant majority of Americans (77%) believes that "sustainability and environmentalism are issues we desperately need to make progress on". Hence, it is imperative for the home and household industry to take action on climate change through innovation, decarbonization, and enhanced resource management.
Taking swift action on this issue allows businesses to align themselves with future home buyers, as our U.S. MONITOR 2022 data highlights that many young people—Gen Z (61%) and Millennials (67%)—consider themselves environmentalists. More recent data suggests that the imperative is now: across generations, the majority of consumers agree that "we should do what is good for the planet even if it harms the U.S. economy."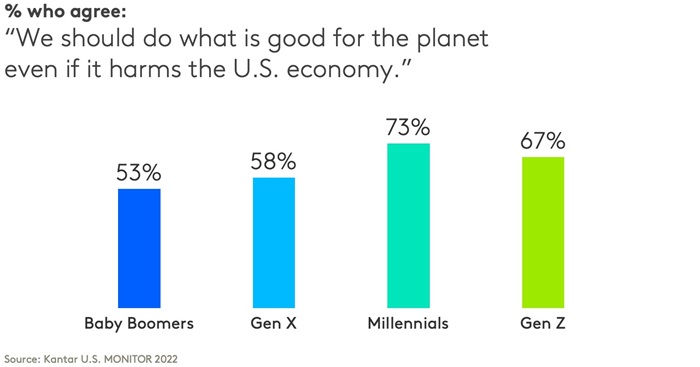 Change starts at home
A home is a key battleground for fighting climate change as consumers feel they can make a difference for the environment and their families. With Gen Z poised to enter and Millennials already active in the housing market, they are paying close attention to their purchases, and many of them emphasize environmental impact as one of the most important factors when making purchase decisions.
The 2022 America at Home Study reports that more than one in five Millennials are motivated by preserving the environment when making home-related purchase decisions. When considering options that will enhance their personal wellness, more than half of Millennials are seeking environmental enhancements in the home that conserve energy and water, and 38% would be open to producing their own energy using solar technology.
With growing expectations for businesses to step up efforts to address climate, change can be supported through innovation, decarbonization and resource management. Below are two examples from the home and household industry effectively integrating change.
1) Innovation in the Design and Development of Manufactured Homes: The Picket Fence and 412 Concept Homes
Born from the latest research from the America at Home Study, two innovative concept homes have been designed to achieve three tangible goals:
Reduced carbon emissions in construction
Elimination of construction waste
Enhanced energy performance/ lower maintenance throughout the lifecycle of these homes.
The Housing Innovation Alliance is the development partner for this concept home and the driving force behind these measurable sustainability goals. These factory-manufactured homes will have a 70% lower carbon footprint as compared to standard site-built construction and create 90% less construction waste than a typical new home construction. Finally, home design and appliances were included to provide healthier indoor air and cleaner water, and the high-performance energy management systems and materials conserve resources and are resilient in the face of disaster. The homes are being designed to encourage an urban lifestyle with a lower carbon footprint while addressing affordability.
2) Using Kantar's MindBase™ to Identify the Right Mindsets for a New Agrihood Development
Meristem Communities is a sustainably focused developer in Houston who believes "the best places are born when spaces are thoughtfully designed and communities are empowered to care for them." They hired Kantar to help uncover the target population for a new agrihood community in Richmond, TX focused on delivering a sustainable lifestyle of homes, shops and urban farms that would be uniquely appealing to a certain type of homeowner. To help identify the consumers with the right mindset, Kantar applied MindBase™, MONITOR's syndicated segmentation that identifies 12 unique segments deployed across five living generations, to help marketers align their strategies and tactics to populations that will drive the greatest value. Our geo-targeting analysis of MindBase™ enabled us to identify five target segments (from among the 12 MindBase™ segments) who would align most closely with Meristem Communities' vision for this agrihood. Generational insights were then applied to inform the community and home design, as well as the marketing and messaging for the development.
Opportunity for marketers
With consumers' desire for more environmentally friendly options for the home, brands must show how they are stepping up to make a change. Businesses that don't adopt more sustainable practices risk getting left behind.
Learn more about how we can help brands to scale sustainability: Get in touch with a Kantar expert.