Our latest Worldpanel ComTech OS smartphone data reveals that, despite rising inflation and severe supply chain disruptions caused by the pandemic and subsequent lockdowns, Apple's iOS platform grew its installed base year on year across the European 5 (France, Germany, Italy, Spain and Great Britain), US, Mainland China, and Japan. Across the major markets measured by Kantar, Apple's iOS platform accounted for 27% of sales in Q3 2022.
Continued iPhone 13 success drives iOS share
iOS's success is driven by continued strong performance of the iPhone 13, which, one year after launch, remains the most popular smartphone model on the market. iPhone owners typically have greater levels of disposable income, which helps them weather the effects of global inflation. Looking forward, we anticipate that the latest iPhone 14 range will generate comparable levels of growth.
Apples success over the past 20 years is in part down to its big bet on Mainland China, after investing heavily in China-based factories that now produce most of its products. This decision also yielded huge success amongst Chinese consumers: Kantar's Worldpanel ComTech study reports that 21% of people in Mainland China were iPhone owners in September 2022, 9% installed base growth v the previous year.
Kantar's data suggests Android has performed at a steadier rate up to the third quarter of 2022, experiencing stable installed base growth across all markets other than Italy and Mainland China, which has been hampered by a drop in Huawei growth. Samsung's Galaxy A Series is popular in Europe; its flagship S Series range is its top seller in the US.
The composition of manufacturers within the Android ecosystem continues to evolve. Huawei's continued European demise, coupled with LG's withdrawal from the market last year, has fueled the growth of Chinese brands Xiaomi and Oppo. They are the 3rd and 5th top owned brands respectively in their domestic market and continue their sizable gains in Europe. It's worth remembering that Xiaomi is the #1 smartphone brand owned in Spain and #2 in Italy (growth has been achieved in both markets up to the third quarter of 2022).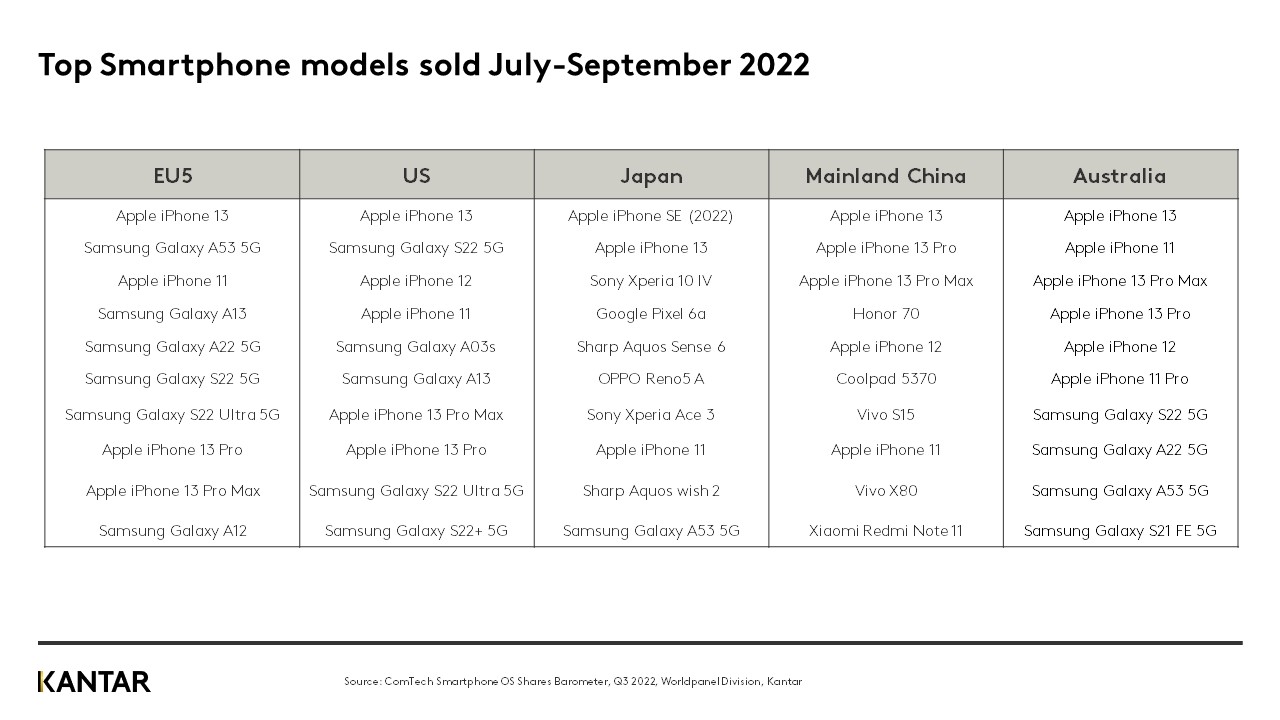 Keeping devices longer
Companies and consumers in Europe, America and increasingly Asia (which seemed previously immune to the inflation bug) are grappling with rising inflation. As companies struggle to absorb the increased costs, these are being passed on to the consumer. The result is one of delayed smartphone purchasing: the number of consumers that have owned their smartphone for four years or more has increased across the below markets.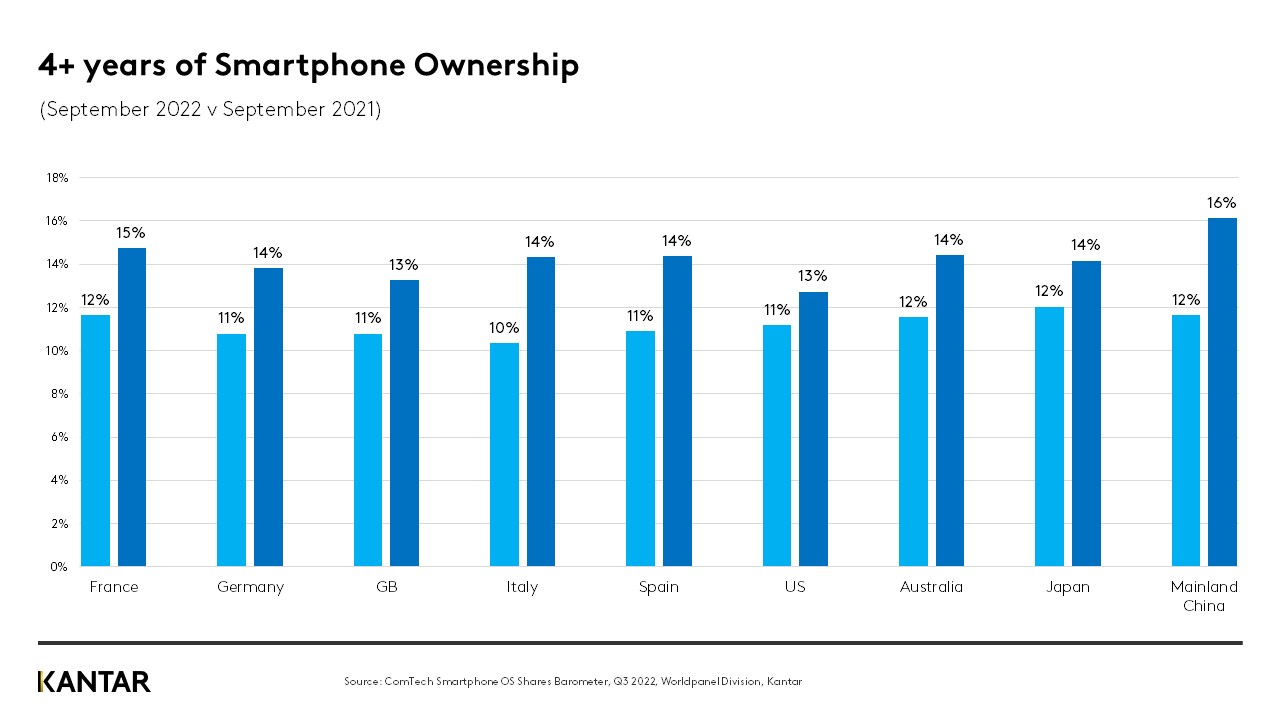 However, the manufacturer response appears less hawkish compared to that of consumers. During Apple's latest announcement, the closest reference to the financial squeeze was that iPhone 14 still starts at $999, and iPhone 14 Pro at $1,099. While this statement rings true in the US, prices have increased for Europeans (standard iPhone 14 models are going up by £70/€100 respectively), driven by inflation and the strength of the dollar. Apple hasn't stopped there and has gone on to increase the cost of its iPad Air by £100 versus the initial launch price seven months prior. Google resisted a similar move when launching its Pixel 7 series last month, yet other competitors may not be able to resist price-raising when launching their next ranges.
Jack Hamlin, Global Consumer Insight Director at Kantar's Worldpanel ComTech, comments, "In an industry upended by geopolitical, economic, and environmental turmoil, Apple's latest announcement felt like a welcome return to normality – a brief escape to its Cupertino spaceship. The 'Far Out' event followed a familiar formula, with the announcement of the latest iPhone, Watch and AirPods".
European consumers hold more price-conscious attitudes toward technology
Smartphone manufacturers raising their prices exacerbates an already tough financial environment for European consumers reeling from high energy bills. Europeans hold more price conscious-attitudes toward technology than the other regions surveyed. Kantar's Worldpanel ComTech study reports that 31% of European 5 smartphone owners state that they spend within a specific price-range compared to 22% of Americans.
Jack Hamlin continues: "Yet away from the glamour of launch events, the smartphone industry is entering a period of unprecedented change. The study reports modest smartphone ownership growth in Q3'22 compared to Q3'21 in the European 5 (France, Germany, Italy, Spain and Great Britain), US, Mainland China, Australia and Japan. Year-on-year installed base growth has stalled most in Japan where is has dropped from +7% to +3% and in Great Britain where it has dropped from +3% to +1% v the previous year.
"As we near the end of 2022, smartphone manufacturers must come up with the answer of how to navigate inflationary pressures and more price sensitive consumers. Enhanced trade-in values, wider budget device ranges, absorbing additional operating costs, enhanced distribution channels and scaled product development are just some of the levers that can be pulled."
Kantar's data visualization tool enables users to view and analyze smartphone OS market share data online. The latest sales share figures for the major operators can be viewed and compared with historical figures here.