The Top 100 Most Valuable Chinese Brands have gained 57% in value, according to the 11th edition of Kantar BrandZ's ranking report. The total brand value of the Top 100 Chinese brands has risen to reach $1.56 trillion, demonstrating the resilience of strong brands and their ability to build and sustain value even in the most difficult of years. 

Tencent is the No. 1 most valuable Chinese brand this year, with an 85% increase in brand value to $279.6 billion. Alibaba ($201.9bn) and Moutai ($110.6bn) rank No.2 and No.3 respectively, while Douyin (No.8; $39bn) and Kuaishou (No.10; $32.6bn) entered the Top 10 for the first time.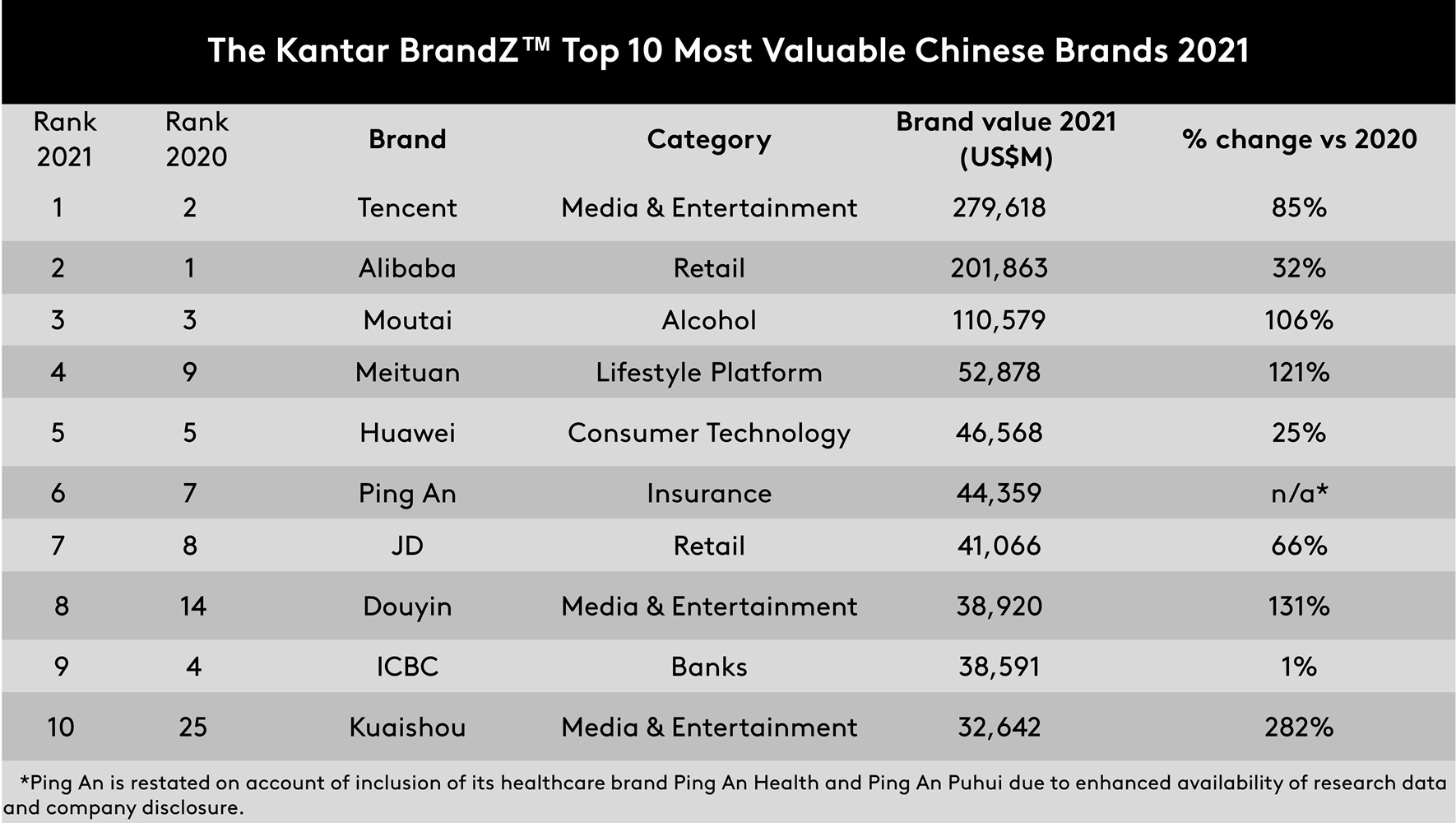 "As the Chinese market enters a new stage, the focus on economic and social development will no longer only be high speed, but also high quality and sustainability," said Doreen Wang, Kantar Greater China President and Global Chair of BrandZ™. "Many Chinese enterprises also realise that despite the importance of short-term speed, it cannot be sustained indefinitely. High quality and sustainable development will be the core of brand-building in the future. As COVID-19 continues to influence consumer values, attitudes and behaviours, we will see new shifts in needs, desires, brand selection andpurchasing. Understanding Chinese consumers today, in all their diversity, depends on having deep human-centred insights. Brands must act on those insights, making bold changes where necessary."

There are 17 newcomers in the Chinese brand ranking this year, led by Food & Beverage brands Nongfu Spring (No.16; $22.0bn) and Haitian (No.25; $15.8bn). Other entries include MangoTV (No.34; $8.8bn), SinaWeibo (No.76; $2.8bn) and 360 (No.92; $2.0 bn). Four Retail newcomers include Chow Tai Fook (No.58; $4.6bn), Oppein (No.86; $2.3bn), Yifeng Pharmacy (No.94; $1.8bn) and DaShenlin (No.100; $1.7bn).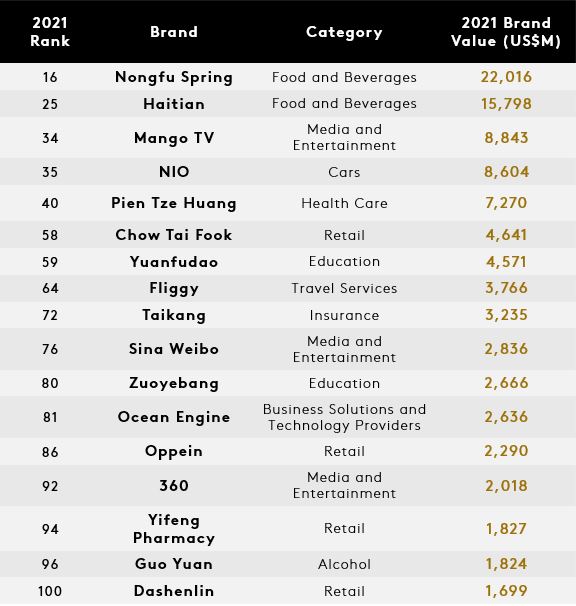 This year, a fifth of brands qualifying for both the 2020 and 2021 China Top 100 rankings increased their value by 100% or more. Six brands - Lianjia, Bilibili, Kuaishou, Ke, Xing Hua Cun, and National Cellar 1573 - grew by more than 200%. The year of 2021 was the most difficult year for brands looking to enter the Top 100 list as the cut-off increased to $1.7bn, up by 109% from 2020. 

Key trends highlighted in this year's Kantar BrandZ™ Most Valuable Chinese Brands study:

Brand equity drives growth. Across all major categories, the building blocks of brand equity have continued to drive brand value growth in China. Meaningfulness, Difference, and Salience have long been the cornerstones of marketing effectiveness. What's more, Meaningful Difference is especially important for brand value growth. This year, China's fastest growing brands (those that grew over 30 percent in the past year) in the Top 100 had a clear advantage across Meaningfulness, Difference, and Salience, though Salience was also high for low-growing brands in the Top 100. This suggests that awareness alone is not a guarantor ofgrowth.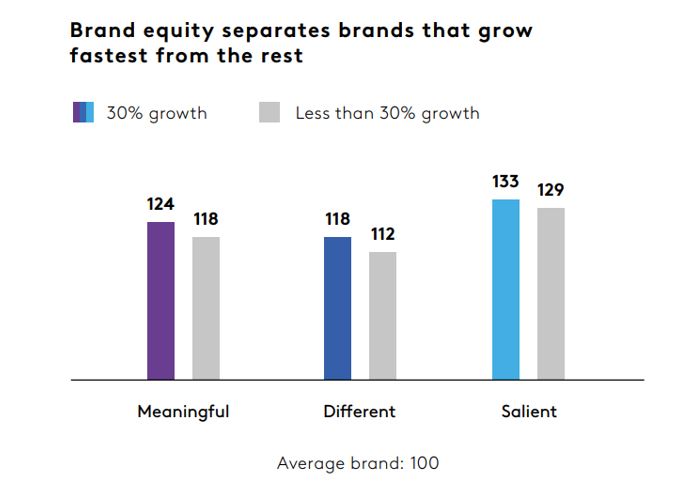 Sustainability is becoming a key priority for businesses in China. Several prominent brands, both multinational and local, have started to make this  a priority in their business planning. The opportunity associated with running a sustainability-driven business is immense. Analysis of Kantar's BrandZ™ database has shown that over 12 years, brands with a strong commitment to purpose grew their brand value at least twice as much as other brands.

Highlights from Food and Beverages, Consumer Technology, IoT Ecosystem, Business Solutions and Technology Providers and Apparel sectors:

·   Five Food and Beverage brands in the Chinese Top 100 were worth almost $70bn. Two new brands, the condiment maker Haitian and the premium water brand NongfuSpring, joined the ranking in 2021.

·     This year, the Consumer Technology category includes four brands that together are worth a total value of almost $79bn. And while big names like Huawei, Xiaomiand Lenovo all managed to post double-digit growth, this was nevertheless of year of significant, disruptive change.

·     After 2020 in which living patterns shifted decisively toward the home as a hub and a haven, both the IoT Ecosystem and Home Appliances categories grew this year – the former by 41% and the latter by 9%. Brands such as Haier have found success in adapting existing IoT ecosystem solutions to meet changing needs, from developing AI-powered systems to automatically purchase washing-room supplies as needed, to launching new cooking equipment to allow families to enjoy restaurant-style meals at home.

·    The Business Solutions and Technology Providers category placed five brands in theChina Top 100, with a combined value of almost $14bn. Among them, Ocean Engine (No.81; $2.6bn), a B2B integrated marketing platform, stands out, with its surging business growth in the past year leading the brand to be valued separately from Bytedance for the first time this year

·     Athleisure brands Anta and Li-Ning drove a combined 116% increase in the apparel category's value within the Kantar BrandZ™ China Top 100. Meanwhile, within the industry more broadly, appetites for active living, wellness, and in-country consumption of Chinese brands remained high.
About Kantar BrandZTM:
Kantar BrandZTM is the global currency when assessing brand value, quantifying the contribution of brands to business' financial performance. Kantar's annual global and local brand valuation rankings combine rigorously analysed financial data, with extensive brand equity research. Since 1998, BrandZ has shared brand-building insights with business leaders based on interviews with 4 million consumers, for 18,000 brands in 51 markets.