Since 2012, Kantar has been publishing
"Food and Beverage China" reports
to help food and beverage brands understand Chinese consumers' changing needs. Empowered by professional design and methodology, we invited Chinese consumers to describe, in a certain given occasion, what their ideal food and beverage products are, what products can meet their ideal needs. This report, dubbed as "innovation bible of China's food and beverage industry," thus identified innovation opportunities in these two dynamic industries.
This year's report is based on interviews with 12,000 Chinese consumers living in Tier-1 to 6 cities, ageing from 18 to 60 years old. It reviewed innovation opportunities in 25 macro food and beverage categories, containing 133 sub-categories.
The survey was completed on Alibaba platform. As a result, the insights can be connected with Alibaba consumer behaviour data to build in-depth insights from the three dimensions of "needs, consumers and behaviours". It has not only decoded new product and service innovation opportunities in a post pandemic world, but also provided enhanced consumer profiles for brands to activate future marketing strategies accompanying new products to be launched.
After COVID-19, five new themes emerge
Uncertainty brought by COVID-19 pandemic has changed consumers' attitude and behaviour. Changes of Chinese consumers' food and beverage needs fall under five themes.

1. SAFETY AS TOP PRIORITY
Consumers increasingly require brands to ensure food hygiene and safety: they not only want brands to keep transparency of how products are produced, but also expect more cutting-edge processing technologies to be applied in product packaging and storage.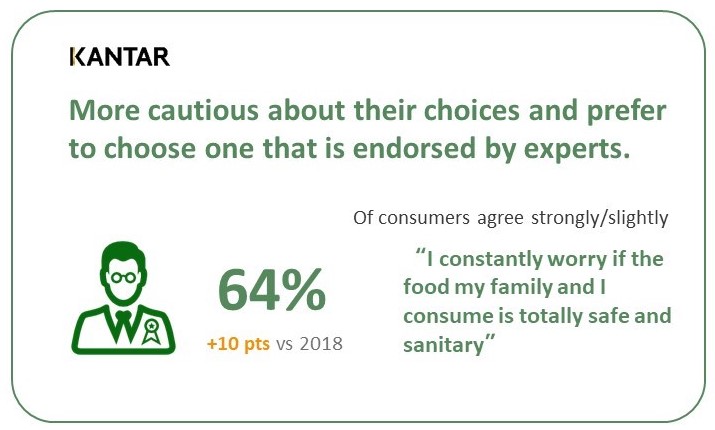 Tips:+10pts vs 2018 = 10 percentage points higher than 2018
2. PROACTIVE WELLNESS
More people are taking a proactive approach to manage their own health and wellness condition. They keep improving current health level to lay a solid foundation for a long-lasting healthy life.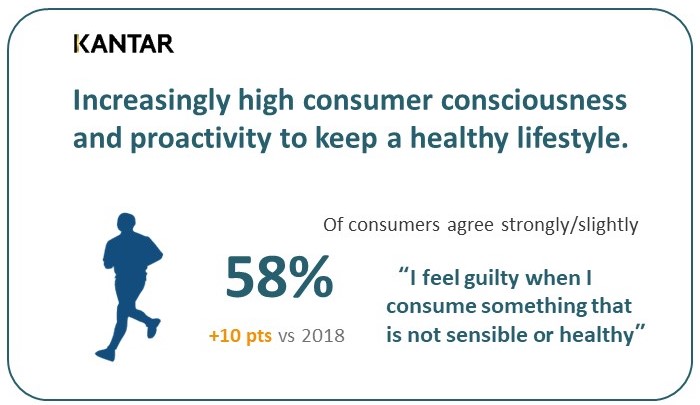 This is also reflected in people's choices in food and beverage – categories perceived to be healthier enjoy higher popularity while "less healthy" categories are mired in an uphill battle to find growth.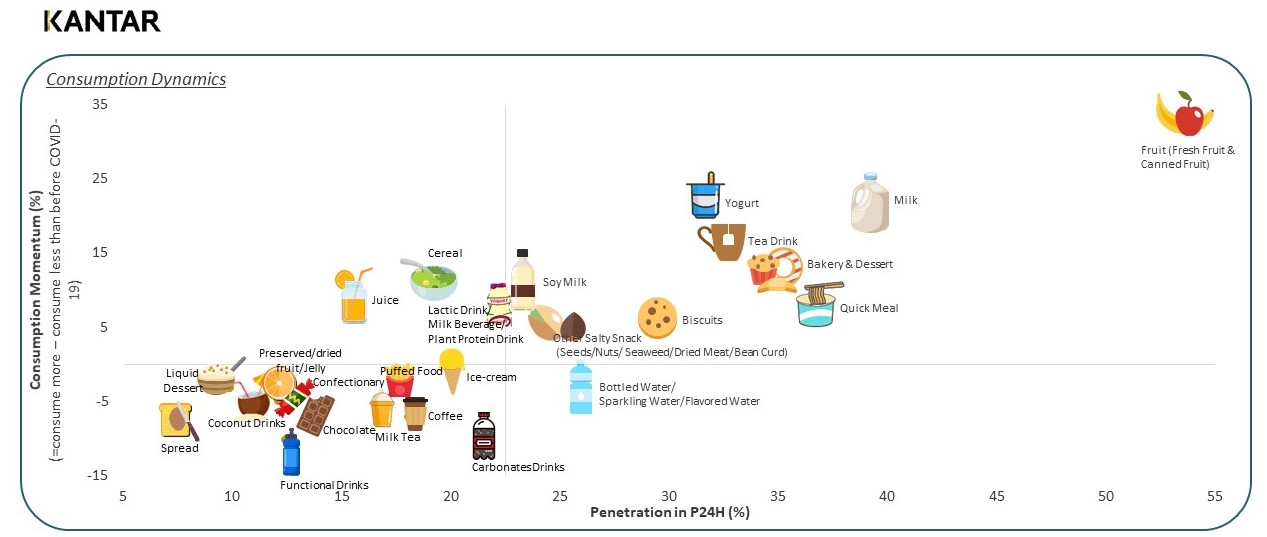 3. DETOXING NEGATIVE EMOTION
Additionally, people want to address mental fatigue and stress issues, calling for more "emotionally healing" food and beverage products to help them recover.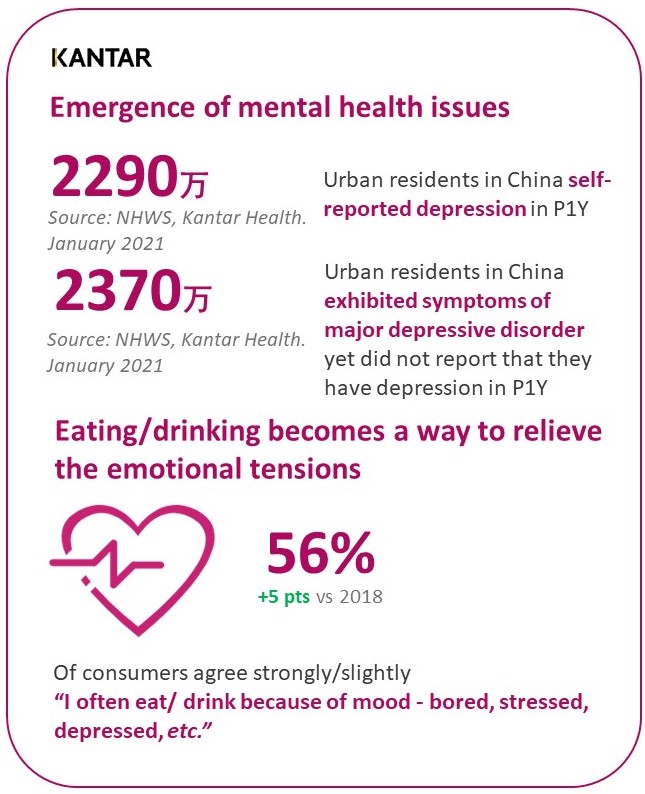 4. BOOMING STAY-AT-HOME ECONOMY
At-home consumption occasions, especially brought by COVID-19 pandemic, have occupied a collectively much bigger share of all food and beverage consumption occasions. Stay-at-home economy has elevated ecommerce to be an even more important purchasing channel: in China, the proportion of people buying food and beverage online jumped 44 percentage points from 2018 level.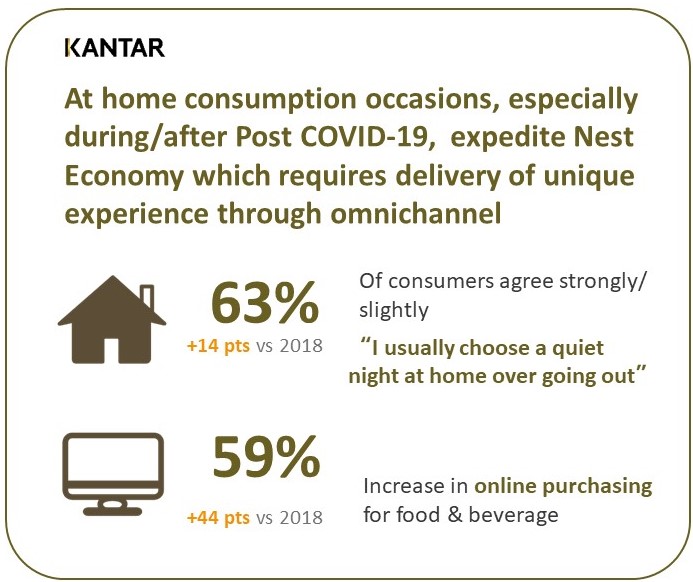 5. MORE PRICE SENSITIVE
Due to the impact of COVID-19, consumers become more price sensitive They will use more logical thinking to debate within themselves whether they should pay extra money for add-on benefits – they are more willing to pay for products that meet their core needs.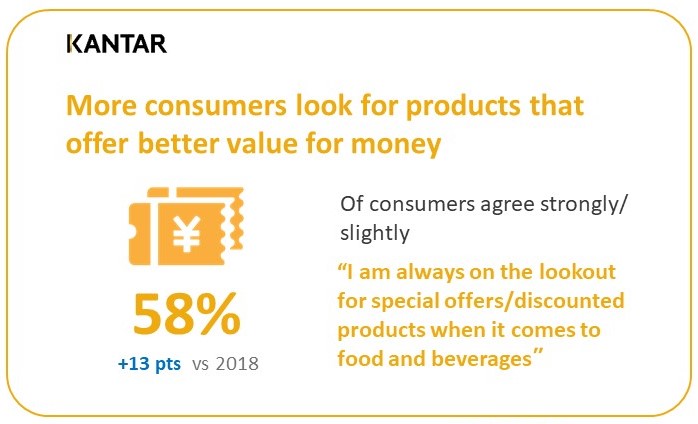 Consumers' ideal needs in a new normal world
"Food and beverage China" report invites respondents to imagine a certain real-life moment and compare their ideal products against the best performing product in current market to reveal "demand moment tensions". Those tensions then form the foundation to identify product innovation platforms.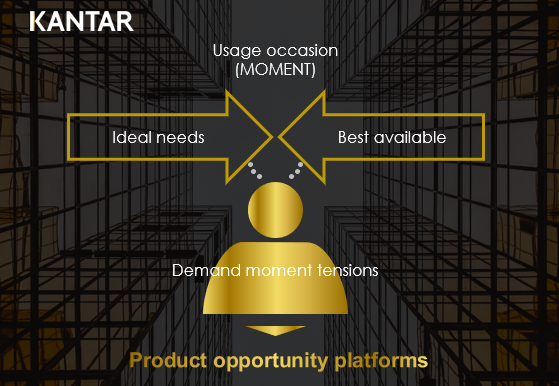 First, although COVID-19 pandemic has disrupted the landscape of food and beverage market, some basic needs remain intact. Sought after by every consumer during every occasion, the three core needs are being safe, offering consistent being quality and easy to open – unchanged from a few years ago.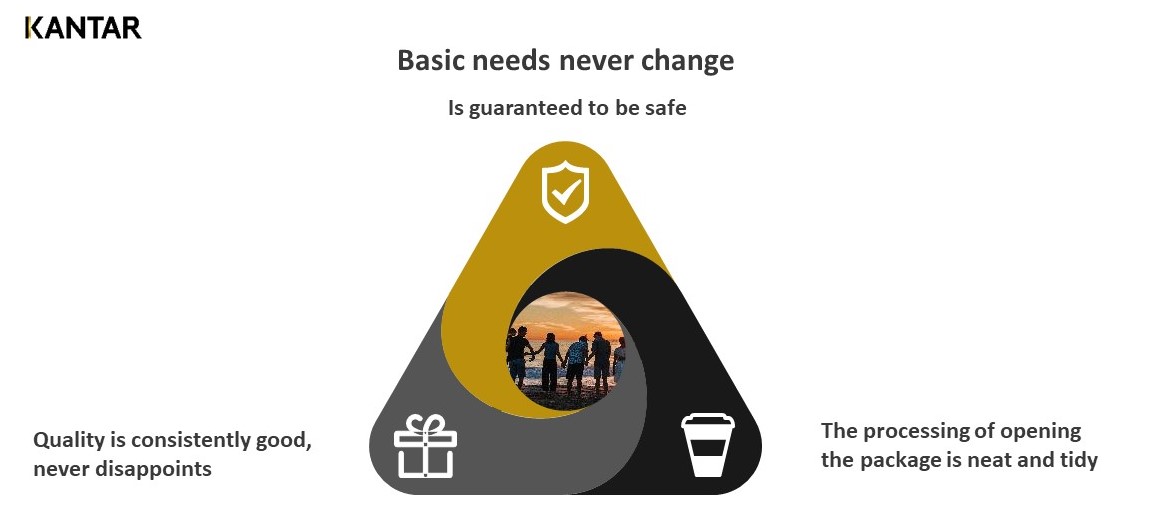 However, the pandemic has prompted consumers to start proactively manage their health. Brands should innovate beyond the themes of "zero additive" and "natural fresh." The ideal nutritional supplement should ensure physical and mental health to support long-term well-being.
People are looking for more emotional management solutions. Living under heavy pressure, many consumers resort to eating and drinking to release stress in life and work. So it's important that products should make people feel full of energy again. "Rejuvenating" doesn't mean only energy refill, but also offer detoxing solutions for different micro-moments.
Altogether, the report has identified 193 ideal needs which are based on respondents' description of their ideal products in different occasions of a 24-hour circle. We then further group them into 12 types of ideal needs, which are called "product innovation platforms". Each innovation platform is a combination of core benefits that consumers desired for (such as "energized refreshment " AND "high-end trends" AND "customized enjoyment"). Not only do they reveal consumers' ideal needs, but also allow brands to map them into innovation opportunities in the current market.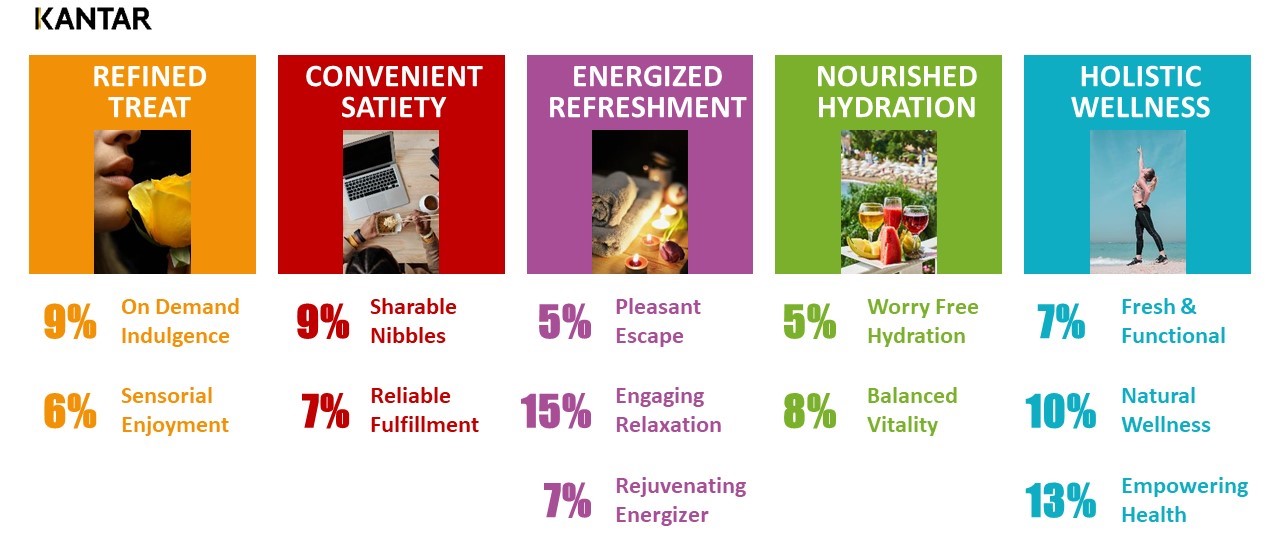 Tips:% reflects the proportion of ideal needs for each occasion to the total occasion

For each ideal need, the report also gave specific definitions. We explored innovation opportunities from a commercial perspective to ensure that the ideal product features identified in the report are actionable.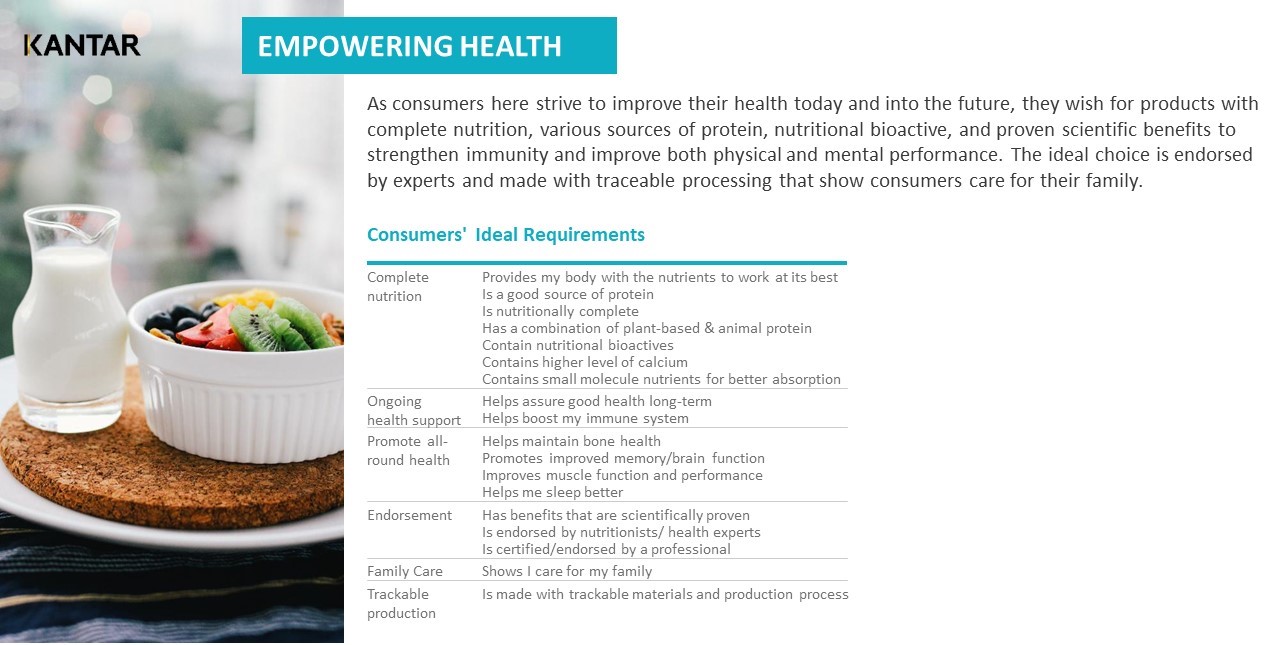 Report sample: definition of ideal requirements page

"Food and Beverage China 2021" survey was completed through Alibaba's TMIC platform so that it can be naturally connected with Alibaba's "Eight Strategic Segmentation" concept. This innate connection means that brands can easily launch targeted marketing campaigns once these new products are rolled out in Alibaba's ecosystem.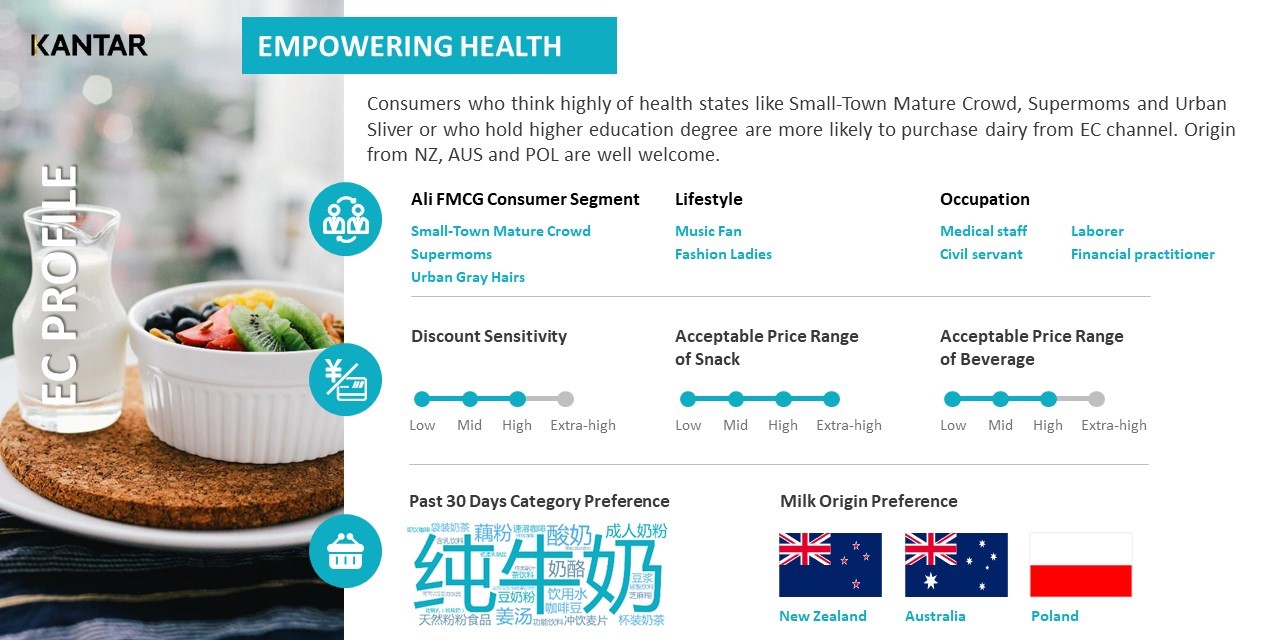 Report sample: ideal needs related to shopping behaviour of target groups

You can fill the form to download the free sample report. For full report, please contact us: MktChina@kantar.com .