Despite the Pandemic, Chinese brands continue to pursue their ambitions abroad. Not only are they foraying into the developed markets but also gaining traction in fast-growing emerging markets. Agility to try new approaches, leveraging their knowledge inthe home market and having patience to build a brand has resulted in significant success for these global brand builders.
Climate change, water and air pollution and the broader topic of Sustainability is becoming a priority for businesses across the globe including China. Like China, Sustainability is top of mind for consumers across global markets of Asia, Europe, MEA and the Americas. This provides Chinese brands a unique opportunity to add another tool in their arsenal to fuel growth as they venture and consolidate their footing in foreign countries.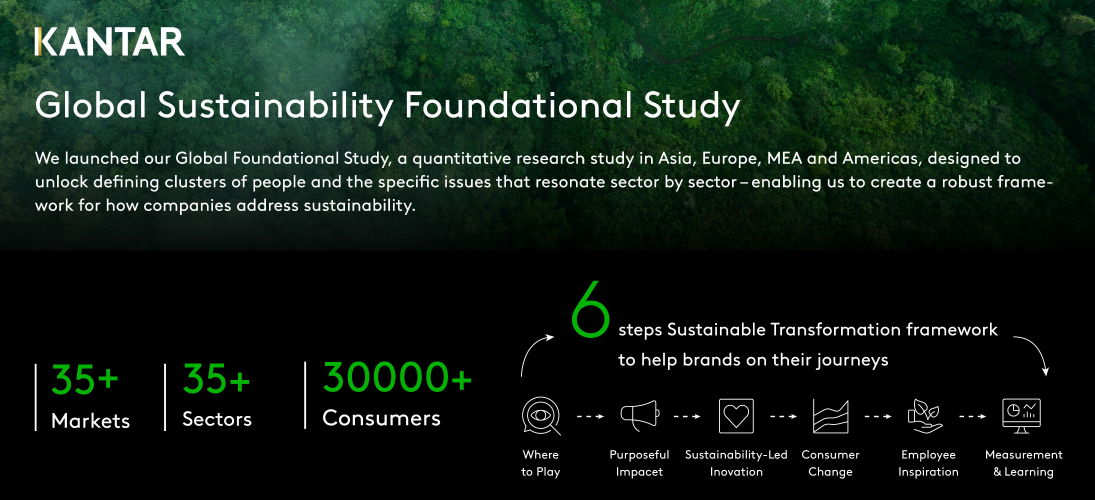 Kantar Global Foundational Study conducted among consumers across 35 countries (in Asia, Europe, MEA and Americas) focusing on this Sustainability topic, reveals interesting findings and learnings.
1. Water / Air pollution and deforestation are the topmost concerns common across the continents. Besides environmental issues social concerns around poverty and hunger are also important. We do see some difference in the American continent (specially the US) where social concerns such as mental health, become more prominent compared to Asia.
Again, within a category/industry sector concerns also vary. Brands targeting a market, need to understand which of these burning platforms are top most in consumer's mind and relevant to the category. It is critical to then pick the social /environmental issue that your brand has the right to solve authentically.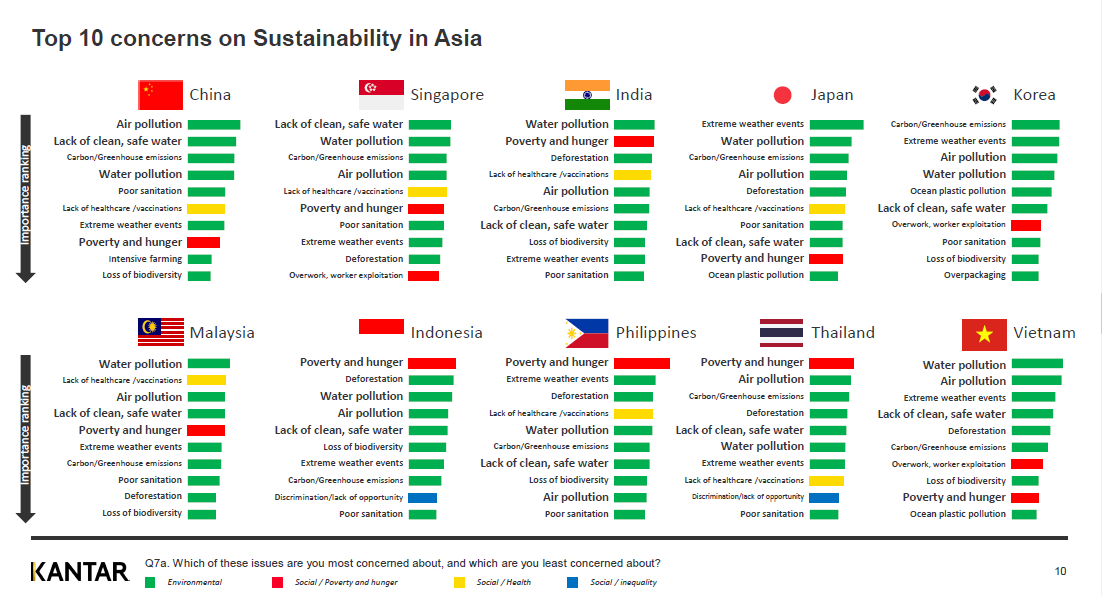 2. Consumers across continents acknowledge the need toalleviate poverty/hunger and are willing to make personal efforts in reducing food wastage in their daily life. The second most important action in their agenda is to address plastic usage and they want to carry their own bags during shopping trips.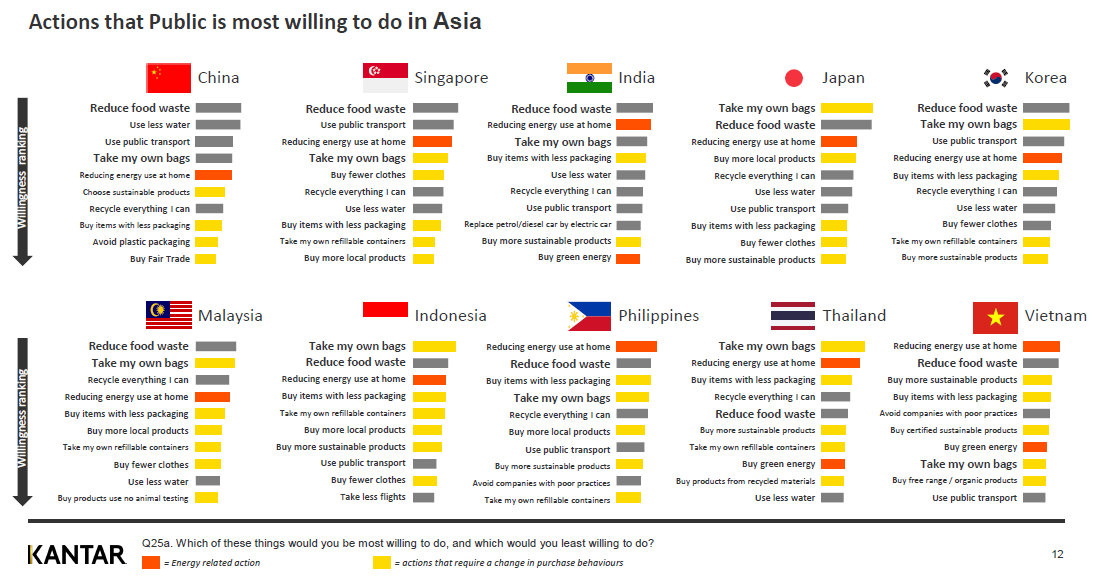 3. However, despite all noble intentions, consumers across the globe find behavior or habit change challenging. People struggle in avoiding meat or trying more vegetarian options in their diet. Consumers across most countries prefer buying new/firsthand products rather than cheaper recycled/secondhand ones and this behavior is most pronounced in Japan and India.
In fact, from another Kantar global research, we know 87.5% of shoppers claim that buying products with reduced packaging matters to them but only 20% could be classified as "Eco-Actives" – people who take regular actions to reduce their packaging waste daily. These 20% people are a significant business opportunity for brands who can target them effectively.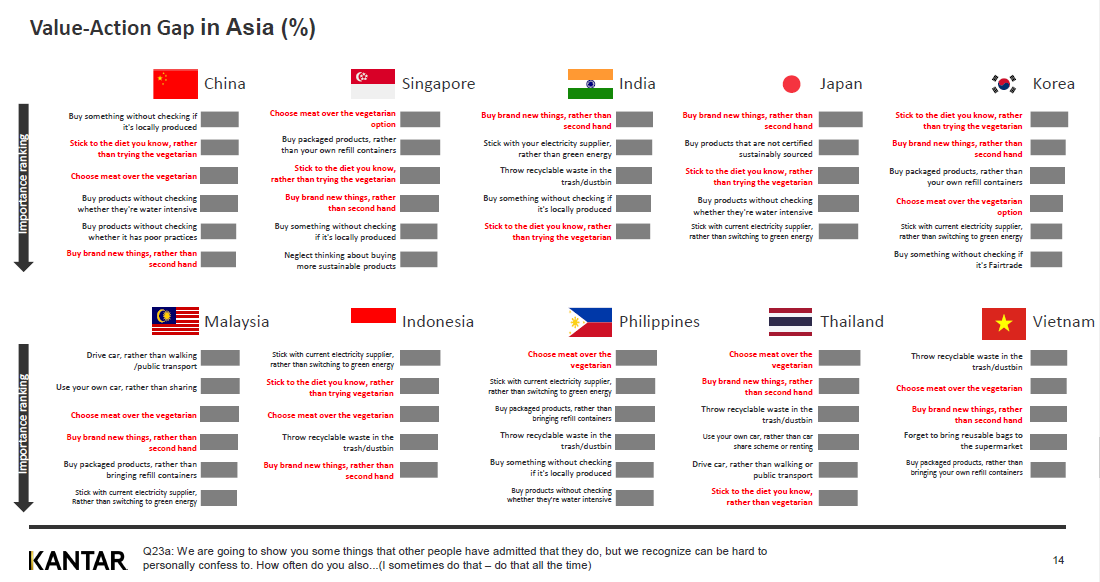 4. When we asked the consumers what the barriers are to choosing sustainable products, price came up as the key barrier across countries. Accurate knowledge and easy availability of sustainable products are the other challenges they face.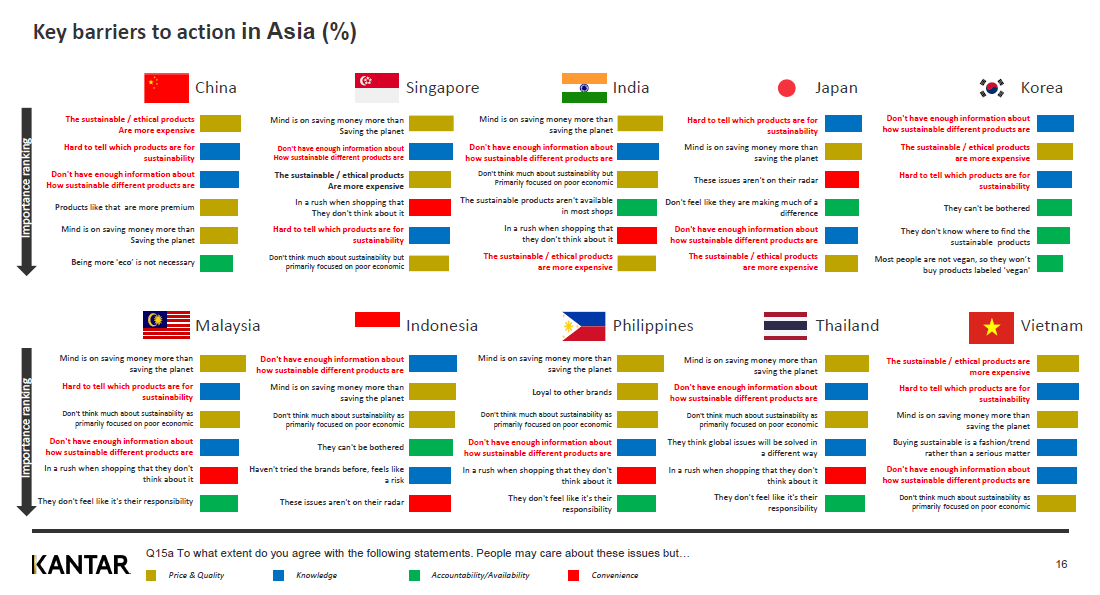 Embodying the spirit of the year of the Tiger, Chinese brands need to be 'Bold' as they continue their brand building efforts leveraging 'sustainability' across the globe in 2022. They should recognize the "value-actiongap" in consumers mindset, offer choices that are simple, convenient, and providing clear value.
Sustainability is high on consumers' agendas even more so in this pandemic. However, brands need to make sure they are "walking the talk" and avoid "greenwashing", and that they aid consumers turn good intentions into action with relevant and positive messaging and by making it easy for them to make the sustainable choice.
Kantar works with leading brands on their sustainable transformation journey and is a best practice leader with a validated end to end framework to unlock growth potential.