In today's ever-dynamic media landscape, brands should prioritize tailoring their creative content to different contexts. This means building multi-context learning, and acknowledging the differences in consumer behavior, social culture, and layouts on different platforms. Just as the steps to success on each platform vary, not all creative is created to do the same task. So, the challenge for marketers when now many ads can be skipped or swiped away, is to ensure their creatives deliver on brand objectives, and do so across contexts without going unnoticed. In-context creative testing, therefore, needs to be flexible without compromising on speed in order to provide insights that help marketers overcome this challenge.
The first pitfall marketers can fall into is repurposing TV creative and trusting that a successful TV ad will also succeed in digital channels. Marketers are becoming increasingly aware of this issue though, as according to Kantar's Link ad testing database, the ratio of repurposed TV ads fell from 21% in 2018-2020 to 13% since 2021. However, seemingly there are still a few not fully convinced. Our data shows that TV ads often perform quite differently when tested for a digital channel. An analysis of ads reviewed globally from within the Kantar Link database highlights that transference from TV to a digital context is far from guaranteed. Ads that perform well in TV have just a 2 in 3 chance of performing well in a digital context.
Ad transference from TV to digital platforms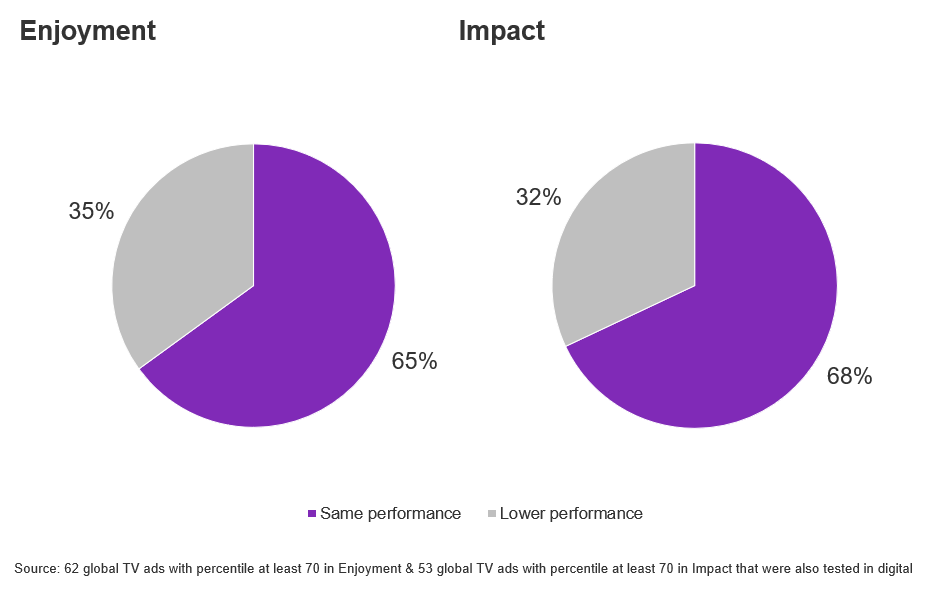 Another mistake would be to assume all social media marketing is the same – where brands are not only competing with other advertising content for consumers' attention, but also with the content from consumers' social networks. Someone's attention span and how they feel while scrolling through Instagram on the metro is different than while searching for a how-to video on YouTube to get that stain out of their favorite sweater. A full comedic 30 second ad making everyone laugh on Facebook could easily fail to entertain on TikTok among the short videos with more satirical, condensed humor. An example of this is the difference in ad-testing performance of the same ad on Instagram vs. TikTok as shown below. With slight customization to fit in with the TikTok environment, such as the addition of text to cue a TikTok trend, the ad was a success on TikTok. However, without a similar platform specific touch for Instagram, results look very different.
Case study: Differences in performance for an Instagram ad vs. slightly modified for TikTok (Online services brand in the U.S.A)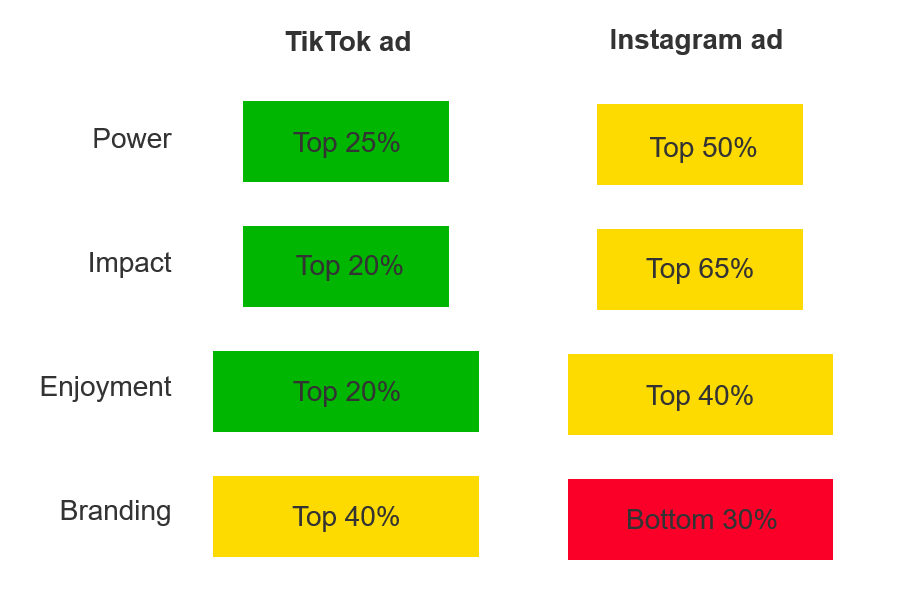 Effectiveness of digital advertising: Not an 'if', but a 'how' question
The importance of digital content continues to grow, as the overall reach and contribution to brand KPIs from digital campaigns has been increasing according to analysis of the Kantar CrossMedia database. Marketers also continue to increase their spend on digital media channels, especially online video, and social media ads and stories. According to GroupM's 2023 mid-year global forecast, digital pureplay ad revenue will account for 69% of the total in 2023 and will reach 74% of total ad revenue by 2028. While the crowd seems to have agreed on the effectiveness of digital channels, to what extent is still a question. Despite the rising spend, how many people plan their digital strategy with the aim of reaping the fruits of their investment also in the long term? There seems to still be a missed opportunity for many brands as not everyone uses their digital advertising for brand building. As the budget allocations on digital advertising grow along with the knowledge that digital campaigns can contribute to brand-equity, the importance of ensuring quality creative becomes even more vital.
This year's digital Kantar Creative Effectiveness Awards winners showcase how digital ads can work towards different objectives, and ultimately contribute to brand growth. The first-place digital winner from Cadbury Dairy Milk 'Garage' is a pure brand ad with an emotional narrative and no product specific news. Another digital category winner, 'Riding is Still Driving' , promotes Heineken's non-alcoholic variant, Heineken 0.0, while also communicating brand purpose through humor.
Creative testing, especially at an early developmental stage, is the smartest way to guarantee creative success. New, flexible digital testing capabilities on LINK+ now allow marketers to ensure their digital ads will deliver across contexts, with measures that fit the needs of the given campaign. LINK+ is proven to accurately predict an ad's ability in a digital environment to generate impact and sales. Online videos that generate high impact scores are much more likely to cut through in the market, and digital assets with high creative quality are proven to produce up to 2.5x sales compared to low creative quality.
LINK+ digital video impact validation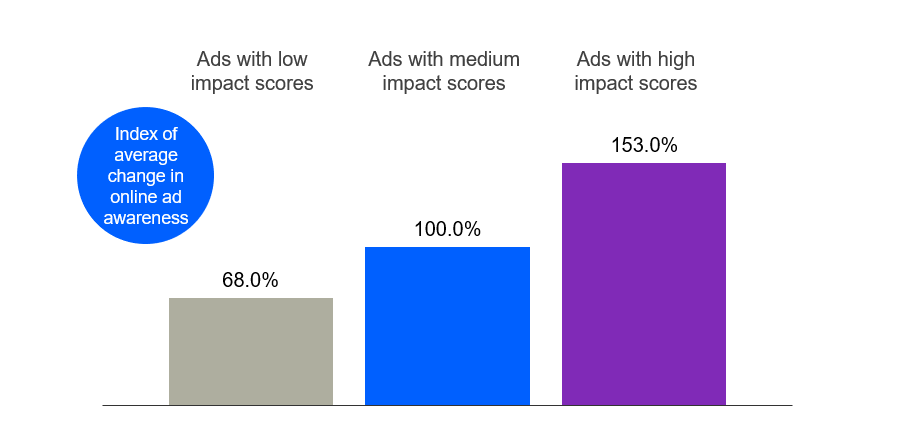 Our approach to evaluating digital ads is to predict and diagnose effectiveness using a variety of approaches, tailored to context. We consider how content works differently across contexts using live, fully functioning web pages to reflect how the ad is consumed. This live context allows us to capture behavioral data, which is assessed against context-specific benchmarks. And combining survey, behavioral, and neuroscience (attention and emotion) metrics that enable us to provide clear guidance on the next steps.
These new digital creative testing capabilities bring additional flexibility, agility, and speed to Kantar's 20 years plus of experience in digital ad testing, now with more digital contexts than ever with the addition of Facebook and Instagram Stories, and non-skippable YouTube pre-rolls. Just as ads need to be tailored to channel, with LINK+ the test metrics and insights can also now be tailored to match ad requirements. Insights are available in as few as 6 hours via the innovative LINK+ dashboard which also allows you to view and compare digital, TV, and storyboard test results. Request a demo today to discover how LINK+ on Kantar Marketplace can help you get more from your digital ads.