While all brands aim for growth, each has a different North Star they aspire to. The strategy for success can take many forms – whether that is launching a new product range, expanding into new markets with different cultural and competitive contexts or repositioning an existing brand to gain relevance amongst Gen Z. Finding the right strategy is key, but then the next challenge is delivering against your strategy by getting your creative communication right. Just like each brand has a different strategy for growth, not all creative communication is designed to do the same job.
This year's Kantar Creative Effectiveness Awards winners demonstrate the breadth of marketing objectives that creative communication can address. Some ads strive to promote product or service benefits. For example, 'Dear L.L.Bean' features a child's failed attempts at ruining their book pack in order to get a newer one. Other ads aim to bring the fun back into advertising. Like 'Small Toy, Big Joy' from The LEGO Group, draws us in with the enticing giggles of children interacting with a Lego screen in a playground, another way to connect humor to the product.
L.L.Bean – Dear L.L.Bean
Budgets are finite, creativity is not
To succeed, brands spend big - global advertising spend last year reached 881 billion dollars – but does spend alone do the trick? Latest research by WARC and Kantar shows that creative quality drives not just how efficient advertising spend is, but how effective it is in delivering profit. The financial benefits of strong creative are significant, as the joint research shows the most creative and effective ads drive 4 times more profit.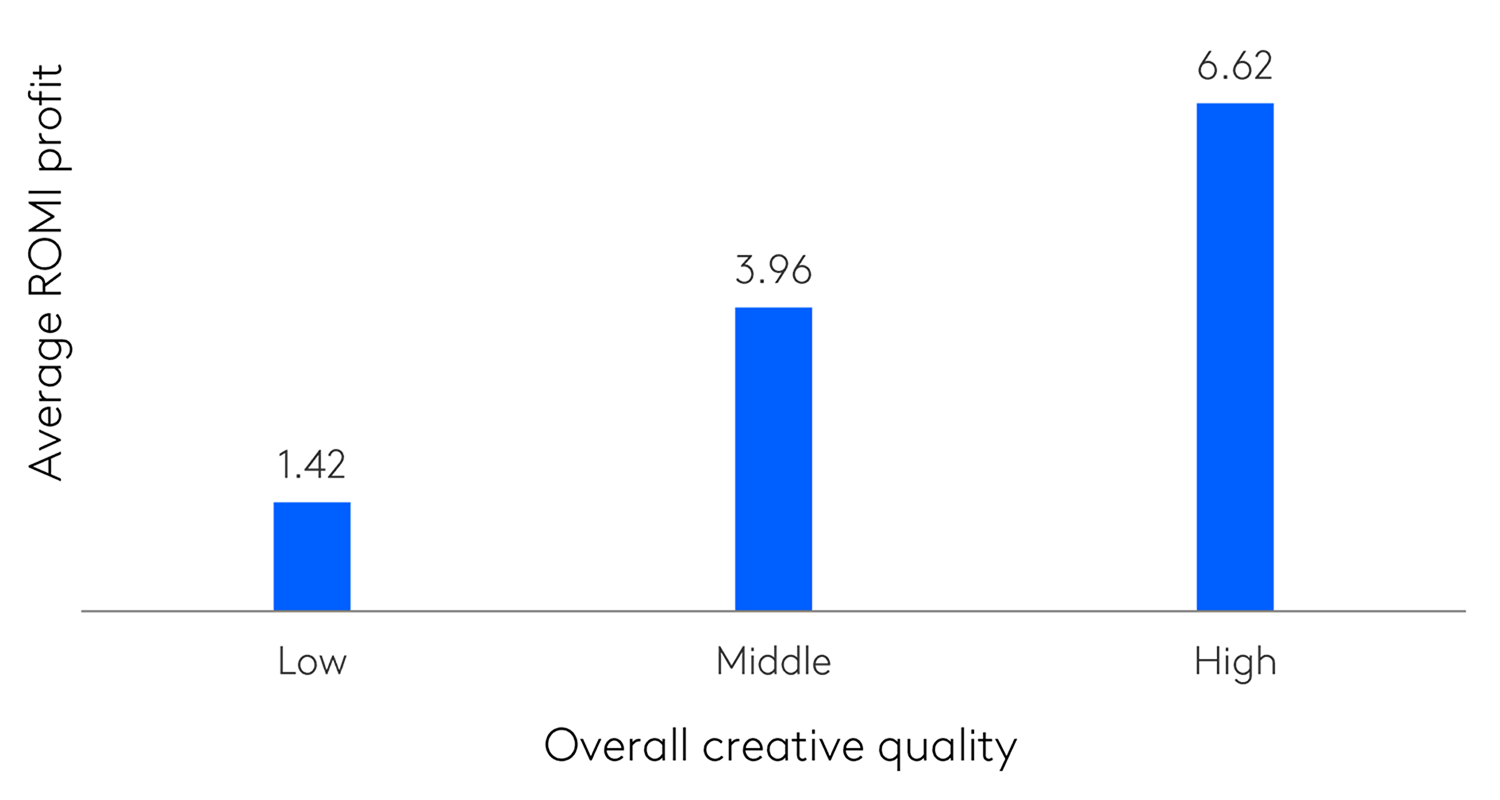 Source: Kantar Link database and WARC ROI database
Marketing budgets are finite (especially in the current economic context) but you have control over the quality of the creative you invest in. Ad testing helps marketers ensure that the creative they put precious dollars behind is on point.
The need to go beyond one size fits all automated ad testing
Since the advent of automated testing, marketers have wanted more research flexibility without sacrificing speed or cost. Every ad deserves insights that match the marketing objectives and reflect specific diagnostic needs. For a global campaign, you may need a deep dive on branding in markets where the brand is launching, whilst just validating the ad is sufficiently strong to run in other markets where the brand is more established. Using humor to catch viewers' attention? Then insight on whether people find the ad funny and how funny compared to other ads in the market will help guide your next steps.
Another way you need to have flexibility is to test content at different stages of development - from storyboard to animatic to finished film – while having a common methodological currency to compare from test to test. And we know the earlier you evaluate executional ideas, the stronger the end result will be.
Varied ad testing needs are nothing new, but automated ad tests have historically been a "one size fits all" solution that haven't quite been able to meet all the needs of the diverse creative landscape. While automated testing has been transformational in delivering results at speed, these solutions couldn't flex much to account for ad-specific objectives and/or executional diagnostic needs. All of that is about to change. In response to our clients' many different ad testing needs we have designed a completely new ad testing approach that removes the trade-off between automation and flexibility.
The power of flexible ad testing
The new, revolutionary approach called LINK+ recognizes that one size fits none as it allows you to test your ads not only at the speed of business but also in a way that fits the needs of a given ad. Furthermore, LINK+ allows you to flex, without sacrificing on the benchmarks which allow you to put your results in context. LINK+ comes with a robust database of benchmarks for many diagnostic questions (e.g. humor, celebrity recognition, brand cues). This ensures that you will know whether for example the music enjoyment score is a strong result in a particular market, and so you can make decisions about the ad with confidence. Of course, as a final flourish, you can also add your own custom questions as the icing on top of the cake.
One size fits none, when you are seeking to evaluate and optimize winning creative, so the imminent launch of LINK+ will ensure you can tailor testing to your needs without compromising on speed or quality.
To find out more about how LINK+ is transforming the automated ad testing landscape, register for the webinar on June 6.