Meta's Facebook is this year's ninth most valuable US brand per Kantar BrandZ Most Valuable Global Brands and second most valuable global Media and Entertainment brand. Brand values in the media and entertainment category declined 32% overall in the past year. More than anything, this represents a significant correction in how markets have come to assess many tech and tech-adjacent brands which have since recovered. It's also worth noting that in many ways, media and entertainment brands are much more agile than businesses that make and sell more tangible goods (like, say, autos, which can't very well build new factories overnight). Following the rise of TikTok, for instance, Facebook was able to pivot to short-term video in a matter of months, not years, through the implementation of Reels.
Kantar's proprietary Meaningful, Different, Salient brand value framework is what powers the Kantar BrandZ ranking. Facebook is classified as a Star and Established Leader in the industry. Stars are well-known brands that are much appreciated by consumers; they are strong on Meaningful, Different and Salient. However, though they are often category leaders, they may lack the momentum and dynamism of Iconic brands, as evidenced by their lower Future Power scores.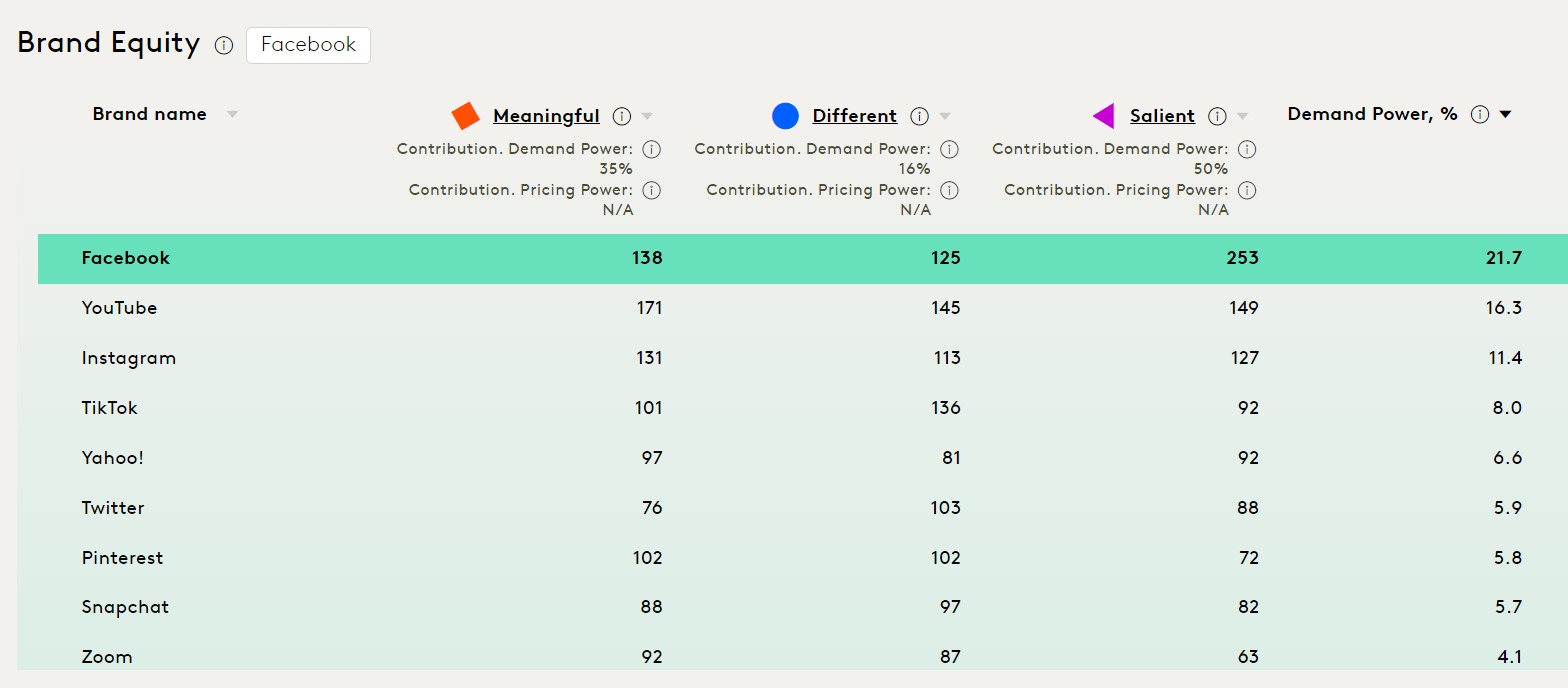 Facebook performs above category average in all three of Kantar BrandSnapshot's Brand Outcome Metrics. We see Facebook 17% above average in Brand Awareness, placing them in the 98th percentile, 6% above what is the expected level of trial for its level of awareness, using best fit correlation for the category, and 1% above that is the expected level of consideration for its level of trial, using best fit correlation for the category.
The blue app
Media and Entertainment brands, including Facebook, play an increasingly vital role in the lives of their users. The blue app has built their platform to retain their audience, and their audience, specifically, tends to reject alternatives more often than not. Combined with continued high demand, a quality range of products and services, and convenience to fit into consumers' everyday lives, Facebook's market share is here to stay. Kantar BrandSnapshot's Brand Association represents specific consumer perceptions of a brand and finds that Facebook's defining attributes are: "Easier to use", "Used by people like you", and "Everyday".
Social media has created new ways of connecting consumers and brands, which in turn has resulted in more fragmented audiences, a new attention economy era, and more consumer experimentation. New platforms seemingly pop up overnight and the ways in which people are engaging with social platforms are ever-changing. Kantar's Media Reactions report finds that 49% of consumers claim TikTok ads capture their attention, while Facebook, who ranks second in capturing attention, isn't that far behind at 40%.
Diversifying their offerings
A similar evolution may now be underway with respect to generative AI. Meta has fully leaned into investing in AI. Recently, the company released their upcoming updates to the platform, including their new AI experience, which will affect the entire way a consumer will interact with Facebook. From integrating AI into the ways people will share pictures through editing tools and stickers to what it means to have a Facebook friend through being able to interact with chatbots with personalities. This Meta AI is a direct competitor to ChatGPT as Facebook looks to expand their offering portfolio.
Another example of this is their expanding partnership with Ray-Ban. In what will be an attempt to make a consumer-friendly priced version of the 'Google Glass', Meta, Ray-Ban and EssilorLuxottica come together to make a pair of glasses that feature audio and cameras. These glasses will be able to stream video directly to the Facebook app, potentially disrupting the ways content streamers produce content, as well as give access to Meta AI, the advanced conversational assistant utilized by voice.
Sustainability
Doing the right thing is also good for business, and Facebook is doing above industry average in sustainability per Kantar BrandZ. On top of tracking their own metrics and sharing them through a sustainability report, Facebook has designed some of the most sustainable data centers in the world. The company is investing in renewable energy projects that are interconnected to the same electric grid as their facilities. Facebook has maintained net zero emissions in their global operations and has set a goal to reach net zero emissions across the entire value chain in 2030.
Challenging times lead to more conservative thinking. Much as brands of all categories might be tempted to pull back on long-term brand building – so, too, might media and entertainment brands in particular be tempted to retreat from efforts to diversify their storytelling. Facebook has done the opposite and has vowed to do more work in the diversity and sustainability space. Ranking as one of the only brands in their category to be doing their 'fair share', Facebook is looking to further their leadership in this space.
Explore BrandZ data for free
Kantar recently launched a new, free interactive tool using BrandZ's wealth of data where you can see an overarching view of a brand's performance. Discover your top brand equity indicators—and those of your competitors—in seconds with Kantar BrandSnapshot powered by BrandZ.