Amidst economic uncertainty, the workplace has undergone significant changes, from the emergence of the "quiet quitting" trend in 2022 to the current wave of mass layoffs affecting corporate America.
American workers are navigating these developments with varying approaches - some are choosing to stay in their current positions, while others are actively seeking new opportunities that offer better pay and flexibility. In response to economic uncertainty, some are putting off big investments, while others are juggling multiple careers to supplement their income.
Kantar recently conducted research to better understand the sentiments and behaviors of workers in the US and 9 other countries. The study examines employees' concerns about job security, how they respond to potential job cuts, their views on the meaning of work, flexible working policies, and workplace surveillance.
Americans are less worried about layoffs but are cutting their spending
As companies around the world prioritize their bottom lines, many are resorting to laying off employees to cut costs. However, the level of concern about potential layoffs varies across different markets. In comparison to the global average, workers in the United States report being less apprehensive about layoffs. Approximately 36% of US workers expressed concern that their company may need to cut costs and lay off employees in the coming year, which is 11% lower than the global average.
In terms of their job security, US workers maintain an optimistic outlook even in the face of potential layoffs. Only 22% of workers in the US report being very concerned about losing their jobs in the event of their employers laying off workers.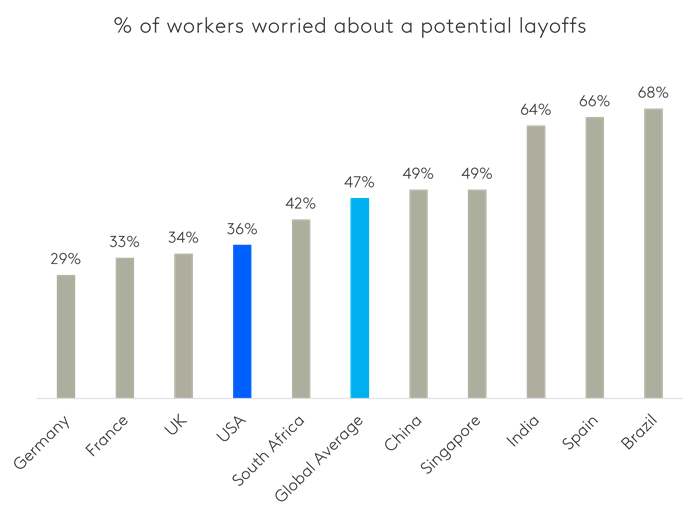 Although Americans may be less stressed about layoffs than other markets, many have adopted a more frugal approach to their finances. To navigate the current economic pressures, 43% of US workers have reduced their spending, while 27% have chosen to delay significant investments such as purchasing a car, buying a house, or taking a long vacation.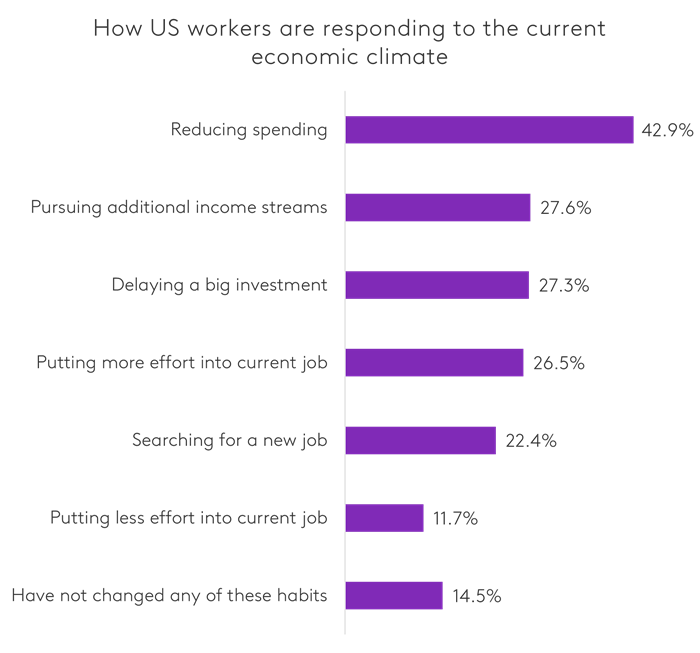 27% of US workers say they are pursuing additional income streams because of economic uncertainty. In fact, 37% of the workers in the US have at least one side hustle now, which is a higher percentage compared to seven out of the nine other markets that were surveyed: Brazil (35%), UK (23%), Germany (29%), France (23%), Spain (21%), China (32%), and Singapore (25%). Moreover, more than half of US workers (55%) who hold multiple jobs cited economic uncertainty as the primary reason for doing so.
Economic uncertainty doesn't prevent job-hopping in the US
Under today's economic climate, many US workers are concerned about job security. However, instead of putting in more effort into their current job, 22% of workers are actively searching for a new job. It's worth noting that 36% of US workers are currently interviewing or applying for new positions, and almost 1 out of 5 US workers plan to start looking for new opportunities within the next six months.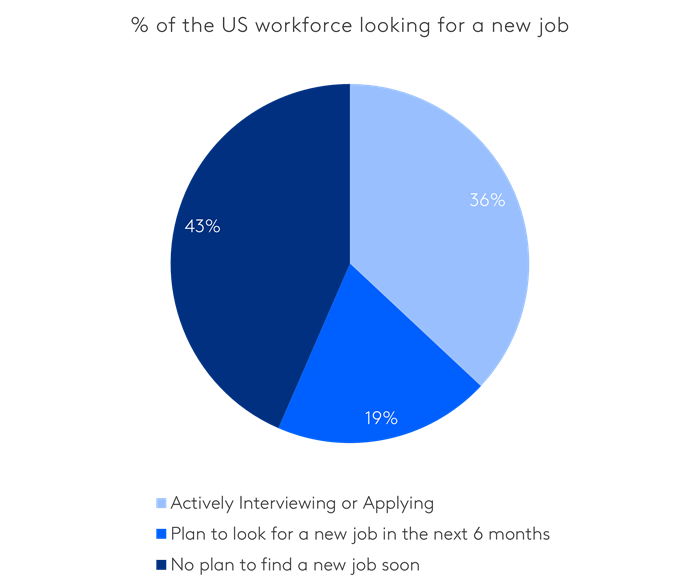 For those US workers considering a job change, the main motivator is higher compensation, as cited by 44% of respondents. Career advancement is the next highest priority at 30%, while 27% prioritize flexibility.
Most US workers aren't "quiet-quitting"
Despite the fact that 55% of US workers are considering a job change, they are still working diligently in their current roles. In fact, 62% of workers are putting in more effort than is expected of them, with 42% aiming to set a positive example for their team and 41% striving for a promotion. Interestingly, a higher percentage of remote workers report working longer hours than expected.
With remote work becoming increasingly prevalent, many companies are turning to workplace surveillance apps, also known as "bossware", to monitor employee productivity. Approximately 76% of US workers are currently working in a hybrid model, with 47% reporting that their employers use software to track their performance. However, opinions on the use of "bossware" are mixed. 51% of workers report that it motivates them to stay focused and be more productive, while 45% feel as though their employer does not trust them or that they are being watched too closely.
US workers want 4-day workweek, flexibility, and social-driven purpose
What do workers in the US view as important as they traverse an evolving workplace? For the 76% of workers who are still working in a hybrid model, "employee growth" (33%), "benefits/supplies to build and maintain home offices" (32%), and "monetary compensation" (25%) are the three most important things they think employers should invest in.
Flexibility remains a key priority for US workers. While 55% are currently satisfied with their employer's remote work policy, 51% would consider switching jobs if the policy were changed. They are also more likely to accept a 100% remote job (84%) than a 100% on-site job (61%).
Furthermore, 57% believe a four-day workweek would be feasible in their current roles, with 71% stating that it would improve their job satisfaction and encourage them to remain with their company. Globally, 65% of full-time workers believe that their work could be completed within a four-day work week.
Employee satisfaction comes from not only flexibility and monetary compensation but meaningful work. For US workers, 38% of them say that "making society a better place" makes their work meaningful. Globally, the top reason for finding work meaningful is "new challenges" (40%). This indicates that US workers place a high value on social-driven purposes, alongside financial compensation (37%).
Get more answers
For more findings from this study, access the complete Community Report: Connecting with the Workforce. Find additional generational and country-specific answers on sentiments toward new ways of working, economic pressures and more.
About this study
This research was conducted online among 10,055 full or part-time workers (whose job function could be performed remotely at least part-time) across ten global markets: US, UK, France, Germany, India, Singapore, Spain, South Africa, Mainland China and Brazil between December 13, 2022 - January 6, 2023. All interviews were conducted as online self-completion and collected based on controlled quotas evenly distributed between generations and gender by country.
Respondents were sourced from the Kantar Profiles Audience Network.