Online grocery/FMCG sales grew more than 15% in 2021, in a global grocery market which grew 2.1%. The total market growth of 2.1% is in line with the average pre-pandemic growth, and means the market held on to the double-digit growth gains it made in the 2020 phase of the pandemic. The data was revealed in our Winning Omnichannel report, an annual wrap of global FMCG and grocery sales.
Key findings from the study include:
Ecommerce was again the fastest growing channel, delivering 15.8% growth, building on the 45.9% growth delivered in 2020. This growth lifted ecommerce's share of the grocery market to 7.2% compared to 6.3% in 2020 and 4.8% in 2019.
At 2.1%, global annual growth is back in line with the pre-pandemic five-year average of 2% - as much of the displaced out-of-home spend from 2020 remained in-home in 2021.
Western Europe declined 0.2% as purchase patterns began to normalize with fewer lockdowns in the year. Latin America delivered 9.2% growth in 2021, mostly driven by inflation and continued lock-downs, while the U.S. grocery market grew by 2.7%.
Supermarkets/hypermarkets remain the dominant channel for FMCG sales, however with growth of just 0.1% its share of sales fell to 51.4%, from 52.4% in 2020 and 53.1% in 2019.
Groceries bought on a promotion accounted for 21.6% of sales during 2021. That's up from 20.9% in 2020, but still not back to 2019's pre-pandemic level of 22.1%.
Beverages were the strongest sector growing at 2.9%, driven by sports and energy drinks and carbonated soft drinks. Food, excluding dairy, grew at 2.5%, while dairy grew 2%. Home care fell back to 1.1% growth, while health and beauty products grew only 0.7%.
Kantar forecasts global growth in the FMCG market will slow to 1.3% in 2022.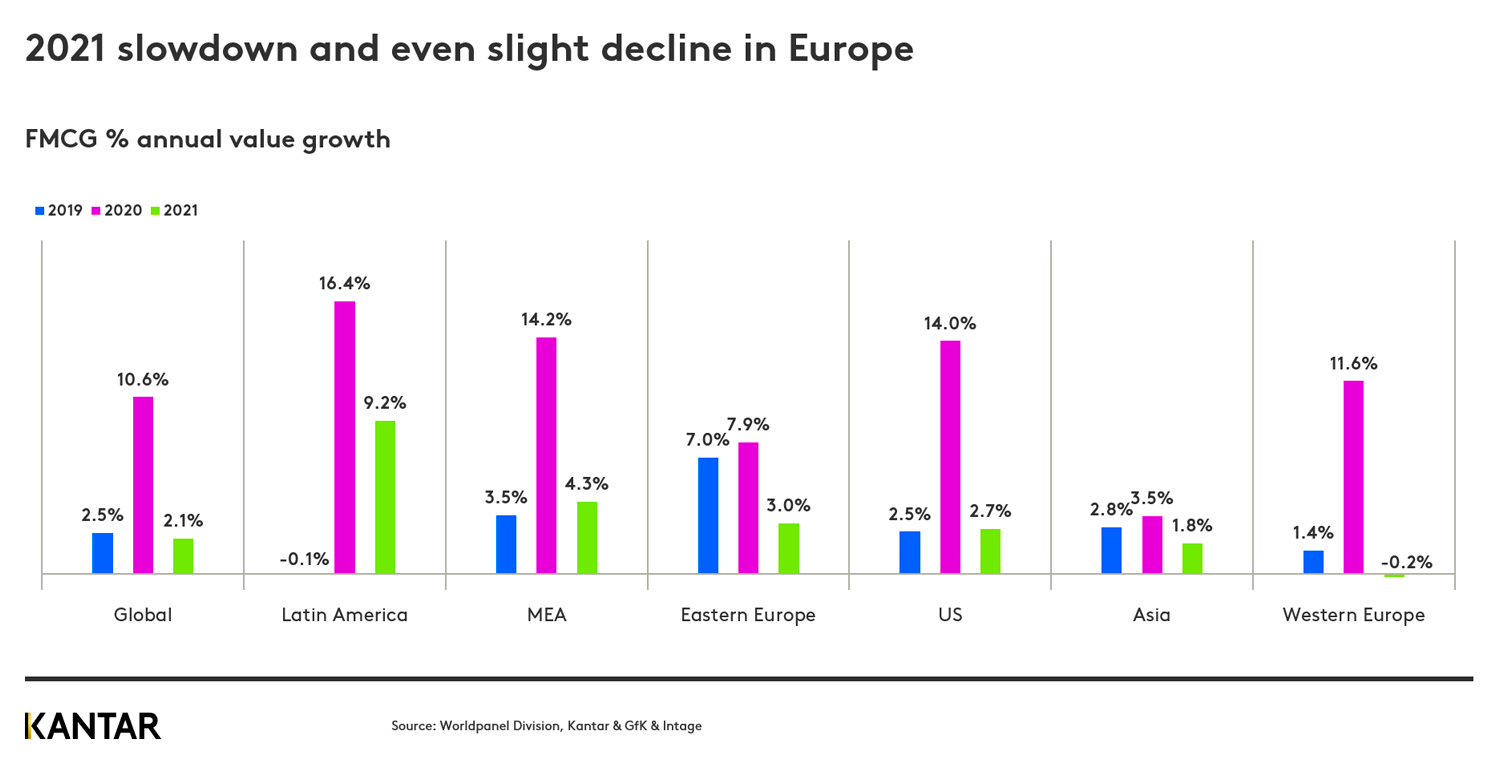 Ecommerce channel performance
Ecommerce now accounts for a 7.2% share of global grocery spend. The growth is driven by Asia, which now accounts for 45% of all online FMCG sales, almost double that of U.S. or Western Europe's contribution to online grocery sales. Globally, ecommerce platforms have held on to the new customers they gained early in the pandemic and have expanded further. Almost 40% (39.8%) of consumers used ecommerce platforms to purchase groceries in 2021, up from 37% in 2020 and 31.6% in 2019. They are also using online grocery shopping more frequently. On average, 10.4 online shopping trips were made per year in 2021 compared to 8.7 trips in 2020 and 6.9 in 2019. 44.2% of Asians now buy groceries online, up from 41.7% in 2020, and goes as high as 88.8% in Mainland China and 87.1% in South Korea. In Western Europe this has plateaued at 35.2%.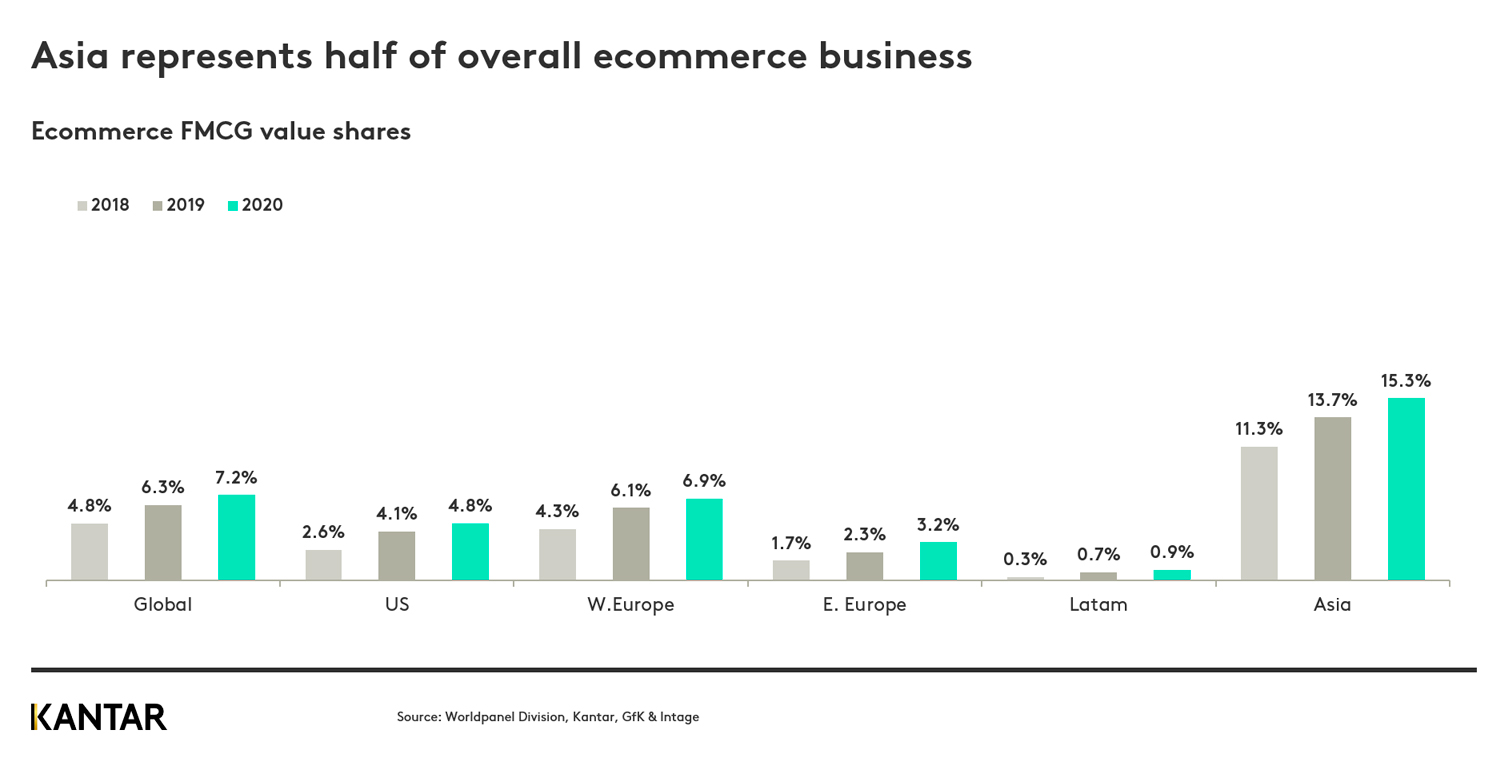 Category performance
All five of the FMCG sectors saw a slowdown in growth, but with Beverages, Dairy and Food accounting for over 70% of FMCG value it is unsurprising that these three had the biggest impact – slowing from over 10% growth to under 3% across the board.
Robust growth in sports & energy drinks together with carbonated soft drinks led the beverages market to record 2.9% growth.
Wine & Champagne swung from 11% growth in 2020 to -4% decline in 2021
Food (excluding Dairy) grew at 2.5% with flour, canned fish and rice being three of the worst performing categories as shoppers moved away from baking and the need of long-life staples such as canned good and rice.
The homecare sector was impacted with key categories such as bleaches and household cleaners both moving from ~20% growth in 2020 to a small decline in 2021.
Face care moved from -4% decline in 2020 to +4% growth. Even the hardest-hit categories in 2020, make up and fragrances (which experienced -22% and -11% decline respectively) saw their performance improve drastically in 2021, despite changing consumer habits.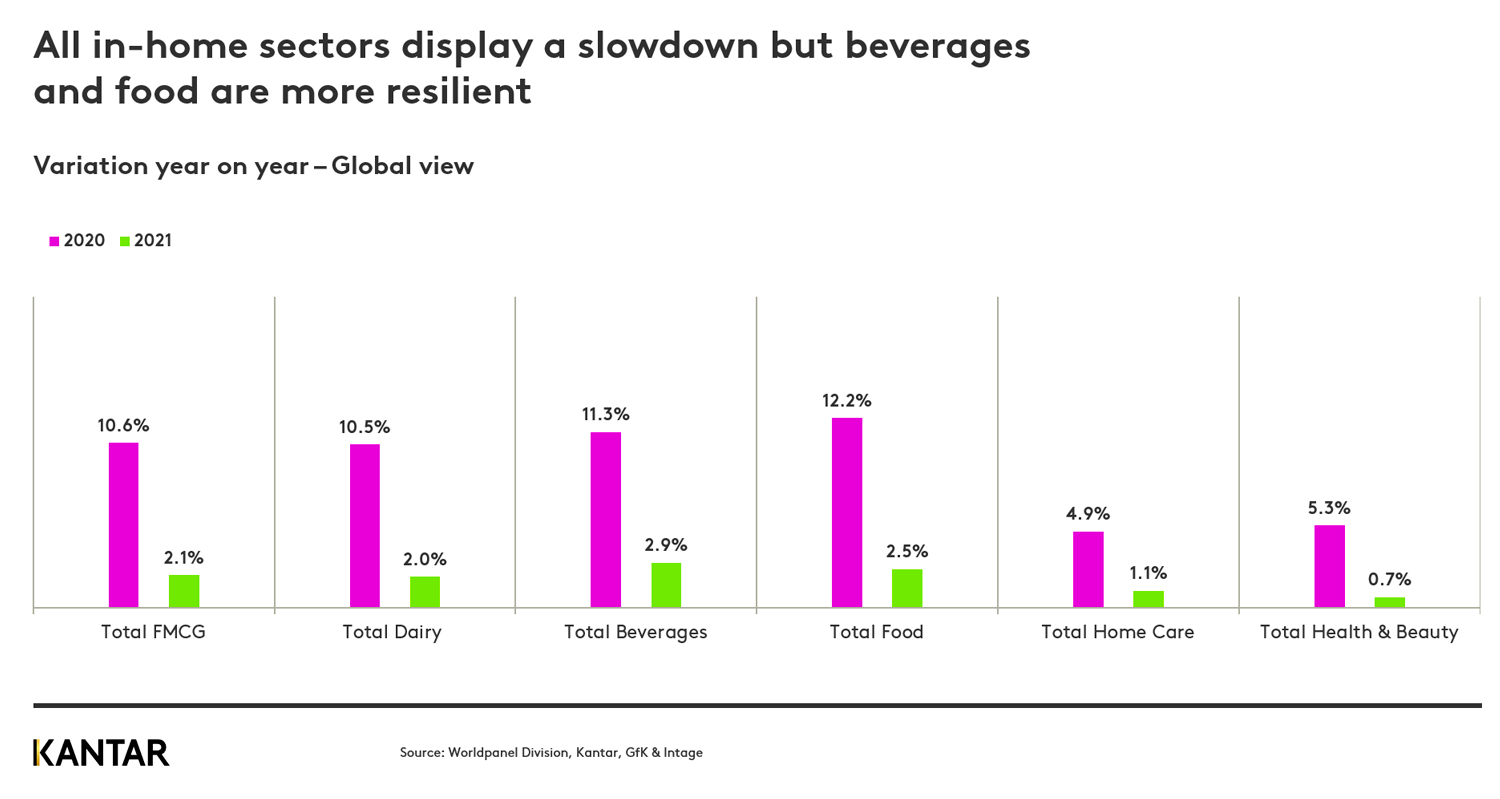 In many respects 2021 was back to business as usual. We forecast growth of 2% at the beginning of the year, and that is almost exactly what we saw. Although growth of just over 2% seems small compared to 2020's double-digit growth, the market did hold on to the growth we saw last year, as many traditional out of home occasions remained on hold, boosting in-home consumption.
Ecommerce remains the headline story, growing three times faster than the next best performer. This was attributable to both an increase in the number of consumers using online grocery shopping, but also an increase in their shopping frequency. Asia is far ahead of all other regions in their adoption and innovation in the online FMCG space. The major markets of the west have much to learn if they want to keep finding growth online.
We can already see that 2022 is challenging on a number of fronts. We forecast growth for the global FMCG market will slow to around 1.3%, as consumers develop different coping strategies to deal with the cost of living crisis. Innovation in ecommerce, promotions and ranging will all be important tools for retailers in tackling the challenges of this year.
Access the complete report and reach out to our experts to learn about the three offers we have created to help you understand and plan for the year ahead.