The fifth annual Who Cares? Who Does? study is the largest, global sustainability survey, involving more than 112,000 shoppers, which connects consumers' sustainability attitudes and actions to in-depth shopping behavior data across all FMCG categories, revealing how brands need to evolve to tap into the ~$500 billion annual sustainable shopping spend.
Who Cares? Who Does? identifies that the 'Eco-actives' segment, made up of the most eco-conscious consumers, has rebounded from its 2022 cost of living crisis-related decline. In 2023, the sustainability-conscious shopper segment rebounded to represent 22% of shoppers, compared with 18% in 2022 and 22% in 2021. These consumers spend almost $500 billion in the FMCG market each year, with this projected to reach $1 trillion by 2027.
That said, 43% of overall respondents say that financial constraints are making it harder for them to act sustainably. This suggests that brands that invest in making sustainable choices affordable will be able to reverse the shift to own label products – a major coping strategy during the cost of living crisis. Currently, sustainably marketed products cost 70% more than the category average price. Tactics that will secure these returning consumers include using non-plastic packaging, locally-sourced and natural ingredients, increasing refill and recycling options, and adopting fairtrade practices.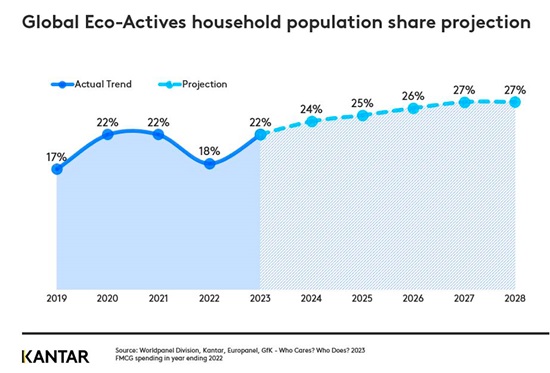 Eco-conscious behavior is now mainstream
When it comes to their own behavior, Who Cares? Who Does? finds that three quarters of people (74%) now bring their own bags when shopping (+3% since 2019), including almost half of people using fabric bags (+12%). Almost two-thirds of consumers now use refillable bottles, while the use of "to-go cups" is closing in on majority status – now at 42% (+6%).
"Consumer habits have changed significantly over recent years. It is clear that retailers and brands can shape habits by offering sustainable options and incentives, while governments are increasingly seen as responsible for addressing environmental issues at a systemic level. By aligning actions with eco-conscious consumers' changing needs and desires, brands can win back shoppers who are switching en-masse to white-label goods and contribute to a more sustainable future." comments study author, Natalie Babbage.
The price of progress: balancing living costs and environmental values
The study also reveals:
The cost-of-living crisis is inadvertently creating more sustainable behavior in spaces like clothing, where cost is a major driver in the growth of second-hand clothes sales, while food waste is now a major concern for 24% of people globally. Consumers' tactics to minimisz food waste include proper food storage (80%), making meals with leftovers (70%), meal planning (64%), creating shopping lists (62%), and finding alternative uses for foods at risk of spoiling (55%).
Sustainability concepts remain poorly understood among consumers. Only 8% frequently choose carbon-neutral products, citing their own lack of understanding (24%) or availability of such products (27%).
However, recyclable packaging is a fundamental expectation, with 72% frequently or occasionally choosing products with 100% recyclable packaging.
The perception that sustainable options are expensive remains the top barrier to sustainable choices, with 60.9% globally citing cost as a hindrance. Natalie Babbage, Global LinkQ Solution Director, Worldpanel Division, Kantar, continued: "The reality in 2023, is that the media and public discourse play a significant role in driving sustainability engagement.
Governments have power in shaping consumer behavior, with actions that raise all boats, like banning specific products. And while consumers desire better products which have less environmental impact and waste, realistically sustainability is not the primary driver for most decisions at a time when budgets are tight. Brands should view sustainability investment as an avenue to gain trust, and to signify quality, health, and taste."
Download a copy of the Who Cares? Who Does? 2023 study and register to watch the webinar "Eco-insights 2023: what consumers (really) want" on demand here.