Leading network providers started rolling out their much expected 5G service across thousands of cities in the US at the beginning of 2019. By the end of 2020, nearly one in four U.S. smartphone owners were connected to a 5G network, with AT&T leading having 36% of its customer base using this new service. Despite the COVID-19 pandemic potentially slowing down 5G uptake, major 2020 smartphone announcements, especially Apple's iPhone 12 models, have a keen focus on 5G connectivity and are expected to drive more adoption of the service through 2021.
Currently 5G networks remain important for original equipment manufacturers (OEM) and consumers alike. In 2020, all the major manufacturers have pushed 5G to the top of their agenda in terms of flagship smartphone features. The iPhone 12 proved extremely popular in the U.S., being the second-most sold smartphone in the fourth quarter of 2020, despite a later launch date of October (in past years iPhone flagship launches were in September).
And, with 51% of U.S. customers buying iPhone 12 models specifically for its 5G capabilities, this suggests consumers in general are looking to step up their connectivity, especially seen in social or entertainment apps – two categories that have gained significant growth as a direct result of the pandemic. Plus, data from Kantar's Worldpanel ComTech shows 71% of U.S. smartphone owners, intending to buy a smartphone in the next six months, want to get a 5G-enabled device.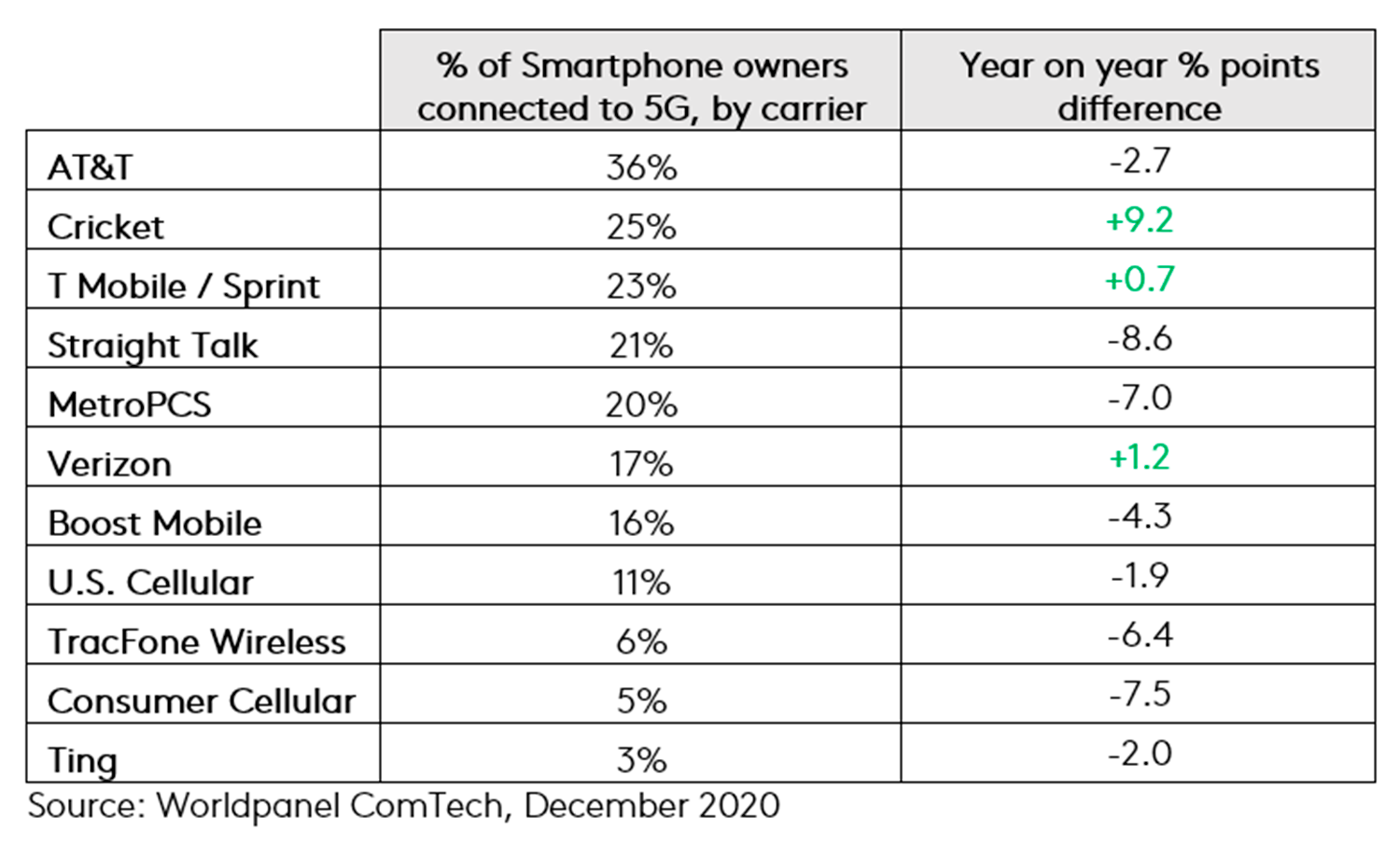 With 5G adopter numbers predicted to grow in 2021, and the apprehension that 5G comes with a higher price tag, there has been an increase among network churn intenders to find plans that offer the same price tariff with more inclusive minutes / texts / data. Common drivers that have increased among prepaid and postpaid customers intending to leave their current network include "Faster data connection speeds" and to "Be on same network as family." Despite AT&T and Cricket leading 5G adoption at the end of 2020 (36% and 25% of their customer base, respectively), both carriers are likely to be among those that see higher levels of churn over the next six months with existing AT&T customers looking for cheaper tariffs.
In addition, over the next six months Kantar expects marginally more postpaid subscribers, compared to prepaid, to change their carrier when their plan ends. Among those on prepaid tariffs, intending to change their network, 12% want to change "To take advantage of 5G services," this was the 7th highest reason of 15 options given. The number one reason for both postpaid and prepaid subscribers leaving was getting a cheaper deal.
In terms of service satisfaction, Consumer Cellular leads with an NPS score of 63, followed by Straight Talk, Ting, Tracfone and Cricket. Of the big three network providers Verizon scored 32, T Mobile/Sprint scored 27 and AT&T generated one of the lowest scores at 21.
Despite the pandemic shifting consumer goals over the last year, connectivity remains one of the most important features for US consumers, partly driven by the uptake in media consumption and communication. With smartphone brands bringing more accessible 5G handsets and mobile carriers focusing their attention on building solid 5G offerings, the US is likely to see a surge in network users in the latter half of 2021.