Americans love their smartphones, but they're increasingly getting comfortable with the thought of living without it constantly at their side. The percentage of American adults who say they "could not get by without their smartphone" has plummeted to 48% in 2021, from an average of 61% between 2012 and 2019, according to our research.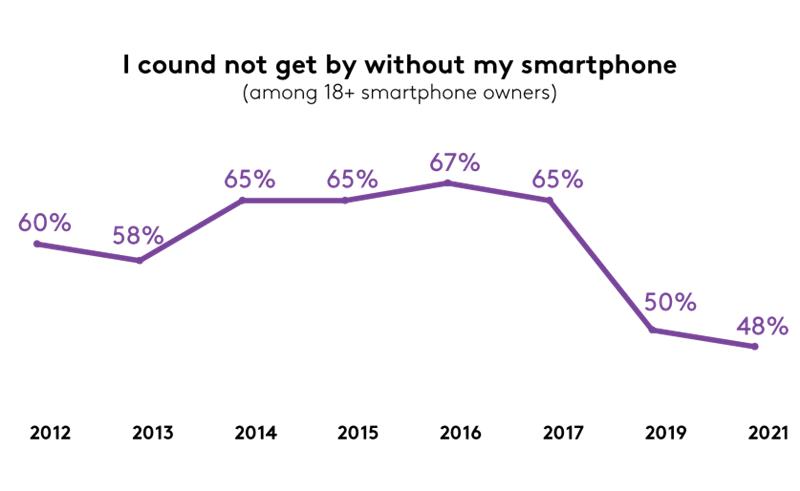 The question is, why?
Smartphone usage has only increased during the pandemic. However, research from our US MONITOR indicates there's a lack of enthusiasm about our devices. That's not to imply that there's been any decline in our dependence on them. In other words, it appears Americans' love affair with their phones has tempered over time as they have gotten used to the tech.
One contributing factor to this drop may be the fact that most Americans, from teens to their grandparents, don't feel there is much differentiation in the current smartphone market, with 56% reporting that "smartphones today are all pretty much the same."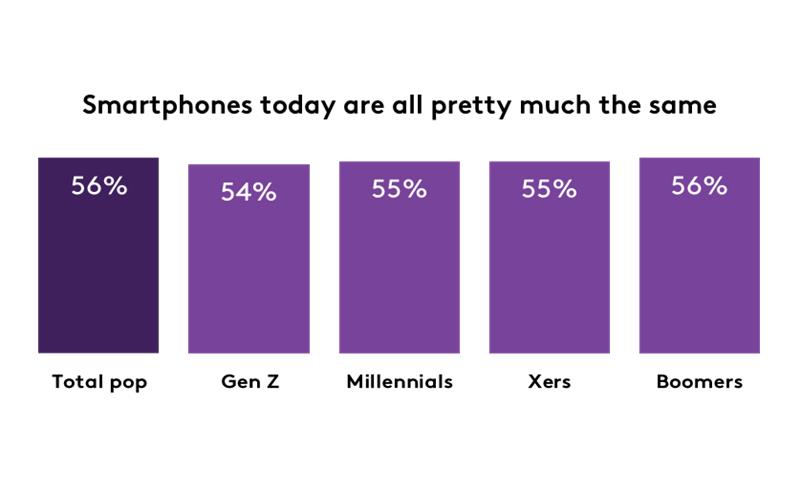 "It's fair to interpret this data as people taking smartphones for granted," said Jeff Howanek, VP and Associate Head of U.S. MONITOR. "For so long this space has been defined by groundbreaking development and speed, but as the technology matures the subsequent incremental innovation isn't going to have the same impact on the consumer mindset even though the tech itself is still pretty impressive."
The decrease in smartphone enthusiasm may also be part of a broader shift in consumer attitudes about digital technology. For example, our same study shows a 12-percentage point decrease in consumers who say that keeping up with the latest tech products and services is essential, from 64% of U.S. adults in 2004 to just 52% in 2021.
The upshot
This ho-hum attitude toward smartphones may spell trouble for consumer electronics companies whose strategies hinge on "upgrade culture," where people rush out to buy the latest model—especially given the fact that 69% of consumers buy a new phone only when their old one breaks, has an issue or is lost, and that 77% feel the tech they buy, including smartphones, generally lasts as long as they'd expect.
The average length of smartphone ownership continues to increase. This had been the case pre-COVID-19, but the pandemic has accelerated this trend. In the EU5, 26% of smartphone owners now hold a device that they've kept for three or more years, up 6 percentage points vs. Dec. 2019; this is 24% in the U.S., up five percentage points. This means the pool of potential buyers is building up, but they lay dormant.
This is important, as our advanced analytics shows us that the longer consumers are dormant for, the further their propensity to remain brand loyal decreases, and the risk of churn becomes greater, particularly among those who are passive. OEMs need to plan how to reintroduce, excite and engage their consumers when they are in the market to buy, after what may be an extended period away for many.
That being said, there are still many driving forces for consumers to 'upgrade' their devices. One of the most influential being the introduction of 5G capabilities. As a feature driver of purchasing, '5G capability' citation is in double digit share points growth year-on-year, in nearly all reported markets: the US (+19 percentage points year on year), the EU5 (+11 percentage points year on year), Japan (+10 percentage points year on year), Australia (+9 percentage points year on year). Of the top 10 models sold in China, 70% are 5G-enabled. In Japan this is 60%; it's 50% in both the U.S. and Australia, and 40% across the EU5.
Access our data visualization tool to view and analyze smartphone OS market share data online.