Worldpanel's latest Music on Demand (MoD) data on the global music streaming market uncovers the following behaviors and findings between April and June 2023:
Spotify gained the most subscribers in the past year across all markets tracked by Kantar's MoD study (GB, US, Australia, Germany, Spain, and France).
Almost 2/3 of adults in these countries do not pay a monthly subscription to stream music, signaling opportunity for services to diversify offerings to attract new audiences.
Spotify was the #1 most paid music streaming service in Q2'23, followed by Apple Music.
Amazon Music Unlimited leads in new subscriber share among 55+ aged audiences.
Free trials remain the #1 attraction for new music subscribers, followed by recommendations from friends and family.
Value for money is the #1 driver behind new subscriptions across all demographics, aside from Gen Z, where the 'streaming platform their friends use' is the main decision-making factor.
In Great Britain, 26% of Gen Z now use TikTok to discover new music.
Spotify success and unlocking further growth
Spotify's trajectory in 2023 has been strong, to say the least, particularly in Q2'23. Between April and June 2023, Spotify achieved an impressive feat by attracting new subscribers/users across all the markets tracked by the MoD study.
In addition to Spotify's success in Q2, the potential for further growth is substantial. Compared with Video on Demand (VoD) streaming, MoD is trailing significantly in market penetration. 33% of households that subscribe to a VoD service, such as Netflix or Disney+, still do not stream music digitally, representing a massive opportunity for music services to expand.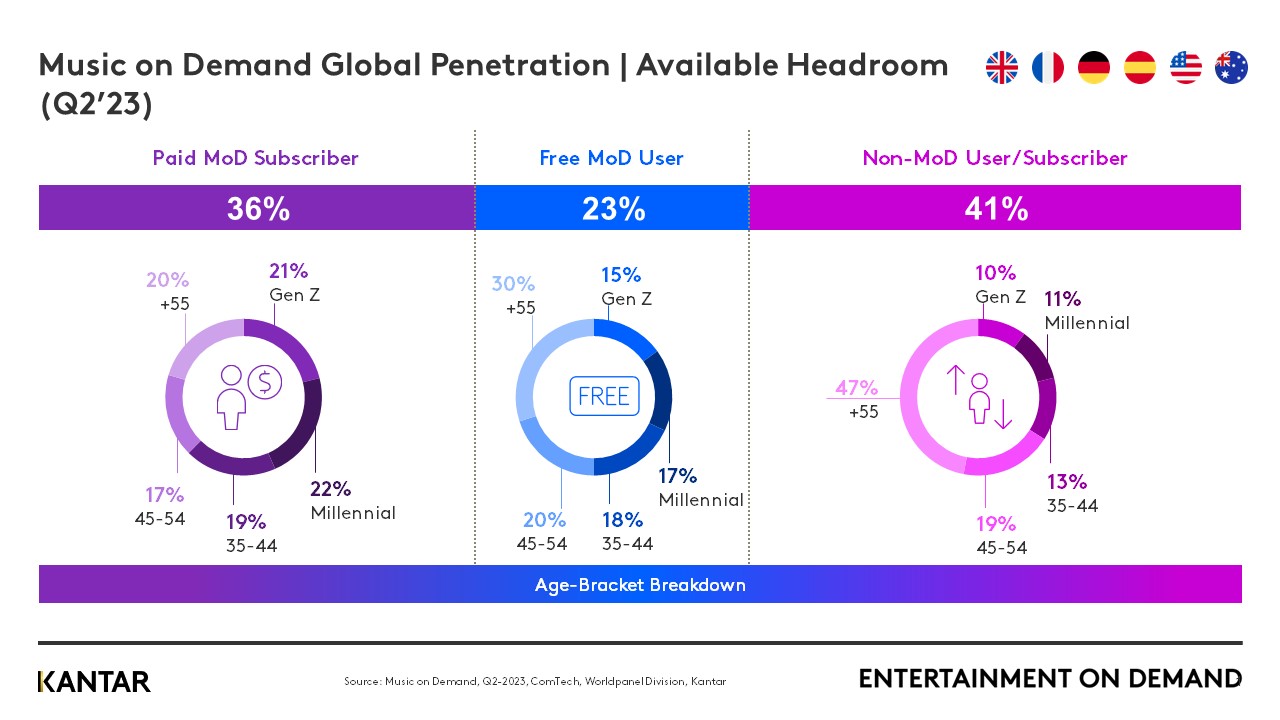 Realizing this untapped potential is critical to drive both incremental growth for music services and the expansion of the entire digital music industry. A staggering 47% of non-music streamers across markets tracked on Kantar's Entertainment on Demand (EoD) study are aged 55 and above, signaling younger generations still dominate streaming music and remain the lowest hanging fruit.
Interestingly, the study looked at the purchase behavior of audiences aged 55+ over the last 12 months and discovered that Amazon Music Unlimited is the #1 platform. However, only 14% of Amazon Music Unlimited subscribers rank it as their #1 service offered by Amazon.
Services will need to balance continued conversion of younger age groups whilst deciphering a strategy to engage this 55+ cohort to enable and sustain long term growth.
Innovation is advancing the music industry, driving artist discovery and personalization
Throughout 2022, Kantar EoD reported a surge in subscription cancellations for video on demand (VoD), notably in Q1'22 with the emerging cost of living crisis. Meanwhile, in MoD, the impact of cancellations remained much lower than the volume of cancellations observed in VoD. A pattern has emerged since Q1'22; VoD households, driven by the desire to manage expenditures, either cancelled subscriptions to save money or gravitated towards more economical alternatives for their viewing time, such as Free Ad-Supported TV (FAST) and Ad-Supported Video on Demand (AVOD).
On the other hand, cancellations of music subscriptions stem from a lack of usage, with over 40% of households across tracked markets stating that they have cancelled a subscription for this reason.
However, the music industry is responding with innovative solutions to combat this issue. One notable approach is the expansion of engagement opportunities. Music services are embracing fresh and forward-thinking strategies, including artificial intelligence (AI) and machine learning (ML)-driven experiences, presenting artists' concert tickets and merchandise offerings to fans, and curating personalized playlists on a broader scale. All these efforts aim to rejuvenate the streaming music experience and create a deeper connection between listeners, services, and artists.
Leading this innovation is Spotify, which introduced its own AI DJ in the US and Canada in February and recently expanded its availability to 50 global markets. This feature is just one among several updates that Spotify has rolled out in 2023. These include a new home feed, Smart Shuffle, and My Top 5, empowering users to broaden and share their unique musical preferences. Subsequently, Spotify has enjoyed an outstanding performance in 2023, attracting the highest volume of paid subscribers and achieving industry-leading retention rates.
TikTok challenges YouTube as a source of music discovery for younger streamers
A pivotal shift has been noted in how consumers discover new artists and content. Kantar's data reveals that streamers in GB are increasingly turning to social media platforms, such as Instagram (12%) and TikTok (10%) when trying to find new music. However, these numbers are still behind more traditional methods of discovering new music, such as recommendations through friends and family (42%), YouTube (32%) and suggestions from music streaming services (28%).
Amongst under 25-year-olds, 26% of music streamers already use TikTok for discovery of new tracks, putting it ahead of Instagram (24%), Film & TV placement (24%) and critic reviews (8%), highlighting why record labels have been so keen to build their presence on this growing social platform.
However, given YouTube's influence on music exploration, it's noteworthy that artist discovery on YouTube remains consistently high across all demographic cohorts. Among under 25-year-old streamers, 40% discover music via YouTube while even for streamers aged 55+, it secures the second highest position at 26%. This continued influence on artist discovery, has transitioned into strong signs through 2023 to date with solid growth for YouTube Premium, affirming its position as a leading player in this ever-evolving narrative on music discovery, and engagement.
If you would like to learn more about the music streaming market or need country-specific data, please get in touch with our experts.