Discount chain Wilko has made headlines recently for a dramatic collapse that sees all of its stores closing in the coming weeks. Competitors have been quick to act, with The Range buying the Wilko brand name and both Poundland and B&M taking over considerable numbers of Wilko stores.
These competitors will of course wish to appeal to existing Wilko fans and evaluate what synergies exist between their customers and Wilko shoppers.
Latest GB TGI data reveals that 13.3 million adults claim to shop at Wilko, equating to a quarter of the adult population. This is very similar to the proportion of adults who shop at Poundland and B&M: 25% and 24% respectively.
There is a lot of crossover between customers across these retailer brands, with 47% of Wilko shoppers claiming to shop at B&M and 49% of B&M shoppers claiming to shop at Wilko.
To focus on B&M, their shoppers are particularly likely compared to the average adult to be 'Playschool Parents' (youngest child aged 0-4), 'Hotel Parents' (aged 35+, live with children but none aged 0-15) and 'Secondary School Parents' (youngest child aged 10-15). Although Wilko shoppers are not so far removed from B&M shoppers in this regard, they are a little less likely to be in these life stage groupings.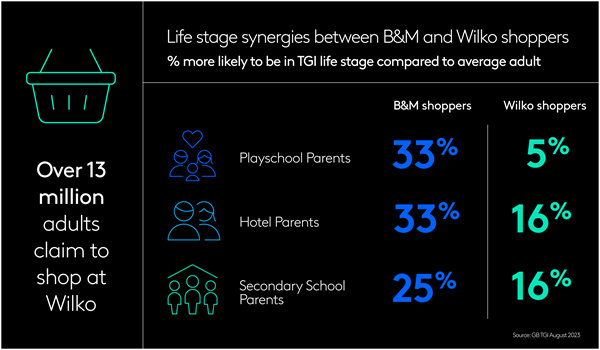 When it comes to the key factors that shoppers at these stores consider important when choosing where to shop for food, drink and household products, special offers ranks high at both compared to other adults.
However, a number of other factors not directly related to money saving are also important for both sets of shoppers.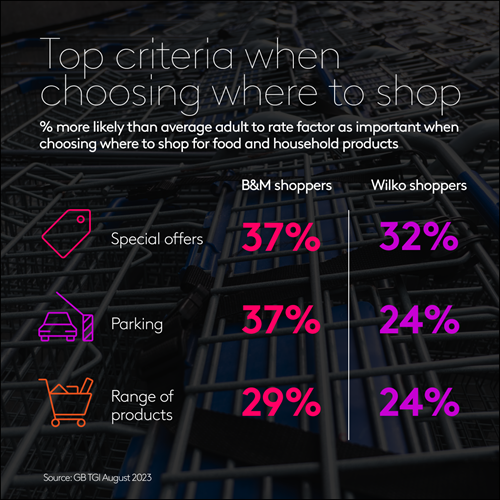 There are other synergies between B&M and Wilko shoppers, for example when it comes to the topics that most engage them and which they claim to discuss with others. Both groups are considerably more likely than the average adult to claim they talk to many different people about children's products, cars and clothing & accessories.
Such insight can inform anything from how such shoppers can be efficiently engaged to what can be stocked in store that will most interest these shoppers.
The media types that Wilko and B&M shoppers are particularly likely to consume with great frequency are also broadly aligned. Shoppers at both stores are similarly more likely than the average adult to be among the heaviest consumers of video on demand, magazines and addressed mail.