George Osbourne famously declared 'We're all in this together' as Chancellor of the Exchequer when announcing sweeping cuts to reduce the public debt in the wake of the 2008/9 financial crisis.

Today the country's economic landscape is similar, with a recession on the horizon and a time of considerable financial hardship for many. Maybe we were never 'all in this together' - after all, those with limited means will inevitably feel the financial pinch most acutely - but how quickly are British consumers' behaviours and attitudes evolving amidst the cost of living crisis and how can brands and marketers reach and engage consumers to protect and even enhance their sales?

Using the unprecedented breadth and depth of consumer insight within our Great Britain TGI data to explore which consumer groups are changing their behaviours most decisively and what this means for brands seeking to target them, we focus in particular on consumers across various life stages, within which family and other circumstances (presence of kids, living with partner etc) strongly influence their choices and behaviours.
Parents with young children finding things particularly tough
It will be of no surprise that TGI reveals over a third of British adults claim that coping on their present income to be 'difficult' or 'very difficult' – compared to around a quarter in 2008/9. But not all groups are struggling equally.

Those in the TGI Lifestage groups *'Flown the Nest' and *'Nest Builders' show the biggest rise in finding life on their income tough in recent months. However, the group finding things hardest overall are 'Playschool Parents'. Conversely, 'Empty Nesters' are least likely to find life tough on their income.

This makes sense – those in the early stages of their careers are likely to be earning less, whilst parents of young children will have costs that others do not have to bear.

If we look beyond attitudinal changes in isolation, to shopping behaviours, TGI reveals that at the start of this year 22% of adults claimed to buy budget ranges at the supermarket. By June the figure was 33%. The TGI Lifestage to have seen the greatest rise in the proportion purchasing budget ranges is the 'Unconstrained Couples' – a group of well above average income, that often opts for premium products. The proportion in this group claiming to buy budget ranges rose 80% between the first and second quarters of this year, showing how even those more insulated from the worst effects of the cost of living crisis are changing behaviours.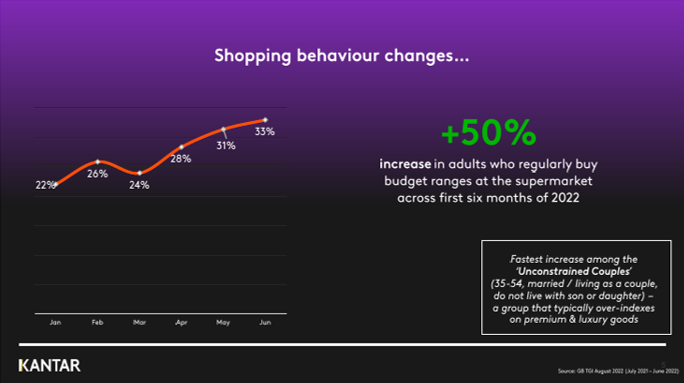 Brand repertoires are expanding as consumer preferences change
We can also see this evolving behaviour within the context of brand repertoires – that is, the average number of brands used in a given category. Here again, those with the highest brand repertoire are parents with children at home.

However, the greatest quarter-on quarter increases are amongst the 'Unconstrained Couples', driven in particular by widening supermarket label repertoires for the likes of yogurts and jams & spreads.

And what of the parents already exercising a wide brand repertoire? It's not quite what you might expect. Indeed, 'Primary School Parents' have seen significant recent increases in consumption of branded ready meals. This may seem an anomaly, but when we consider there has been a 38% fall this year in the proportion of these parents claiming to visit a restaurant it makes more sense – they are making savings at the grander scale and allowing themselves the modest luxury of a nice meal from the shops.
Consumers more receptive to advertising as they seek to change their shopping behaviour
Where does this leave brands? With any seismic shifts in consumer behaviour there will be new commercial opportunities. We have seen how brand repertoires are widening, with different consumer groups more receptive to new brands – and not always budget varieties.
And as consumers have sought new brands and product ranges, any helping hand is likely to be welcome. Perhaps little surprise then that consumer engagement with advertising rose across recent months. The proportion of adults who feel advertising is a waste of their time fell between January and June this year, whilst agreement with 'advertising helps me choose what I buy' grew.
The cost of living crisis is a rapidly evolving phenomenon, with the worst expected in the coming months. It is crucial therefore that brands and marketers ensure they stay close to insights that give them the breadth, depth and reporting immediacy they need.
*TGI Lifestage definitions:
Flown the Nest
= aged 15-34, not married/living as a couple, do not live with relations
Nest Builders
= aged 15-34, married/living as a couple, do not live with son/daughter Playschool Parents = live with son/daughter and youngest child aged 0-4
Empty Nesters
= aged 55+, married/living as a couple, and do not live with son/daughter