Like many other countries, Britain is preparing for huge changes in the automotive market in the coming years. From 2030 a ban on sales of new models of petrol and diesel cars comes into force, whilst from 2025 the government anticipates self-driving cars rolling out on to Britain's roads.

But where are consumers currently in their views on switching to electric vehicles and feeling ready for self-driving cars? New monthly TGI data released this month shines a spotlight on consumer views towards these seismic changes.

But first, it's worth understanding how consumers are feeling about car buying during this cost-of-living crisis. TGI reveals that 40% of car owners (14 million adults) in Britain say they are delaying purchasing a car until they are more comfortable financially, whilst significant minorities of car owners say they are unable to find the car they want in their price range now, or claim they are considering selling their car as they are struggling financially.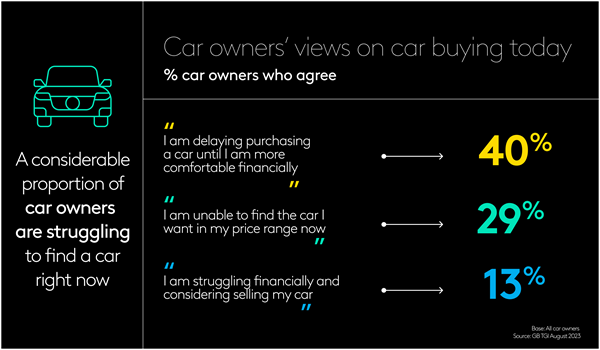 When it comes to electric cars the top concern is price, followed by worries around ease of charging and how far a charge will stretch – all of which around a third or more of adults cite as key issues with electric cars.

However, it is important to recognise that large proportions of consumers also claim to be not concerned at all by many features of electric cars.

Over a third of adults have no worries about the driving experience, a third have no issue with the immediate availability of the car/waiting times and 25% have no safety concerns.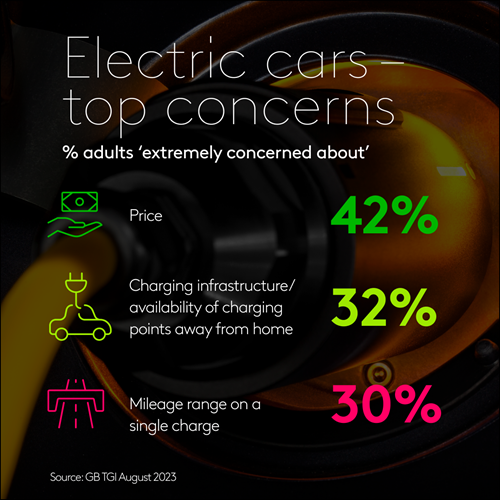 The notion of self-driving cars is still fairly abstract for many consumers. Two-thirds of adults claim to know 'just a little' about self-driving cars, whilst only 4% of adults claim to know a lot about them. There is certainly still work to be done to get consumers confident about self-driving cars.

TGI reveals that over half of adults have concerns that a self-driving car could be hacked, whilst over 40% of adults harbour worries that the data from such a car could be used without their consent. Having said that, a significant minority of adults are positive about the prospect of self-driving cars – although these are figures those promoting such vehicles will be keen to see rise very quickly.