Is data overload actively inhibiting insight and making it harder for comms professionals to find the story in the noise? Our recent study, 'Five crucial steps to a smarter communications strategy,' seeks to answer this and other questions… and unveils the vital strategies that empower brands to manage their reputations successfully.
The answer? Nearly three in four communications professionals (71%) feel they are faced with too much irrelevant data and not enough insight.
Finding the truth amongst the chatter is difficult, and it's amplified by the other big challenges to organisations' communications strategies, as highlighted by industry professionals: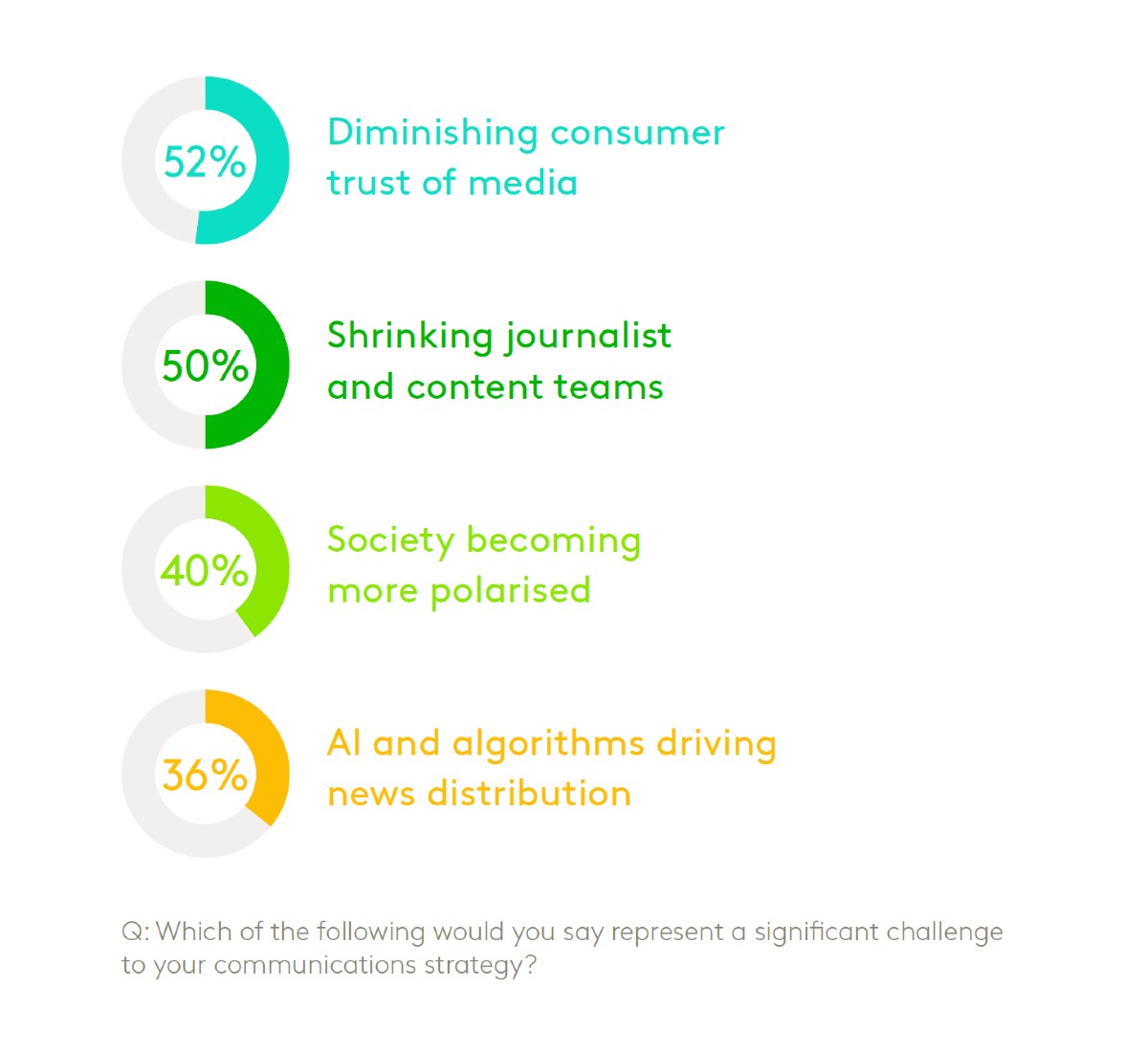 What matters most
Challenges notwithstanding, the priorities for the future are clear. Communications professionals told us that they are looking for both information to guide short-term tactics (45% feel this will become more important in the next few years) and actionable insights to guide long-term strategy (59%).
Some 45% of comms professionals feel that insights from analysts and experts will grow in importance. Artificial intelligence clearly has a role to play too: 52% believe this will become more important in separating the insights from the noise.
The next steps
Organisations need evidence-based, authoritative performance analysis to inform short-term tactics and guide long-term strategic planning. With AI technology and human expertise, it's possible to demonstrate the impact of communications across multiple media channels. Through a detailed understanding of outcomes, we support our clients to deliver better campaigns and more effective strategic planning.
The full study is available to download here.
Editor's Notes:
Kantar spoke to over 700 in-house communications practitioners and over 6,000 members of the public across Western Europe (France, Germany, Ireland, Italy, Spain and UK) to understand what matters to the communications industry and the audience it seeks to engage – revealing some uncomfortable truths and challenging conventional thinking. The report, available to download for free, has been designed to offer an analysis of issues such as trust in news brands & aggregators, the reliance on technology and human intelligence to understand media coverage and its impact on reputation – as well as the need to better leverage existing data assets. Together, these individual elements form five crucial steps to a smarter communications strategy.