Every decade there is at least one and - if we are lucky - a handful of iconic media campaigns or other zeitgeists that are compelling enough to directly impact on the behaviour of the nation's consumers in a fundamental way.
Over the past 50 years, Kantar's TGI Consumer data has been there tracking consumer behaviour and media consumption across all of these important moments and everything in between, whilst acting as the media planning and selling currency between the buy and sell side of the industry.
Here we take a look at a key media moment in each decade that witnessed a resultant uplift in consumer behaviour, as reflected in the TGI Consumer Data.
The 1970s: Following the Good Life
Between 1975 and 1978 one of the BBC's all time classic sitcoms had the nation glued to screens. The unique set-up of 'The Good Life' saw with couple Tom and Barbara Good opting out of the rat race to live a life of self-sufficiency in their suburban home, turning their garden into an allotment growing fruit and vegetables. The way of life adopted by the Goods struck a chord with British adults, who in their millions began growing their own vegetables.
TGI Consumer Data reveals that in 1973 just 26% of adults claimed to grown their own vegetables, but by the time the series ended in 1978 this had leapt to 47%. With the end of the series, the figures fell back, standing at less than 30% by 1988 and 23% by 1993.
The 1980s: Vermouth's volcanic rise
From the tail end of the 1970s until 1983, a series of very memorable TV ads featuring comic actor Leonard Rossiter and Joan Collins aired to promote vermouth tipple Cinzano, whereby Rossiter played the part of a pretentious bungler who managed to end up drenching his poor wife with his drink.
The impact of the ad on vermouth consumption was dramatic. In 1972 24% of adults claimed to drink vermouth. By 1979 this had jumped to 34% and on up to 35% by 1982. As the campaign ended, claimed consumption of vermouth began to fall and was at 28% by 1988 and 17% by 1995.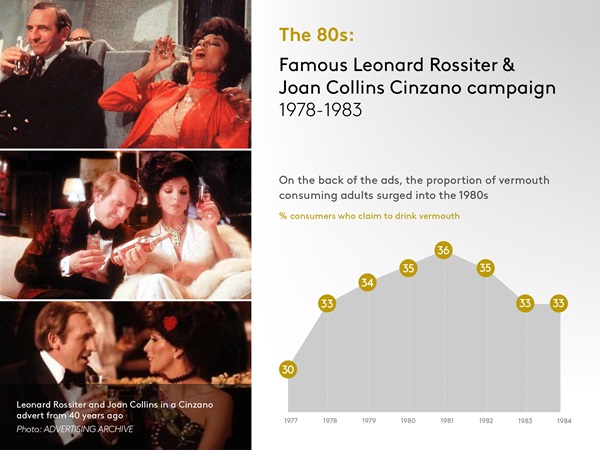 The 1990s: Tango slaps the nation awake
Tango's 'Orange Man' ad first aired in 1992, featuring a young man slapped by an orange man. The original format and content of the ad made the ad a huge hit immediately and kicked off the 'You know when you've been Tango'd' campaign that ran until 1996.
The instant impact of the campaign was evident through TGI consumer data shows an immediate year-on-year uplift in adults in Britain who claimed to drink Tango, from 4.9M in 1992 to 6.3M just a year later.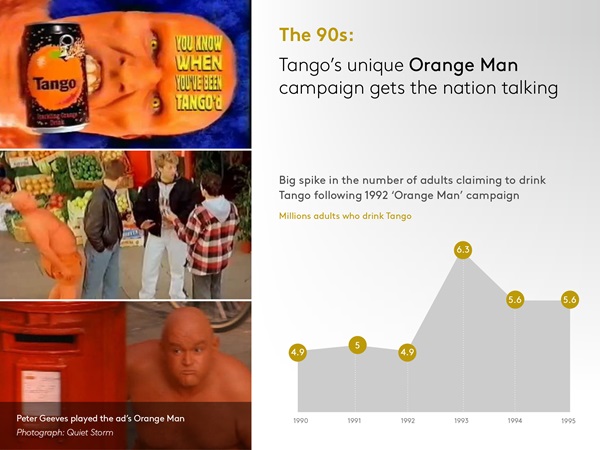 The 2000s: Something 'In the air' for Cadbury's fortunes
Cadbury had been having a tough time before the iconic 'Gorilla' advertising campaign launched, most notably a health scare and product recall in 2006. They needed an impactful campaign to win back consumers and in late 2007 they got it with their 'Gorilla' ad which cleverly tapped into viral marketing and took a step back from direct product promotion. Comprising a gorilla playing the drums to Phil Collins' song 'In the Air Tonight', beyond its considerable impact through offline media the ad was also viewed hundreds of thousands of times on YouTube in its first week.
Our TGI Consumer Data reveals the number of British consumers who claimed to consume bars of Cadbury chocolate dipped from 31.3M in 2005 to 29.2M by 2007. However, following the Gorilla campaign, the figure rose again up to 31.6M by 2009.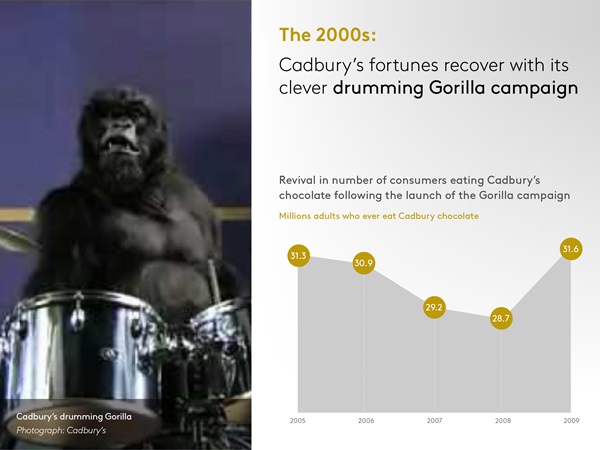 The 2010s: Delivering growth for fast food apps
In recent years, food delivery services have really taken off, thanks in large part to the entry of new players in to the British market – such as Deliveroo (2013), Uber Eats (2016) – who have advertised heavily across a variety of online and offline formats, especially in the busiest urban centres such as London.
Our TGI Consumer Data reveals that the proportion of adults in London who get fast food delivered once a month or more has grown from 27% (1.8 million people) in 2015 to 32% (2.3 million people) today. Such growth has a snowball effect, whereby some of the biggest high street brands who had previously resisted delivery services (e.g. McDonald's, KFC) have felt the need to get involved in this growing market and in so doing helping it to grow faster.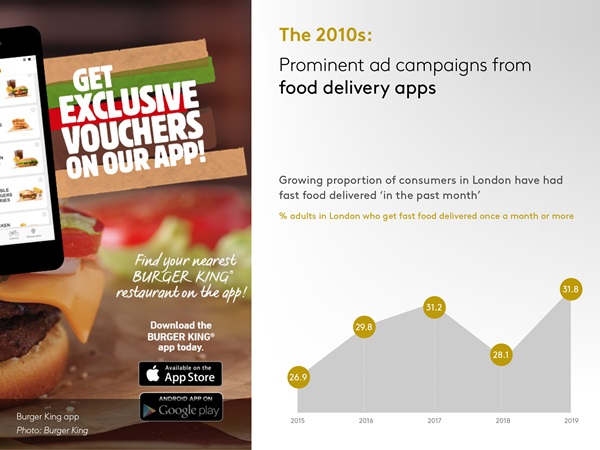 Conclusion
Key to TGI Consumer Data's position at the heart of the media industry over the long term has been it consistent proactive evolution – from the first introduction of attitude statements to the survey in the 1980s, through to today's capability to directly integrate TGI Consumer Data into client first party data for more effective targeting – Kantar is looking ahead to TGI's indispensable industry role across the next 50 years.