With summer fast approaching, Britain's theme parks and many other attractions offering entertaining days out are gearing up for their busiest time of year.

Latest GB TGI data reveals that 12% of Britain's adults (6.4 million people) claim to have visited one of Britain's theme parks 'in the last 12 months'. Alton Towers tops the list for popular theme parks by claimed visits, followed by Thorpe Park and Legoland Windsor.

There is a strong skew towards younger adults claiming to visit theme parks, but those in early middle age are also more likely than the average adult to do so – no doubt in many cases taking their own kids for a day out.

Indeed, TGI shows that those in the Lifestage groups 'Primary School Parents', 'Playschool Parents' and 'Secondary School Parents' are all between two thirds and over twice as likely to have visited theme parks in the last year, with 'Fledglings' (aged 15-34, not married/living as a couple, do not live with son or daughter, live with parents) next on the list.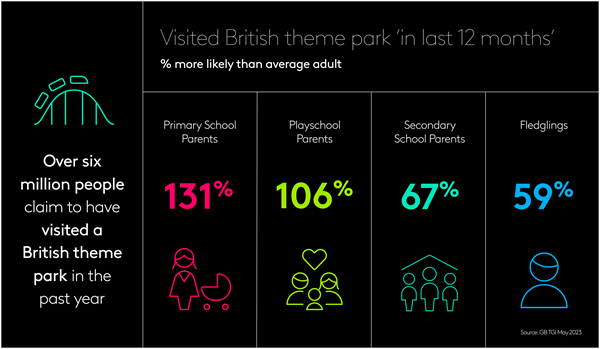 21% of adults (11 million people) claim that they plan to spend 'a lot' or 'a moderate amount' of money on visiting cultural places and attractions (e.g. theatre, concerts, theme parks etc) 'in the next six months'.

The figure rises to 31% of those who say they have visited theme parks in the last 12 months.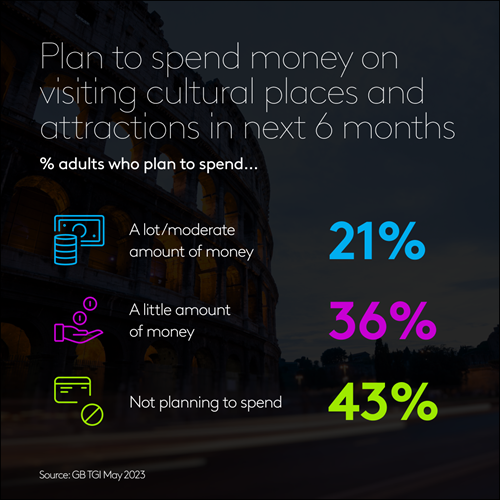 Those who plan to spend a lot or a moderate amount of money on cultural places and attractions are particularly likely to engage with a range of media compared to the average adult.

Magazines, outdoor media and reading news online all feature especially prominently.