Grinches are always complaining that Christmas seems to come earlier every year, but with supermarkets like Tesco, M&S and even Boots all launching their Christmas sandwiches in early October, presumably alongside their Halloween-themed displays, it's hard to argue that's not true.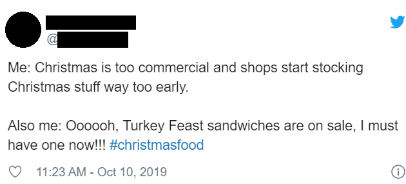 There have been nearly 2,000 mentions on social media from users discussing Christmas sandwiches and we at Kantar were intrigued to find out what makes the perfect one and where to get it.
While initial murmurs of excitement around the sandwiches grew over the course of October, it wasn't until 28 October when Pret a Manger tweeted "It's almost Christmas (Sandwich) Day" alongside a video, which was viewed 85,000 times and sparked significant buzz for the festive meals.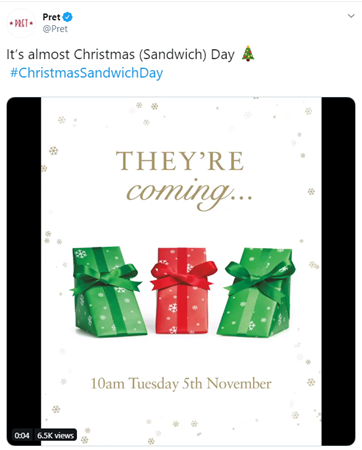 Pret is unarguably the leader in the field, drumming up the most excitement and enthusiasm for their sandwiches. Of the 19 supermarkets and bakery chains we tracked*, Pret commanded 34% of all mentions. The nearest competitors, Boots and Marks and Spencer, earned a 10% share each.

There are some interesting geographical differences across England. When looking at Greater London and London, Pret's has a share of 55% and 57% respectively. Manchester has Pret and Co-op both leading with 19% share each. In Newcastle, Greggs comes up trumps with a 25% share of discussion.
Subway tried to counter-program the Christmas sandwich market this year by launching their "Ultimate Cheesy Garlic Bread Steak Sub", looking to entice those that might already be tired of turkey or annoyed by things becoming too Christmassy too quickly however in our research we've found it hasn't really struck a chord with the public yet; however, perhaps as December rolls on, more people will turn away from the cranberry and be keen for something garlicky and different.

If you were to build the perfect sandwich from the most mentioned ingredients, we'd recommend a Turkey (38%), Cranberry (16%) and, Stuffing (10%) baguette. And if you wanted to make sure you didn't make a loser, we'd recommend against making a Mushroom, Hummus, and Salmon toastie which each only earned a 1% share of conversation. We recognise that sounds truly awful and you may not need to be explicitly advised against making one.
*Full list of monitored retailers: Aldi, Asda, Boots, Coffee Republic, Co-op, Costa, EAT, Gail's Bakery, Greggs, Lidl, Marks and Spencer, Morrison's, Paul's Bakery, Pret a Manger, Sainsbury's, Starbucks, Subway, Tesco, Waitrose