The beauty industry may have declined during the pandemic, but the rebound is already happening. More beauty shoppers are opting for fewer, higher quality products. With the conscious consumer on the rise, sustainability and products that include pharmaceutical ingredients are proving to be key premiumisation points that have helped the market recover and continue to promise growth.
The industry found itself struggling once the pandemic set in – masks went on and lockdowns were enforced. This led to total beauty spend in the UK falling 5% in 2020 when compared to the previous year. But as we moved out of our restrictive lifestyles in 2021, total spend increased 6% vs 2020, resulting in over £4.2m.
The question for beauty brands now is, how exactly have our lifestyles changed, and where does the opportunity to differentiate now lie.
Tap into evolving needs
Our recent global report, 'On Trend: The evolving beauty consumer', shows total usage occasions are in decline, as is time spent on getting ready with a focus on fewer products. Weekly usage in the UK for cosmetics has gone down nearly 50% over the past five years, which highlights that this decline in usage was trending before the pandemic hit. And it continues today, as 71% of women in Great Britain prefer to wear little make up for a more natural look, compared with just 66% of women in France and Brazil, and massive 90% of women in China who covet the natural look.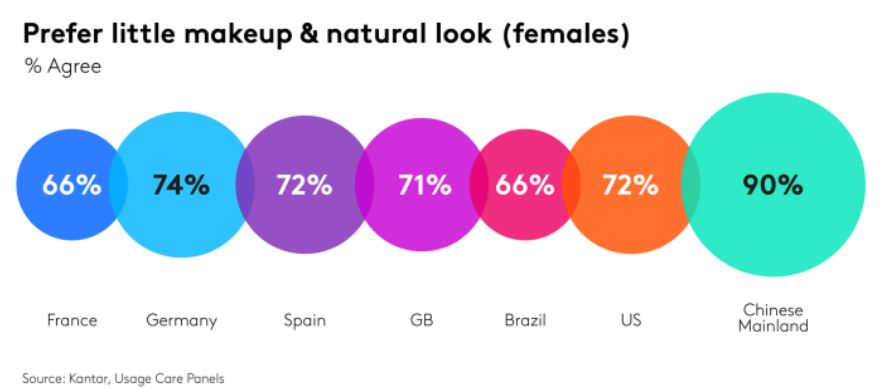 Routines are also simplifying – people are spending less time applying makeup across a number of occasions. 'Getting up', 'getting ready for work/school' and 'pre-socialising' have all seen a fall in the number of minutes consumers spend getting ready within. Today beauty brands should focus on fewer products and speed of use out the door.
In haircare, we see a different story. Even though use of haircare products declined overall, the market grew 2% in 2021. This is down to haircare brands finding new ways to tap into changing lifestyles and habits. For example, the at-home hair colouring market grew by 2%, as hair salons were forced to close during the lockdowns, more people started to embrace the grey or care less overall about maintaining or changing their hair colour, while also providing a more affordable option. The average consumer is shifting away from professional haircare and seeking this quality at home instead.
Climb the sustainable ladder
In the UK, there has been an upward trend towards sustainability with nearly 50% of consumers avoiding the use of products that are harmful to the environment. Our 'Who Cares, Who Does' report revealed that the UK leads in the number of eco-actives (most environmentally conscious group) forming 29% of the total population. Not only is the number of eco-active households on the rise – and predicted to grow to 62% by 2030 – they are also willing to spend more, so long as the product offers sustainable or naturally-focused benefits.
Natural and vegan products continue to grow in popularity as the world becomes more conscious of the ingredients in, and sustainability of, what they are buying. Manufacturers seeking growth should explore how sustainability features in their own portfolios, as these products often come with a price premium.
Tap into the growing demand for holistic care
Derma products (beauty products which contain pharmaceutical ingredients) – including brands such as Vichy, Physiogel and Eucerin – are increasingly gaining attention as the view of beauty evolves beyond the skin-deep perception of the past. Consumers are now concerned with a more holistic view of beauty – one which shifts the focus from care to cure. Derma's heritage in pharmaceuticals makes it a prime target for those interested in using the right ingredients to truly in using the right ingredients to truly look after their skin.
With sales up 50% compared to 2019, these products also command a premium price point. The average price of these derma products is nearly two times higher than that for mass skincare brands in the UK. Beauty brands need to understand the impact of lifestyle changes and how that has impacted what consumers are buying and why they are buying it. By combining the two, brands are better paced to understand how the market is shifting and the reasons behind that. Get ahead of the latest trends and identify where the gaps are for your brand. Get in touch with our beauty experts.