Obesity is one of the biggest health concerns facing the UK. To combat the issue, the UK Government's proposed legislation relating to high fat, salt and sugar (HFSS) products is due to come into force by October 2022. The policy aims to restrict the promotion of foods high in fat, sugar and salt to encourage other options, aiming to improve people's diets and reduce children's sugar intakes.
The legislation will restrict the promotion of prepacked products high in fat, sugar and salt in specified categories by location and price in retailers that sell food and drink, in-store and online in England. British shoppers spend 40% of their grocery budget on HFSS goods, and 15% of this spend goes to the types of products that will face the most restrictions. That is a massive £17bn of spend per year that could be impacted.
As brands and retailers face a number of implications due to the legislation, there are four key areas to consider in order to find growth.
Rethink your promotion strategy
The HFSS legislation covers a wide variety of products and categories that are viewed as contributors to childhood obesity. Historically, these categories have been driven by heavy promotion, both through in-store location and promotional deals. There is increasing concern around the influence of promotions on consumer food choices and under the new rules, volume promotions and secondary siting will be banned.
Today, 6% of consumer spend on these categories is driven by volume promotion and 31% from price reductions, which can be viewed as encouraging over-purchasing of HFSS products and lead to overconsumption. This restriction does not prohibit manufacturers from labelling their products with volume promotions. However, such products will not be allowed to be offered for sale by a medium or large retailer.
Brands that fall into these categories will have to reassess their promotional strategy to ensure they are still reaching their consumers and giving them incentive to spend. With the promotional limitations on the category, there may now be new areas to consider complementary products and/or categories that can be promoted as an occasion – e.g., chocolate and fruit combinations, gifting etc.
Embrace the opportunity to reset retailer partnerships
Due to the restrictions on in-store location, retailers are having to re-evaluate how to use in-store space and merchandise some of their biggest selling categories. Brands need to take this into account and work in collaboration with retailers to think about how to best utilise space based on some possible scenarios. For instance, could the products be moved from secondary fixtures to the main aisle; should space be made available for new SKUs, and what happens to the current space?
Brands will need to approach this from an individual retailer, channel and category aspect. Finding some creative solutions to make the best possible use of in-store space to manage the HFSS restrictions while still ensuring that shoppers can still find their favourite products, could help both brands and retailers to drive competitive advantage.
Growth through reformulation and innovation
In order to define HFSS products for the purpose of the policy, the government has applied the 2004/05 Nutrient Profiling Model (NPM). The NPM is based on scientific evidence and provides an overall assessment of the nutritional content of products by nutrients of concern (fat, sugar, salt and calories), as well as beneficial nutrients (fibre, fruit and vegetable content).
For some products that are inherently HFSS, reformulation to meet the NPM threshold will be more challenging. For those that are at the threshold, like crisps, there are reformulation opportunities that could make the products compliant by reducing the salt, fat or sugar levels. This opens new doors for brands to expand their portfolio. Those brands should think about how they can innovate in different areas like channel, pack, product and format.
Some brands are already leading with this by innovating in snacking categories using macro trends like well-being, and looking at healthier alternatives like kale, or green trends like sustainable plant-based bars, and even innovating in consumption moments through products like packaged olives that can be consumed on the go.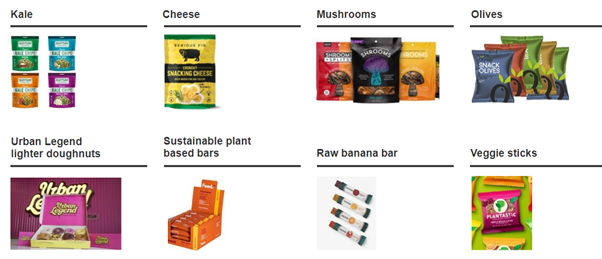 Optimise brand impact amid limitations
An additional element of the restrictions – the ban on online advertising, and TV advertising before 9pm – could have an impact on brands. However, our research shows that paid media isn't the biggest driver in terms of impacting attitudes towards food and drinks brands. In fact, it is earned media. Thus, there are going to be ways brands can work with this challenge including optimising their use of owned and earned social media, brand website or online store.
The advertising restrictions apply only to specific product campaigns; brand advertising will still be permitted. Brand campaigns can be a useful tool for building brand positioning, top of mind awareness, associations, and consideration, which can all impact the shopper's decision-making at the point of purchase.
In an HFSS-regulated world, consistency across all brand experiences becomes even more important. Consistency helps to connect every brand encounter the consumer has, building up a stronger set of mental associations that represent the brand. The more coherent these are, the more easily the brand comes to mind at key moments to influence purchase decisions
The HFSS legislation will present challenges for brand and retailers, but there are also opportunities to unearth. Watch our on-demand session from Kantar Talks, which explores the topic in more depth and gain valuable insight from experts across Kantar.
At Kantar, our unique breadth and depth of experience means that we are ideally placed to help clients tackle this as a holistic challenge and a growth mindset. We are helping many manufacturers to tackle these challenges with bespoke consultation. Please reach out to find out more.