In the past, brands have poured billions of pounds into research and development every year to try and find the next hot product – with Red Bull and Nespresso being two famous examples that are often celebrated for finding the 'holy grail' of product innovation: the creation of entirely new categories.
But innovation in FMCG has taken a backseat over the past couple of years. It was already in decline in 2019, but this accelerated even further in 2020. In the UK, £291 million less was spent on new launches compared with the previous year.
With the pandemic causing huge shifts in consumer behaviour, many core lines were flying off the shelves – meaning that brands had less of a need to innovate to find growth. Instead, the focus turned to ensuring a consistent supply of essential products.
However, as COVID-19 restrictions are lifted and consumers start to resume their usual routines, there is a huge opportunity for brands to launch new products that address emerging consumer needs – from the trend of cooking from scratch to the resurgence of men's facial hair.
But in order to understand how to launch and grow a new brand in the future, we thought it would be interesting to look to the past for inspiration. Taking a closer look at Brand Footprint data – of which the ninth annual edition launches next week – one product launch stood out to us in terms of its success and the lessons we can take from it.
That brand is Oral-B, and the launch of Pro Expert.
A smarter way to compete in the Lion's Den
Until 2011, Oral-B was a leading player in the toothbrush category of the Oral Care sector. Its credentials in dental hygiene were well established, so the opportunity to attract Oral-B toothbrush buyers to add a toothpaste from the same brand to their daily routines wasn't necessarily a difficult step to take.
However, in the highly competitive toothpaste market, new brands will always have to come up against the behemoth that is Colgate – the toothpaste brand that has achieved the largest global penetration of any brand in every edition of Brand Footprint.
The big question in situations like this is: how do I compete against such strength?
The answer, it seems, is not by competing head on.
The launch of Oral-B Pro Expert in 2011 was – and continues to be – such a big success precisely because it looked and felt different to Colgate. It didn't try to be a 'better Colgate' – instead, it was positioned as a premium "smart" toothpaste that offered something completely different in the market.
In categories like toothpaste, which have a high penetration across most markets, bringing in more buyers can be extremely hard to achieve. Here, premiumisation is likely to be the most successful strategy for differentiating your brand.
The price point at which a product is launched is critical not only for the signals it sends to the consumer in terms of its position within the competitive set, but also for the performance of the product at launch.
In the case of Oral-B Pro Expert, creating a new "advanced" tier of toothpaste was just what it needed to thrive. For example, if we look at the most recent data in the highly competitive European market, the annual Oral B penetration was 26% in 2019 – which is about half the size of Colgate branded toothpaste. However, it managed to attract this number of people buying at a price that is approximately 75% more expensive than Colgate.
That's an impressive feat and demonstrates just how important premiumisation – and finding that "point of difference" – can be to helping new brands compete with the industry leader.
What's next for Oral B?
This has been a very successful strategy for Oral-B and, moreover, the category as a whole. But the reality is that Colgate is still the number one Oral Care brand globally, and is likely to remain so in 2020 and beyond.
It holds true that new brands rarely transform categories by weakening the brand leader. They steal share off it but, typically, they ultimately kill the weaker brands.
The continued scale of Colgate's dominance can be seen in the below chart, which depicts the annual penetration and frequency per buyer by market for Colgate, Oral B and Crest – another P&G brand that is particularly large in the US, Mexico and China.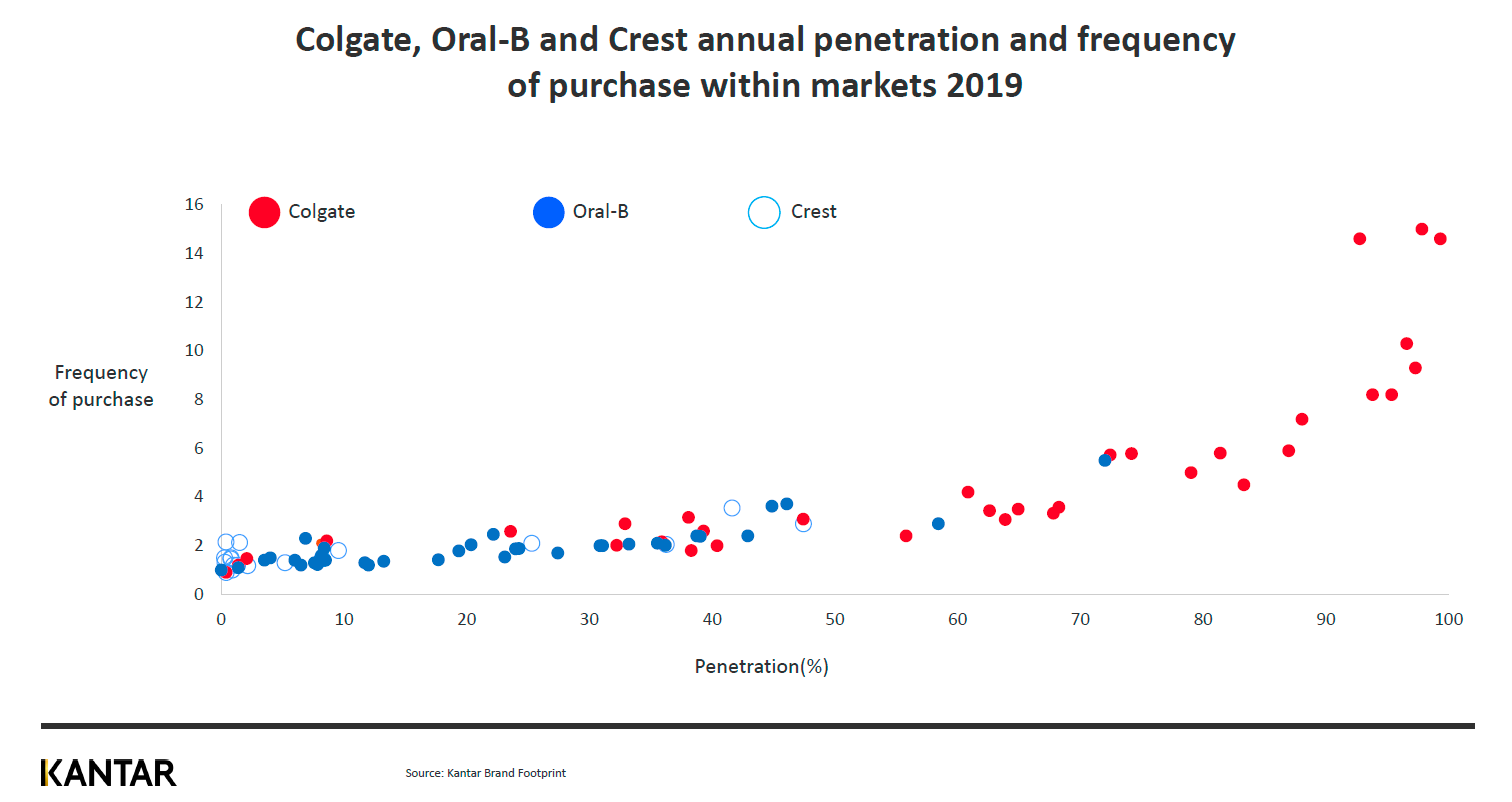 This trend of the largest brands attracting the most buyers – and those buyers purchasing more frequently – is a consistent picture across every FMCG category. The path to growth is easy to see here, but of course is not always easy to achieve.
Even if 50% of the world's population buys Oral-B and Crest in a year, these brands will still need to find even more buyers in the future if they want to become the best-selling Oral Care brand in the world.
And given that Oral-B already has products in all of the main sub-categories of Oral Care, it will be interesting to see what it does next.
Stretching your brand across a category while remaining relevant to consumers can be a tricky balancing act. It requires brands to have a deep understanding of how shoppers buy their category in order to devise how to stretch most effectively.
With consumers increasingly demanding more efficient and connected devices, could there be an opportunity to launch new technology in toothbrushes that shortens the time it takes to clear your teeth or connects with your smartphone to assist with improving oral hygiene routines? Similarly, could the heightened focus on sustainability provide an opportunity to develop recyclable brushes and products made from biodegradable materials?
Some of these innovations already exist but don't necessarily have the backing of an established blue-chip company to help them scale and succeed over the long term.
Finding the X Factor
By comparing the success of Oral-B Pro-Expert with the continued dominance of Colgate, several interesting themes have emerged that are worth remembering when thinking about launching a new brand in the future.
New successful brands on the global stage are extremely rare, which suggests that the best 'new' brands over the next decade probably already exist.
Creating an "important difference" against the brand leader has been critical for the success of Oral-B and many others over the past decade, suggesting that future successful brands will be found fulfilling the same needs as leading brands, but in a more specialised way. Finding the 'X Factor' is key here.
Moving from a niche brand to a global player usually requires an existing blue-chip company to make this happen. Stretching your reach – being available to buy at every category occasion – is the fastest way to expand.
For more analysis of the world's most chosen brands, read Brand Footprint 2021, launching 20 May, and sign up for the webinar.