Part of a raft of measures designed by the UK Treasury to boost the post-lockdown economy, The Eat Out to Help Out scheme officially came into effect just over a week ago. It gives anyone visiting a participating restaurant, café or pub on Mondays, Tuesdays and Wednesdays throughout August up to 50% off the cost of food and non-alcoholic drinks.
It's an unprecedented intervention into a sector which has had a particularly challenging time during lockdown. And early signs are positive; initial data from our Worldpanel Plus service shows footfall in restaurants, pubs and bars returning to pre-COVID levels in the first three days of the scheme.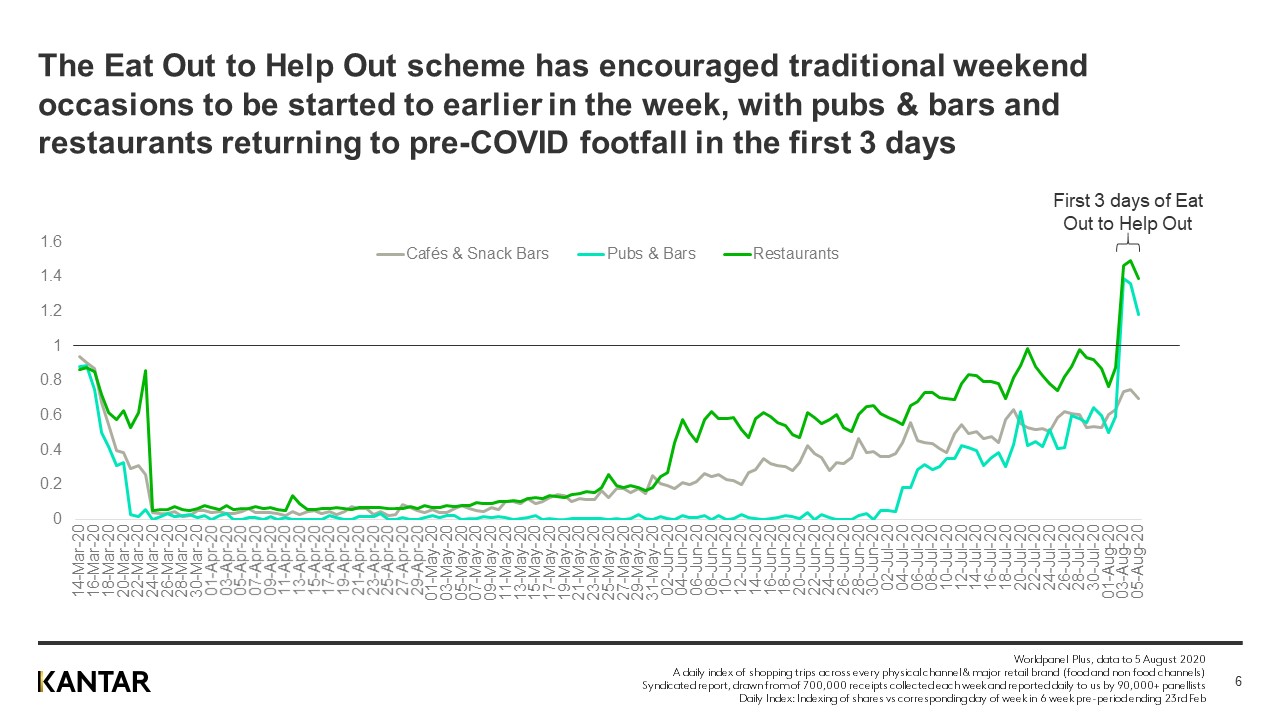 A behavioural nudge in the right direction
Despite pubs, bars and restaurants re-opening in July, more than half of consumers said at the time they were uncomfortable with visiting a pub and 42% with visiting a café or restaurant. For many, the scheme will be an encouragement to take the plunge and have their first meal out since lockdown, and the government will be hoping that clearing that hurdle will be the start of a return to eating out more habitually. Another potential knock-on effect of the scheme is that, having tempted people out to their high street, consumers may well spend more in retailers too.
No booze please, we're British
Given alcohol is not included in the scheme and the discount is only available Monday to Wednesday, Eat Out to Help Out could prompt more Brits to take up a new kind of socialising – entirely sober. Though there is the chance that, by pulling socialising forward earlier in the week, this will cannibalise weekend trade. Meals during the weekend tend to be more lavish affairs, with the average spend on a weekend meal out £8.26 compared with £6.03 during the week.
That said, some consumers appear to be using the deal as an opportunity to trade up to a more expensive outlet to maximise the value of the discount, and potentially to try places they'd previously been priced out of. High-end steak restaurant chain Hawksmoor reported taking 15,000 bookings across six restaurants for the days covered by the scheme, showing some are taking the opportunity to splash out .
Some look-outs
While the initial view certainly looks positive for the out of home sector, it is worth looking at consumer spend in the round. More spend in cafés, restaurants and bars, will have an impact on spending elsewhere, notably on takeaways - which had boomed during lockdown - and supermarkets.
While restaurants, pubs and cafes were closed during lockdown, our in-home consumption naturally expanded to fill the gap. With schools, and workplaces largely closed, we were catering for 500 million more meals at home, and spend in supermarkets soared – with the most recent figures showing the biggest growth in take-home grocery spend since 1994. With lockdown easing, and EOTOHO driving consumers to eat out, the supermarkets will see more competition for shoppers' wallets than they have over recent months.
Assessing the overall impact of Eat Out to Help Out will require a view of real consumer behaviour and attitudes over time. Get in touch to find out more about how we can help.